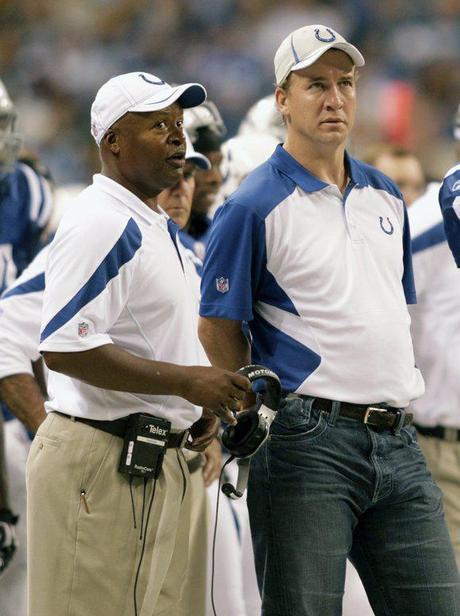 Photo: colts.com
- Adam Parker
Jim Caldwell has been fired as the head coach of the Indianapolis Colts after the team finished a miserable (2-14) season under his leadership in 2011.
After leaving the Philadelphia Eagles as the director of player personnel, new Colts general manager Ryan Grigson has already begun to make waves with his new team, beginning with the firing of Caldwell.
This is the second power play that the Colts have made since their disappointing season came to an end, the first of which being when owner Jim Irsay fired the team's vice chairman Bill Polian and Polian's son, Chris, as Indy's now former general manager.
Caldwell, hired in 2009, got off to an extremely hot start in his coaching career, winning his first 14 games, and led Indianapolis to a Super Bowl berth in his rookie season as head coach. His second season wasn't quite as impressive, but he still led the Colts to an AFC South title.
Caldwell finished with a 26-22 mark as the Colts' coach, and was 2-2 in postseason play. He was one of 11 coaches hired after the 2009 season and is the latest 'casualty' from the Class of 2009 to be
guillotined
from their post. The only two remaining coaches that haven't
lost their heads
 are the Jets' Rex Ryan and the Lions' Jim Schwartz.
But what does Caldwell's firing mean for the future of franchise quarterback Peyton Manning?
We all know the story by now, Manning missed this entire season after having his latest neck surgery -- a procedure that his put his future with the franchise in doubt. Without #18 running the show on offense, the Colts unraveled, finishing 2-14 and were stuck watching the playoffs from their couches for the first time in a decade. However, hope, or should I say, 'Luck' is on the horizon for Indy, as their abysmal record has put them in line to draft Stanford quarterback Andrew Luck with the top pick in April's draft.
Owner Jim Irsay and Grigson must decide whether to pay the only four-time league MVP Manning a $28 million bonus in March, restructure the five-year, $90 million contract to make it more cap-friendly, or let Manning walk outright as a free agent.
Though Manning has reportedly begun throwing with teammates again and the players believe he is improving, Irsay must determine whether it's a risk worth taking a significant cap hit to rebuild around a 35-year-old quarterback who used to be the poster boy for durability and has now undergone three neck surgeries in less than two years. If he is healthy though, and this is a big if, Irsay has already made it clear that he will bring Manning back as the starter and try to make another Super Bowl run.
At this point, I think it's imperative that the Colts bring Manning back. Aside from the 11-time Pro Bowler, Caldwell and offensive coordinator Clyde Christensen understand the Colts' offense better than anyone, and Caldwell helped Manning achieve his greatest successes. Before Caldwell became the quarterbacks coach in 2002, Manning was an elite player that couldn't get it done in the playoffs. With Caldwell, Manning won all four of his MVP awards, two AFC Championships, and his only Super Bowl ring.
With Caldwell out, you better believe Indianapolis needs to keep Manning in the fold, if nothing else for stability in the near future.
Be sure to follow Beard And Stache on Twitter 
@BeardAndStache
, 
and also Adam 
@Adam_Parker43
, Like our Facebook page 
HERE
!