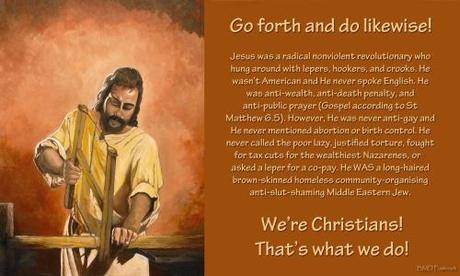 Click to enlarge. Jesus would have been made to feel not at home at Liberty University, the American Enterprise Institute, Fox News or the Washington Times.
Hell, even CNN and the New York Times would have denounced him. Pat Robertson, Franklin Graham and Jerry Falwell would have attacked him. The Council on Foreign Relations would have laughed at him and the Department of Homeland Security would have put him under surveillance for national security reasons.
Think about this the next time Republicans say that Jesus would have been a Republican or would have supported Paul Ryan's anti-people, pro-rich budget.
They didn't put him on that cross for nothing!