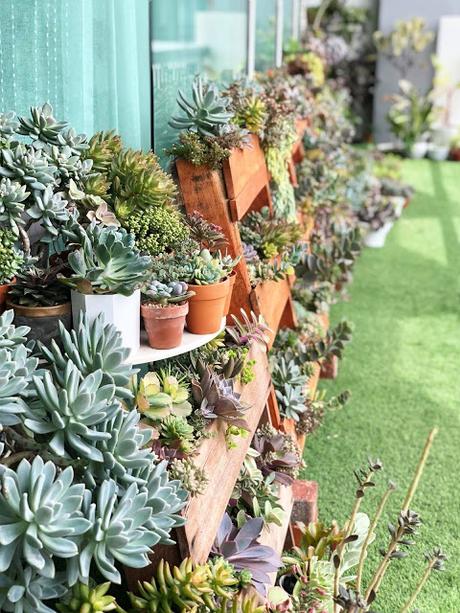 It's an honor to have many people who are so interested in knowing how I care for my succulents and how I set up my succulent pallets! And I have been answering questions regarding my succulents very often in gardening groups, Instagram, etc! To avoid repeating myself many times, it's high time for me to set this post, just to answer questions regarding my succulents & succulent pallets. Please take some time read. I'm not an expert just sharing my knowledge! Thank you!
Q: When did you start this succulent adventure?
Q : How long have you planted your succulents in your pallets?
Q : Where do you get your pallets?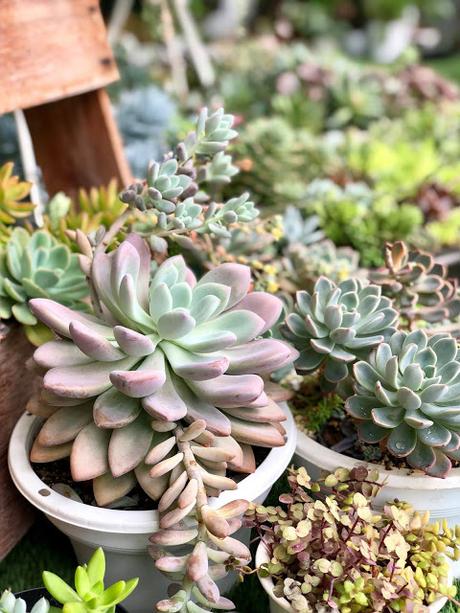 Q : How often do you water your succulents? Any special fertilizer?
I always water mine on a hot sunny day in the morning so the water won't be sitting "too long" in the soil. Succulents love deep watering so having pots with drainage holes really help. To be honest, I hardly fertilize my succulents. I'm the laziest when it comes to fertilizer. Haha. Same goes with my house plants too. I have used both pellets & liquid fert and they worked fine.
Q : What succulent soil do you use?
A : I use 6-in-1 organic potting mix + leca balls + perlite + small pebbles. As long as it is gritty and porous, it would be good! These can be easily bought from local nurseries at your area. Personally, I prefer porous-gritty mix with soil because I believe there is where the succulents take their nutrients from. The roots will establish better too. And I do not need to water as often too. Plus point for a busy mummy like me! And I have seen a few use pebbles/stones only. They work well for these owners too!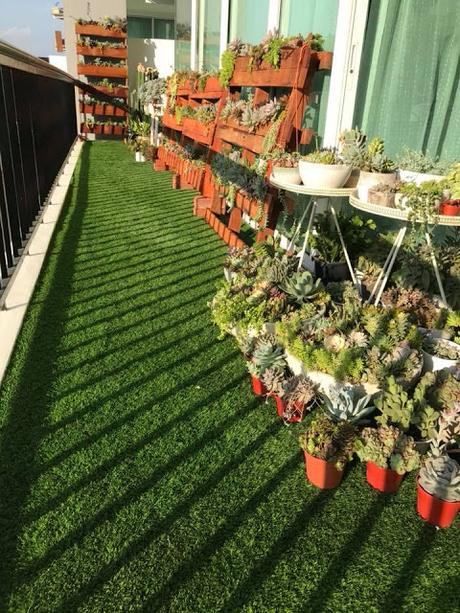 A : My pallets and succulents in the pots receive adequate amount of morning sun. They get to soak in the sun between 4-6 hours daily & natural lighting throughout the day. Succulents love morning sun. The stress on their leaves will sustain the bright color on the succulents. And again, only water your succulents when the soil is dry. I water mine in the morning so that the water wont sit too long in the soil. It is always better to underwater sometimes than overwater for succulents, in my opinion.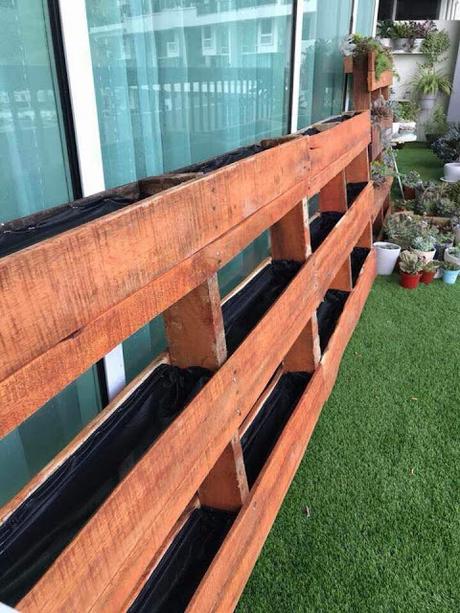 Q: Since this is wood which means prone to rot. Have u taken any special care like plastic lining below the weed blocker?

Q: Can you share your soil layering method in your pallets?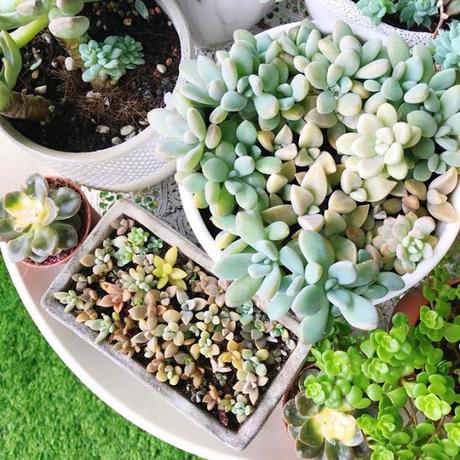 These two pots (white & cement) of succulent babies here are purely from leaves propagation!
Recently, I have graduated some of those pups in the white pot to the wooden pallet.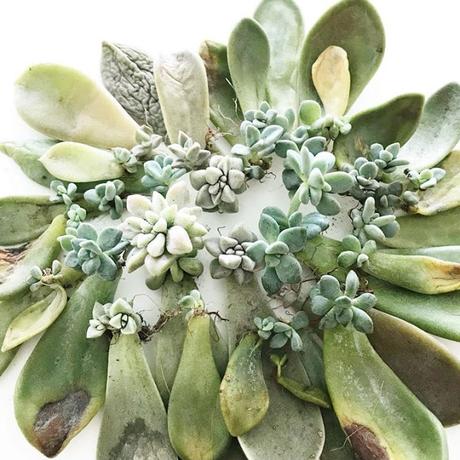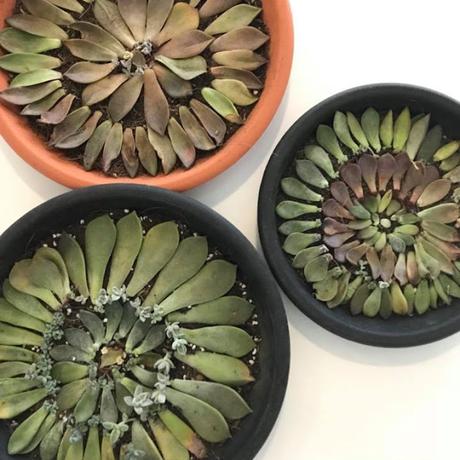 1. GENTLY pluck the healthy looking leaves from the bottom.
It is important to make sure that the leaves you are propagating has a good "u" shape and they are in hard or rubbery condition. The ones that is soft, watery can't be propagated anymore.
2. Leave them in the cardboard box or on top of any hard surface - shaded area.
5. During propagating period, be sure your leaves are not expose to direct sun. Place them in shaded area but still receives lots of natural lighting. If the weather is hot and the soil dried up, you can spray earlier.
6. Once the leaves are dried, you can remove the pups and place them in your pots/planters.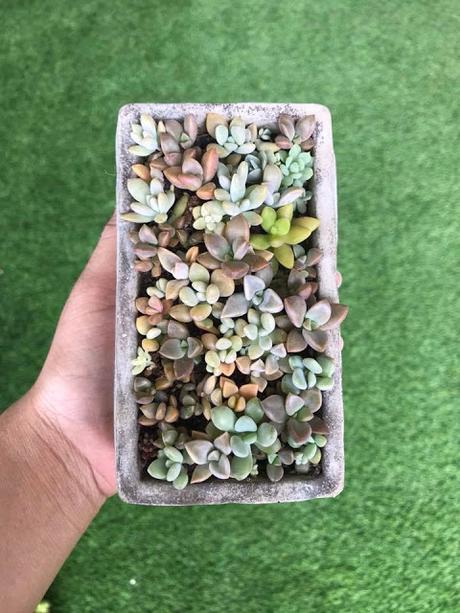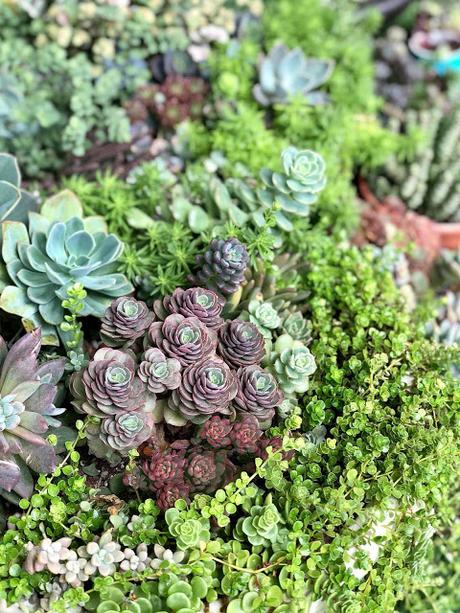 Thank you so much for reading!