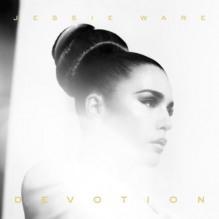 Evening Ware
By Matt Jones
Jessie Ware is cool.
But dont let me, or the BBC, or Pitchfork, or any of the myriad of sources teeming with praise for the British soulstress influence your assessment.
Go on, listen for yourself.
Ware's debut LP, Devotion, has elicited comparisons to artists from Sade to Aaliyah to Katy B, but its crowning achievement lies in its effortless ability to capture the lush, luxurious, romantic aesthetic that felt so forced on Lana Del Rey's Born To Die.
"Effortlessly luxurious" is really a pretty fair qualifier for Ware's style overall, as there's nothing counterfeit or contrived here. If Lana Del Rey is an episode of The Californians, then Jessie Ware is Downton Abbey; classic, classy, and unmistakably British. Ware herself says that she wants her songs to sound "as romantic as possible," a target whose bullseye she has pierced with Devotion. Lush production and Ware's perfect voice – oh, the voice! – drive the romance through eleven tracks that fantastically toe the line between variety and consistency; between range and cohesiveness.
Ware's claim to notoriety prior to this year remained a pair of guest appearances on SBTRKT's acclaimed eponymous album from 2011, although Devotion's high water marks prove that Ware is more than capable of standing on her own in both the critical and popular consciousness. "Wildest Moments" evokes the forward-thinking but still timeless passion of Sarah McLachlan in Delerium's "Silence," and "Running" layers modern flair over one of the sexiest hooks of the year. It sounds like mansions and diamonds and high thread counts. Listen. Watch. Fall in love.
Here's why Jessie hits on all the cylinders that Lana backfires on: she doesn't have to rely on cheap gimmicks. She's comfortable in her own skin. She's talented and she knows it. Confident but likeable, seductive but not ridiculous. No tigers or tatted up bad boys; just a simple, concentrated focus on the artist. No pouty whines, just pretty singing.
The Lana comparisons are especially striking because of the lush imagery put forth by both artists, although they go about it in completely different ways. Sure, Lana is talented and gets her point across, but she needs good old fashioned American excess to pull it off; everything is bombastically over the top. Ware's output, on the other hand, speaks for itself.
Other Devotion highlights include "Night Light," a surprising earworm with overpowering vocals and some of the strongest R&B stylings of the lot; "Sweet Talk," which is unapolagetically '80s; and "110%," which samples Big Pun's lyric "carving my initials on your forehead," NOT "covered by the missiles on your forehead" like it sounds. "Still Love Me" is evidece of production that frequently clings to nuances of SBTRKT's music, which works extremely well and complements the arrangements nicely throughout the album.
If not the best, Devotion is one of the best showcases of any "new" artist to be released in 2012. It's rich in talent and imagery alike, and the ability of Ware's voice alone to buoy the whole project proves that she's ready for the spotlight.
Matt's picks:
(2) Wildest Moments
(3) Running
(6) Night Light
(8) Sweet Talk
(9) 110%