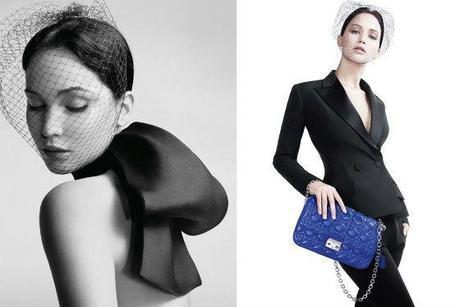 Jennifer Lawrence for Miss Dior.
-It had to happen sooner or later. It was too much to expect Jennifer Lawrence to  remain spotless with all the intense scrutiny pointed her way, but if this photo of her holding what looks like a joint while enjoying some downtime in Hawaii is as bad as it gets, that's not so bad.
-Meanwhile, Jen just needs to point any detractors to this quote about her Miss Dior ads and she'll win them all back.
-Justin Bieber, just because you're famous and have a gazillion Twitter followers, doesn't mean you can walk around looking like this. (Although I love how Lost writer Damon Lindelof just can't stop ranting about the hat…)
-It looks like Michelle Williams was the one who broke it off with Jason Segel 'cause she wasn't "ready to commit." Huh. I figured it was 'cause he's obsessed with puppets.
-Blake Lively continues to win over the locals in Sudbury, posing for a photo while at the vet with her dog.
-It looks like Marc Anthony is bouncing back from his divorce from JLo by dating 21-year-old Topshop heiress Chloe Green. They went to Disneyland together — most likely to take advantage of her child discount.
-Josh Duhamel says when Fergie found out she was pregnant, the first words she blurted out were "This shit just got real." Well, at least it wasn't anything about her lovely lady humps.
-Rachel McAdams found herself in the spotlight when she showed up to the Raptors game earlier this week — and she was all kinds of adorable about it.
-Diane Lane seems less than heartbroken post-split.
-Talk about the emancipation of Mimi! Mariah Carey treated the audience to an eyeful when she suffered a wardrobe malfunction during the Def Jam anniversary concert.
-Has Taylor Swift rekindled her relationship with Ed Sheeran? Didn't she hear what Tina Fey told her about "me time"?
-Speaking of Tina, she was awesome on Letterman last night. I like that all of her stories involved food or poop.
-The trailer for Cloudy with a Chance of Meatballs 2 looks pretty damn cute.
-Katie Holmes talked to her agent during a basketball game so of course that means they must be boning. She looks great, though.
-Paris Jackson is rocking some edgy new hair.
-It was Amanda Seyfried who came between Anne Hathaway and her Valentino Oscar gown. I don't know if these gowns are all that similar.
-Kerry Washington also made a last-minute dress change before the Oscars. She was supposed to wear Marchesa instead of her awesome pink Miu Miu, so good call!
-I really enjoyed this interview with Marc Cheery about his time writing for The Golden Girls.
-Good to see that Emma Stone and Andrew Garfield are still going strong.
-Speaking of still going strong, Neil Patrick Harris is shooting down rumours that he's split from fiance David Burtka.
-The first full length trailer for NBC's Hannibal makes it look really good; I don't know why it the network seems to be treating it like an after-thought.
-Speaking of TV, Celebrity Wife Swap got double the ratings in Happy Endings' old slot, which means HE is pretty much as dead as we feared it would be.
-Johnny Galecki and Conan O'Brien reenacted The Goonies, with Conan dressed as Sloth!