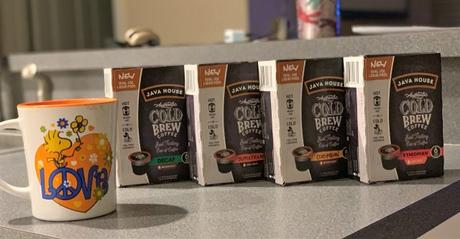 Is there anyone else out there who runs on caffeine? There just aren't enough hours in the day for me to get everything done – I have a full time job as a real estate closer, I'm a church drummer, I like to read, I'm a caregiver for my spouse, and well, I'm no spring chicken.  If I went to the local coffee shop every time I needed a little caffeine, I'd go broke for sure! 
Another factor is that I live in Florida.  It's March 3 and it's over 80 degrees during the day.  That makes it unappealing for me to be interested in having a fresh (and hot) cup of coffee so I've found myself buying cold brews all over town.  Until now.  Now cold brew is totally available for a regular consumer like me so there's no more running to the local coffee shop, restaurant or gas station to grab cold brew! YAYAY!!!
When I first heard about these cold brew pods from Java House, I will confess that I immediately figured they'd be hard to find around town or super expensive.  Now that I've looked into it more, I see they are available at Wal-Mart and Target and other local retailers. When I checked the price, I was happy to find that they are VERY affordable – less than a buck a cup of coffee.
I realized that I could live the coffee version of "happily ever after".  The best of all worlds right in my hand.  Java House brings unique drinks to fuel my day – and it's affordable too!  Each liquid pod features Java House's cold brew in concentrate form, delivering a smoother, richer, less acidic cold brew coffee to sip over ice or drink hot by popping into your Keurig.
 Even though they're called "cold brew", you can also enjoy this coffee hot too, so if you're at work sitting in the air conditioning like me, nothing is better than an awesome cup of hot coffee there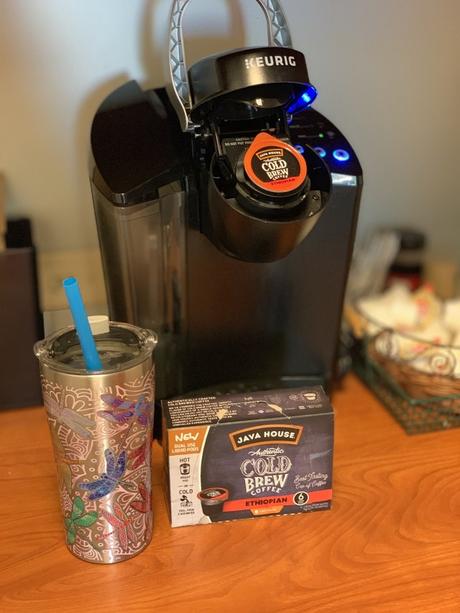 I have to say of the four flavors I received for this post, my very favorite is the Ethiopian blend.  The flavor of this light blend was so smooth and had great earthy flavor to it. The Colombian is a medium blend and it was great too.  In all honestly, the Sumatran is a dark blend and was very good too.  I haven't had the decaf yet, but I know I will soon because after six o'clock in the evening, caffeinated coffee is a no-no for me.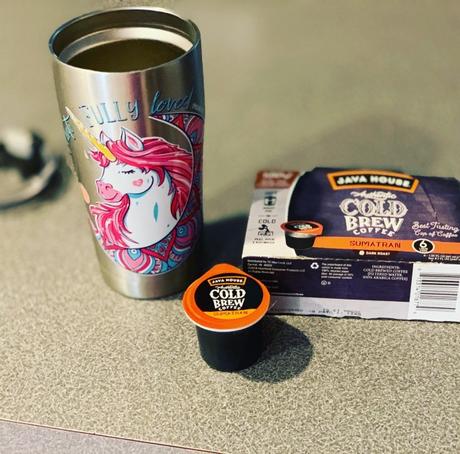 Originally I was going to use Java House's recipe for Hot Salted Caramel Coffee, but I ended up loving the coffee so much I never made the recipe itself, but I did want to share it with all of you in case you wanted to try it: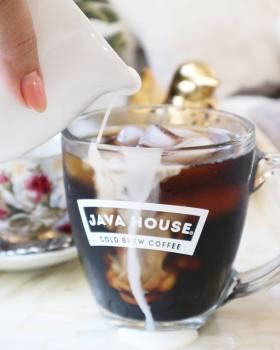 Hot Salted Caramel Coffee Recipe 2019-03-03 17:51:36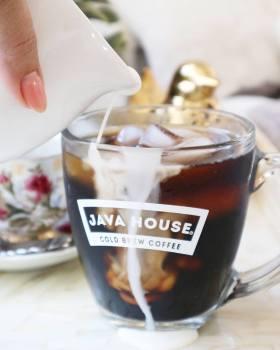 Write a review Save Recipe Print Ingredients
4 oz water
2 Java House Cold Brew Liquid Pods
4 tablespoons whole milk
1 ½ tablespoons salted caramel syrup
1 tablespoon vanilla syrup
Whipped topping
Caramel sauce to drizzle
Coarse sea salt to sprinkle
Instructions
In a large mug, combine water, cold brew liquid pods or concentrate, milk and both syrups. Stir well and microwave for 30 to 40 seconds. (Or combine in a saucepan over medium low heat for 4 to 8 minutes and pour into a large mug.) Top with whipped topping. Drizzle with caramel sauce. Sprinkle with sea salt.
You can substitute almond milk or low-fat evaporated milk and low-fat whipped topping for the whole milk for a healthier alternative.
Notes
To serve cold: In a tall glass, combine water, cold brew liquid pods or concentrate, milk and both syrups. Stir well. Top with ice. Top with whipped topping. Drizzle with caramel sauce. Sprinkle with sea salt.
By Java House Cold Brew 2014 and Beyond http://14-in-2014.com/
I love this stuff and not only because Java House provided me with samples.  I have now gone over to their website and downloaded a coupon for $2.00 off my next purchase and you can bet if you ever come by my house, Java House Cold Brew Pods will be in my pantry!
Check out Java House Cold Brew on social media ~~
---
I was provided with courtesy samples of this product in exchange for my post.  A positive review was not required, but these cold brew pods are AMAZING!! Thanks so much Java House!!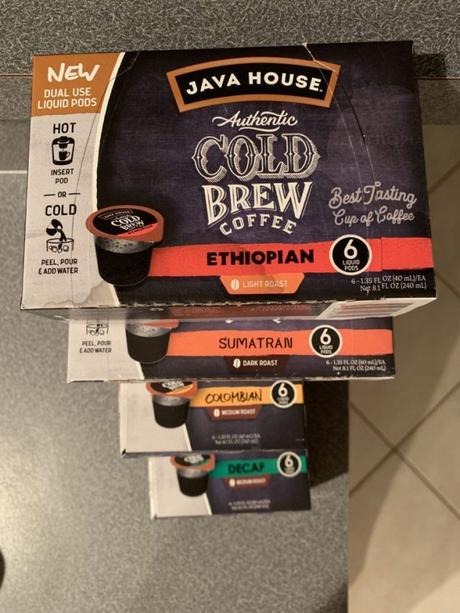 ~ ~ ~ ~ ~ ~ ~ ~ ~ ~ ~ ~ ~ ~ ~ ~ ~ ~

It would be great if you would stay connected with me!! You can follow me on Twitter @DebiL1611, like me on Facebook at 2014 and Beyond, circle me on Google+, follow me on Tumblr, Instagram and Bloglovin', subscribe on YouTube, or connect with me on LinkedIn and Pinterest.

Please make sure to visit my homepage and subscribe to my blog for more great posts on running, fitness and lifestyle topics as well as food, product, music and book reviews, and more!