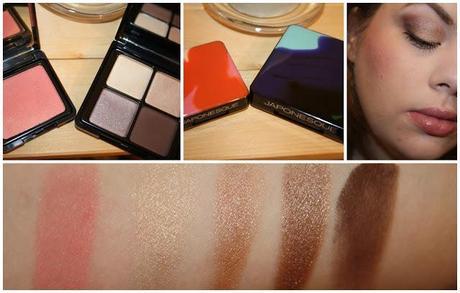 Japonesque are famous for their make up brushes, their powder brush is one of my favourites.When I heard they were bringing out a make up line I knew I had to get my hands some of it.
I picked up two items from the line, a Velvet Touch Blush in 03 (£18) and the Velvet Touch Eye Shadow Palette in 02. (£24)
The first thing you notice about these is the packaging, they have such gorgoeus prints on them that is made from a blend of gel pigments that flow and blend together before setting. Which means no two items will be the same. Both products have a large mirror in them so great for travel and are really sturdy.
Gorgeous packaging aside, the actual product is perfect. The blush in 03 is a your typical coral shade with gold shimmer that I love. It is very pigmented and really does feel velvet to the touch. You only need to tap your brush in and sweep it onto the cheeks for the perfect amount of color.
The eyeshadow palette in 02 contains 4 gorgeous neutral shadows, all quite warmed toned. The darkest shade is matte so great for deepening the out corner or to use as a liner. These are so smooth and blend out beautifully.
As you can probably tell, I adore both these Japonesque products. They are such high quality and feel really luxurious.
I would say these are at the mid to high end price range and worth every single penny.
The Japonesque color line is exclusive to John Lewis and you can pick it up online and instore.
What are your thoughts? Will you be picking anything up?