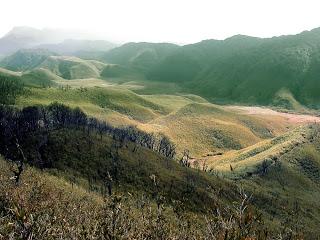 Japfu peak the second highest peak in Nagaland is also one of the major tourist attractions well known among tourist visitors. The peak is situated just about 15km distance drive towards the south of Kohima and so the site where the peak is located has also become the common tourist sightseeing place nowadays. 
It has become the main attraction among vacationers, many people often go for trekking in groups or parties for fun to enjoy the views from the summit which gives a wonderful spectacular view of the surrounding towns and villages which seem to stuck on the slopes of the chains of hills and mountains. Japfu is a wonderful place to trek and enjoy the natural glittering vistas and the flawless spot for nature enthusiast.
The Japfu peak that stands high and brave amidst the beautiful lush green vistas inside the enchanting Dzukou valley is one of the most beautiful places of Nagaland. The peak can treat your eyes with the beautiful vistas and spectacular fabulous sceneries of the valley and towns from the hill top. 
From the hill top one can capture the entire scenery f the valley along with green vegetation forest and emerald lake that is confluence in between the hills. The peak and the valley are wonderful places for any artist to cradle and capture the scene of nature in its best form on a canvass.
Japfu peak is one of the Guinness record holders recorded for its incredible height measuring about 130 ft tall with an incredible wide of 11 ft above the girth. Another a wonder besides that is often sought after by tourist is the giant rhododendron trees. 
Though it demands a bit physical strength it offers numerous eye popping views to see in a single shot of glance and that's the amazing part of trekking enjoyment here to climb the high hills with struggle, sweat and exhaust and later enjoy the fruit of your struggle with the chance to view the spectacular overall surroundings vistas and capture the scenario at the exact post is what you can do and get from this trip that is trip to Japfu peak.
Besides trekking you will also get a lot of chances and opportunity to whatever you like and whatever you wish. The wide open space freelance vast valley sprinkle with natural flowers and green grasses covered 
Dzukou valley is open for all travelers and services visitors for 24 hours and so you can take chance in it and enjoy your vacation here anytime and in any season there is nothing that will cause you harm or spoil your mood of merriment instead the beauty of the landscape and the tranquility of the place acts as energy booster and the mood swinger for all visitors.