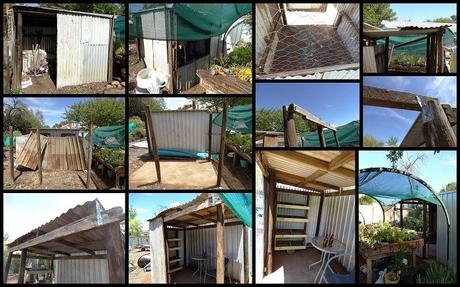 The Old Chook House was nearly falling down...so Doc pulled it all apart and rebuilt a cute little shelter and pot storage area.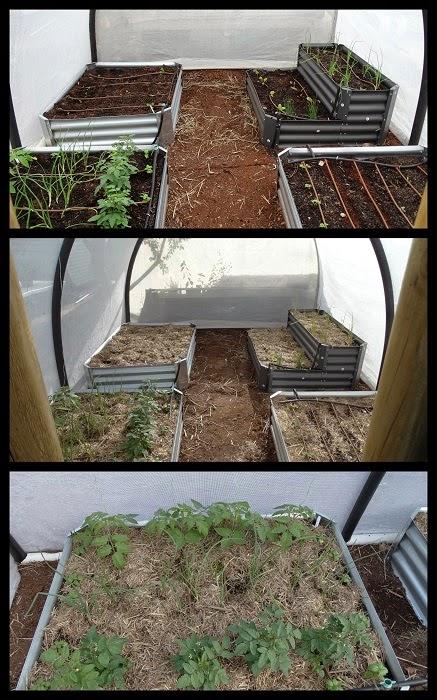 15th Jan
Temperature Min 8.8C Max 23C Sunny with little wind.
Scuffled some of the million odd weeds that have started to germinate after the rain!!
Mulched beds with Organic Sugarcane mulch
Tied strings to Tomatoes (Roma) at rear of the bed in the shade tunnel. This will allow me to give the strings a quick tap every so often for pollination of the tomato flowers as there won't be any bees inside the shade tunnel.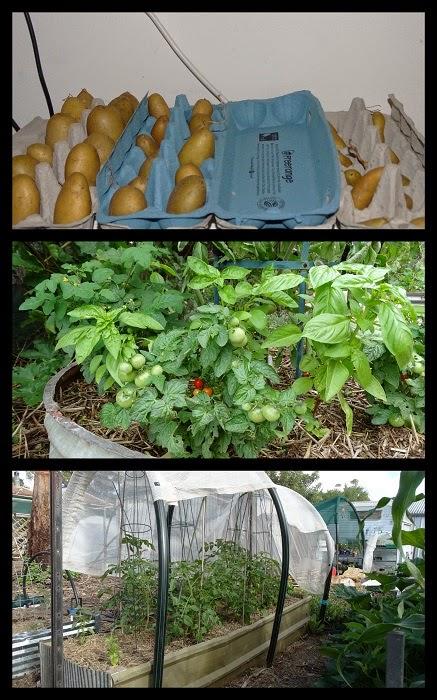 16th Jan
 Temperature Min ??C Max 29.6C Warming up slowly
Put some potatoes from my previous crop into an egg carton for "chitting" - hope to get these planted this month for a late crop to harvest before the frosts hit!
Out in the garden I weeded, fed, tied up and pruned tomatoes then mulch the beds with sugarcane mulch.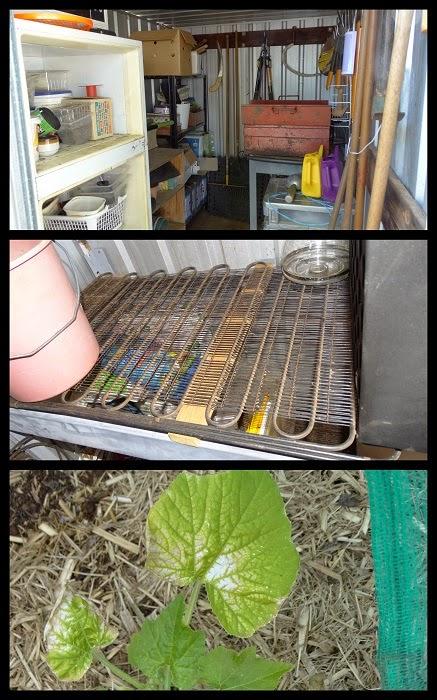 17th Jan
Temperature Min 10C Max 28C Beautiful weather!!
Emptied and tided garden shed - lots had been stashed away in there for the storms. Doc made new shelves on my work table as the wooden ones went mouldy after they got wet when the roof leaked. These wire grills off the back of old fridges will be perfect and not stay wet when the roof leaks again!
Covered the new zucchini and pumpkin seedlings with lightweight shade cloth as they were being scorched by the sun.
Planted 3 Silverbeet seedlings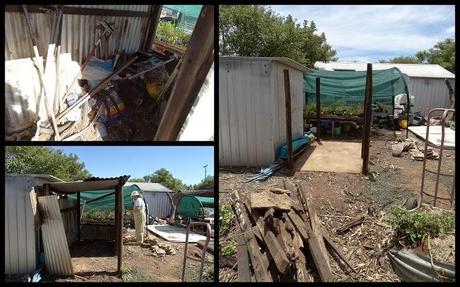 18th Jan
 Temperature Min 10.6C Max 28C Could get very used to this weather!!
Emptied out the old chook house and dismantled it...it will get a new roof and side. This will be a storage area for my empty pots.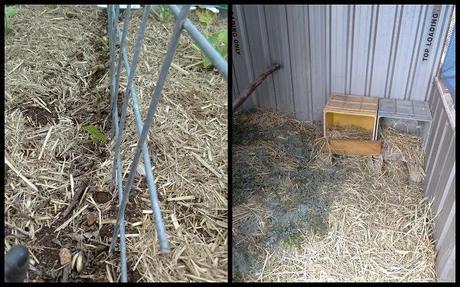 19th Jan
Temperature Min 11.5C Max 29.4C Starting to warm up weather-wise
Doc continued to rebuild the Old Chook House while I gave one of the new chook houses a thorough clean out. I scrubbed the nest boxes and re-lined them with sawdust, DE, herbs - wormwood, fennel, oregano and lemon balm...this mixture was also spread on the floor as it was covered with fresh straw.
Out in the garden the beans and amaranth are just poking their heads up!
 
20th Jan
Temperature Min 16.3C Max 31.5C horribly windy today...stayed inside and cooked soup and stock!!!
Noticed most of the beans are up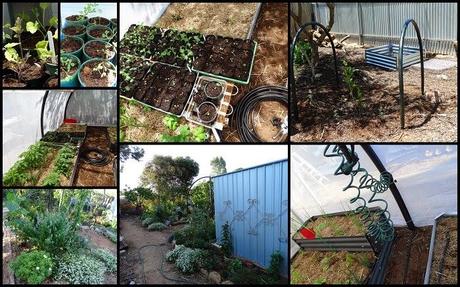 21st Jan 
Temperature Min 14.8C Max 29C
Doc finished off the new shelter.
Potted up seedlings of Lacinato/Tuscan Kale, the only 2 Brussels Sprouts and 3 Lettuce seedlings that survived being drowned in the rain!
Put them with the other lot of Kale seedlings in the shade tunnel where they will get more sun and still be protected from bugs
Potted on Roma Tomato and Rockmelon seedlings and some Lucerne out of their loo rolls (they are too dry this time of the year).
Made a hoop arch for the new Lemon tree for shade cloth.
In the evening I attached a connection for a curly hose in the shade tunnel and then tidied and pruned in the orchard beds.
This week I have been harvesting...
Kale that is still growing from last year
Parsley which has taken off since the rain
Thyme & Bay Leaves went into the soup/stock pot
Tomatoes
Tromboncino
Zucchini
Plums