Things might still be a bit of a mess in this back corner of the block but things are starting to grow!
A great week with cooler temperatures and a decent drop of rain at last! Very humid conditions so I had to keep an eye out for any mildew attacks.  The cooler weather meant the chance to spend some time in Adelaide and go shopping!
Notes from my garden diary...
Jan 2015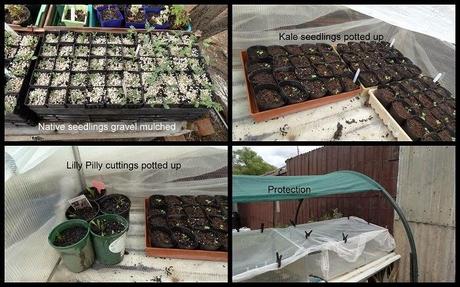 8th Jan
Temperature Min 21.5C Max 33.5C
Still waiting for the rain to start, swept concrete areas and continued to tidy...
Added gravel mulch (fine) to native seedling transplants
Potted up 3 trays of Kale seedlings and put them on the potting table (70% shade cloth) and covered them with vege net - should stop them being damaged by any heavy rain that might come...
Planted 4 tiny Tuscan Kale seedlings into the shade house beds.
Potted up 5 Lilly Pilly cuttings using the native potting mixture.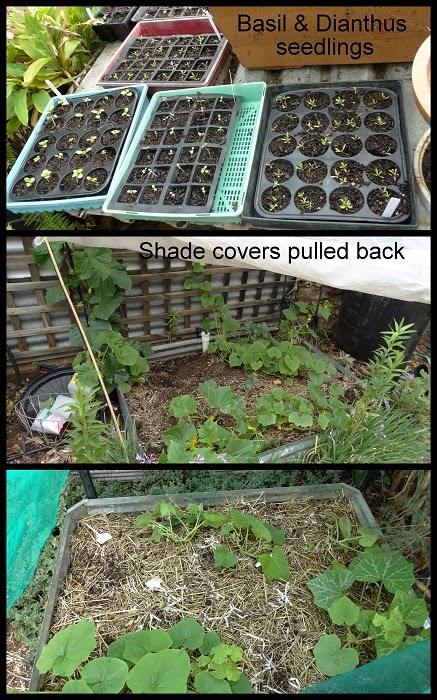 9th Jan
Temperature Min 18.7C Max 21.7C 5mm Rain
Much cooler with light rain falling after lunch.
Potted up Basils - Blue Spice, Thai Lime, Thai Siam Queen and Sweet.
Potted up Dianthus Fringed Pink.
Dead headed any spent flower heads and removed dead leaves on plants. We are on a downy mildew alert so shade covers were removed from beds especially cucurbits which are prone to mildew attack in humid weather. This will allow more air movement to dry the leaves of these plants.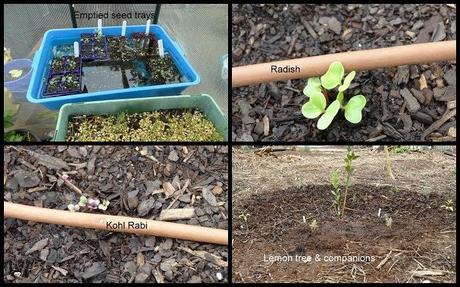 10th Jan
Temperature Min 13.3C Max  18C 27mm Rain o/night
Cool with drizzle falling...
Emptied trays that the pots are in - keeping some water at the base of a pot is one thing but being drowned is another matter.
Planted Lemon (Lemonade) tree, Lucerne seedlings, Lavender, Pigeon pea seedlings and a couple of Strawberry Guava seeds  around the base of the tree.
Seedlings of Radish and Kohl Rabi emerging in the shadehouse.
11th Jan
Temperature Min 13.2C Max 20.6C
Foggy and drizzly all day so spent the day cooking in the kitchen...lots of meals now in the freezer.
12th Jan
Temperature Min 15C Max 23.5C 2mm Rain
Took advantage of the cooler weather to hop in the Hippy Bus (campervan) and pop down to Adelaide for some retail therapy...lots of shopping...
13th Jan
Temperature Min 17.5C Max 20.6C 48mm Rain
A very windy return trip home from Adelaide to find a very wet garden and house!!! More rain!!!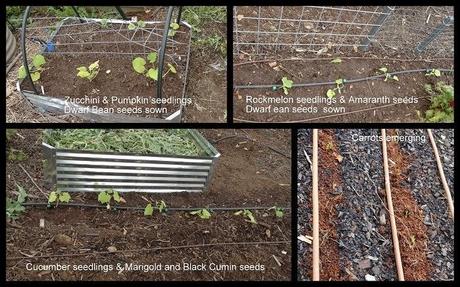 14th Jan
Temperature Min 11C Max 23.6C
The sun was out making it very pleasant to be in the garden. The soil was lovely and damp so I took the chance to shape some beds up and plant some seedlings.
Zucchini Black Jack, Cucumber Long Green, Pumpkin Golden Nugget, Nasturtiums and Rock Melon Petit Gris De Rennes.
Direct sown seeds of Marigold Red Marietta, Amaranth Autumn Palette, Aztec Amaranth Rajeera, Black Cumin, Bean Italian Romano and Violet Queen Bush Bean.
In the shade house the Carrots are germinating!
This week I have been harvesting...
Kale
Parsley
Silverbeet
Tomatoes
Zucchini
Plums