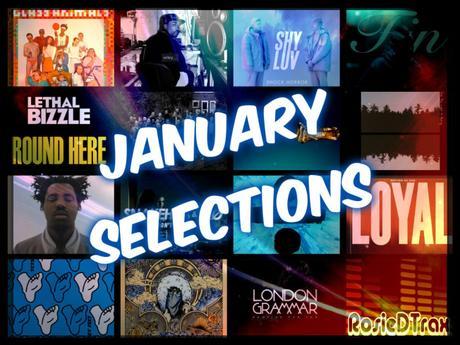 Where to start? Firstly, it's been awhile since I've done my monthly selections in detail, but just because I've been away, it doesn't mean I haven't been listening – and what a year 2016 has been! Check out my bitesize selections for the past few months. This year, I'm back with all the latest music news and reviews. So far we've highlighted all the rising artists in BBC Radio 1's Future Festival, had luscious new music from London Grammar with 'Rooting For You', an infectious dance floor banger from TCTS with 'Icy Feet', Circa Wave's epic new single 'Fire That Burns' and Major Lazer's infectious collaboration with Nicki Minaj and PartyNextDoor on 'Run Up'. Before we get into all the music releases, let's see what else has been happening in the music world.
2017 kicked off in true diva style with Mariah Carey ringing in the New Year at Dick Clark's Rockin' New Year's Eve ball drop. Unfortunately there were issues with mics and sound causing Mariah walk off stage in true Diva fashion. She later tweeted the following, perfectly capturing the spirit of 2017!

Ed Sheeran emerged from his year of social media silence with a video he posted to Twitter and Instagram of him holding a sign saying: "New music coming Friday!!" This was shortly followed by two new tracks 'Castle On A Hill' and 'Shape Of You', taken from his forthcoming album ÷ (divide) due on March 3rd. Keep an eye out for a Carpool Karaoke feature too! Welcome back Ed, We thought Mariah had us all doomed before we'd even started the year!
In chart news this month, The xx stormed into number one with their third studio album I See You, following the success of 2012's Coexist. Not far behind it though was Golden Globe and Bafta Award winning film La La Land in at number three, with original songs performed by Emma Stone and Ryan Gosling, such as the beautiful duet, 'City of Stars'. 2017 paved the way for an important comeback and a well timed one at that. Damon Albarn's band Gorrillaz unveiled their anti-Trump anthem 'Hallelujah Money', featuring Benjamin Clementine. The single is taken from their forthcoming fifth album and follow up to 2011's The Fall and serves as the first new material from the band in five years.  A new year also marks the start of some exciting new tours. Kasabian teased some new music over Christmas and have since announced a number of dates this year, including a big gig in their home town.  Ed Sheeran announced his new world tour, including 11 UK dates and 2 Ireland dates.

I know it's only January, but Festival Season will be here before you know it. Legendary Coachella Festival kicks off in April over two weekends (April 14-16 and 21-23) with none other than Radiohead, Kendrick Lamar and Beyonce set to headline. (Update: In case you're living under a rock, Beyonce and Jay-Z are expecting twins. Unfortunately Beyonce has had to cancel her headline performance on doctors orders, but promises to headline Coachella in 2018. Check back soon for news on her replacement) Other acts announced include The xx, Dillon Francis, Banks, Bon Iver, Martin Garrix, DJ Khaled, Lorde and  even Academy Award-winning film composer Hans Zimmer (Pirates of the Caribbean, The Lion King, The Dark Knight). Moving closer to home with far lower temperatures and heavy downpours, Glastonbury Festival confirmed it won't be around in 2019, but fear not, it's replacement festival has already been confirmed. The iconic music festival is temporarily moving away from Worthy Farm, and will be called 'The Variety Bazaar'. Reading and Leeds Festival announced Kasabian and Muse as two of their headliners for the August Festival. Other acts set to perform include Flume, Circa Waves, Fatboy Slim, Major Lazer and Bastille.
With the tragic passing of George Michael on Christmas Day, 2017 was met with a flood of tributes and kind words for the talented artist. James Corden kicked off The Late Late Show with a tribute to George Michael and reminisced over a 2011 Comic Relief Sketch, featuring Michael and Corden singing together in a car; the original inspiration for Carpool Karaoke
While December-February is dubbed in the film world as 'Awards season', February in the music world is all about the Brits and the Grammy's! The Brits are set to take place February 22nd at the O2, with hosts Dermot O'Leary and Emma WIllis stepping in for Michael Buble. With Little Mix and Skepta leading with three nominations each, The 1975, Kano, Michael Kiwanuka, Calvin Harris, James Arthur, Clean Bandit, Jonas Blue, Tinie Tempah and Coldplay all have two nominations. Mastercard British Album of the Year looks to be a tough category this year, with nominees such as David Bowie, Skepta, The 1975, Kano, and Michael Kiwanuka vying for the coveted award. Likewise for the The International Female Solo Artist category featuring artists such as Christine And The Queens, Rihanna, Sia, Beyonce and Solange Knowles. See the full list of nominees here. Over the other side of the Pond, James Corden will be hosting The Grammy's live from the Staples CEnter in LA. (Feb 12) With performances from nominated artists such as Adele, Metallica, Carrie Underwood and Keith Urban, it promises to be one incredible night. Unsurprisingly, Beyoncé leads this year's nominees with nine for her visual album Lemonade, but goes head to head with Adele and her album 25. Check out the full nominees here. It wouldn't be The Grammy's without a bit of controversy –  Kanye West, Drake and Justin Bieber won't be attending this years ceremony, despite having 20 nominations between them.  Apparently they believe the Grammys aren't relevant anymore… #awkward. How will we ever get by without Kanye storming the stage and causing controversy?

Now in February we can look ahead to what will no doubt be an epic Superbowl half time performance from Lady Gaga, as well as all the antics from The Grammy's and The Brits. Check out my January selections below with just over one hour for your listening pleasure.
1) Wiley – Speakerbox
The Godfather of Grime, Wiley, returns with his new Eski-influenced riddim 'Speaker Box' taken from his highly anticipated and aptly titled 11th studio album Godfather. The track surfaced late December so I thought it appropriate to highlight it again in my January picks. Godfather features contributions from fellow grime MC's JME, Ghetts, Skepta, Frisco and Lethal Bizzle to name but a few, so expect quite a few bangers this year. Opening and closing sampling a Skepta Interview, Wiley proves why he's the originator of grime, as he spits his rhymes with such energy and flow. Upcoming dates for Wiley include Albert Hall, Manchester (March 25) followed by a string of UK Festivals such as We are FSTVL, Wildlife, Parklife Reading and Leeds, and a headline date in Brixton Academy (Nov 3)
iTunes: Godfather
Google Play: Godfather
Tour Dates
2) LOYAL – Moving As One
UK quartet LOYAL unveiled their latest single 'Moving as One', serving as the follow up to previous singles 'House for You' and 'Blue & the Green'. 'Moving As One' is a slow burner of a track from it's defined drum rolls, pulsing guitars and looped echoed vocals, gradually building momentum throughout, culminating euphorically with it's sassy horns, soulful piano chords and indie-pop vibes. The multi-layered production gives great depth to the track and delivers a true feast for the ears.  Currently signed to IAMSOUND, 'Moving as One' is available from the below links:
iTunes: Moving As One
Google Play: Moving As One
3) Ed Sheeran – Shape Of You
Ed Sheeran made his long awaited return, having taken a well deserved break from the spotlight following his 2014 album X and chart topping singles 'Sing', Thinking Out Loud', Bloodstream' and 'Photograph'. Ed kicked off the new year in style with two new singles –  'Shape Of You' and 'Castle On A Hill'. The former was originally written for Rihanna and later suggested for Rudimental before keeping this gem for himself. 'Shape Of You' delivers a bouncy, tropical groove – not your typical Sheeran sound, but one that delivers a unique twist and edge. 'Shape Of You' is taken from Sheeran's forthcoming third studio album ÷ (Divide) which is set for release March 3rd. In the meantime you can buy the single's from the below links.
iTunes: (Shape Of You) (Castle On A Hill)
Google Play: (Shape Of You) (Castle On A Hill)
Tour Dates
4) Don't Leave – Snakehips & MØ
British producer duo Snakehips, (Oliver Lee and James Carter) have teamed up with Scandinavian popstar MØ for their latest single 'Don't Leave'. Their new collaboration follows a string of successful partnerships with Tinashe & Chance The Rapper on 'All My Friends', Anderson .Paak  'Money One Me' and Zayn with 'Cruel Summer', so it's no surprise Snakehips have continued with this trend. 'Don't Leave' highlights MØ's emotive vocals and rousing chorus, while Snakehips delivery some slick, synth infused production and rolling RnB style beats. Upcoming dates for MØ include Lollapalooza in March, while Snakehips are gearing up for Lollapalooza 2017 'Don't Leave' is available from the below links:
iTunes: Don't Leave
Google Play: Don't Leave 
Tour Dates Snakehips  (MØ)
5) Sampha – (No One Knows Me) Like The Piano
British Singer/songwriter and producer Sampha unveiled his breathtakingly beautiful new single, '(No One Knows Me) Like The Piano'. The multi-talented producer and songwriter has lent his talents to a whole host of artists over the years such as SBTRKT (Hold On), Drake (Too Much), Jessie Ware (Valentine), and Kanye West (Saint Pablo); but now it's Sampha's turn to take center stage. '(No One Knows Me) Like The Piano' is a heartfelt and reflective piece, with Sampha's smooth vocals and delicate keys glistening throughout. The single is taken from Sampha's debut album Process, which is set for release Feb 3 via Young Turks. Upcoming dates include O2 Acadmey Brixton (March 8)
iTunes: Process
Google Play: Process
Tour Dates
5) Maggie Rogers – On + Off
22 year old Maggie Rogers unveiled her new single 'On + Off'. Maggie was first propelled into the spotlight in 2016 when a clip of her showcasing her track 'Alaska' to Pharrell, during a masterclass at NYU's Clive Davis Institute, went viral. If you haven't seen this clip, please watch this!  You can see the precise moment Pharrell is thinking … wow, this girl has something really special and even made the super producer all teary eyed! Taken from her forthcoming debut EP Now That The Lights Is Fading, 'On + Off' serves as the follow up to 'Alaska' and 'Dog Years' and delivers a captivating genre-defying mashup of electronic, indie and pop, mixed with Rogers' glistening vocals.  Now That The Light Is Fading is set for release Feb 17th via Capitol/Debay Sounds. Upcoming dates include Omeara, London (February 27,28) and Electric Brixton (June 27)
iTunes: Now That The Light Is Fading
Google Play: Now That The Light Is Fading
Tour Dates
6) Run the Jewels – Legend Has It
This is another one of those December tracks that I'm sneaking in here – only because it's too good to miss! Run the Jewels, aka hip hop duo Killer Mike and El-P, kicked things into gear with their latest single. 'Legend Has It' is the third single taken from their highly anticipated album Run The Jewels 3, following the release of singles  'Talk To Me' and '2100' ft Boots. The fiery duo alternate bars over El P's infectious beats, delivering with such fierceness and fluidity. Run The Jewels 3 is available now and features collaborations from Danny Brown, Trina and more. Upcoming gigs include London's Roundhouse (April 1) and Field Day (June 3)
iTunes: Run The Jewels 3
Google Play: Run The Jewels 3
Tour Dates
7) Loyle Carner – Damselfly
Loyle Carner, aka Benjamin Coyle-Larne, unveiled his latest offering from his stunning debut album Yesterday's Gone with a track titled 'Isle Of Aran'. Having teamed up with producer, singer and multi instrumentalist Tom Misch in the past, Tom once again lends his talents to Damselfly. Lloyle showcases his effortless flows, clever wordplay and tight rhythms, all delivered above some jazzy guitar loops and Misch's carefree vocal hook. The production throughout serves up some laidback soul/jazz, similar to that heard in 'Isle of Aran' and the track that first garnered my attention, 'Aint' Nothing Changed'.  Growing up, Carner was heavily influenced by the Grime scene, yet there's a distinct old school hip hop edge and a vulnerability to him that really stands out. Upcoming dates include O2 Shepherds Bush Empire (February 17,18)
iTunes: Yesterday's Gone
Google Play: Yesterday's Gone
Tour Dates
8) Lethal Bizzle – Round Here Ft Giggs, Flowdan
After almost 8 years, Lethal Bizzle is set to drop his new album Lennox Rd, which serves as long awaited follow up to 2009's Go Hard. The first single to be taken from Lennox Rd is 'Round Here' ft Giggs and Flowan – an explosive track with the 3 MC's spitting over a fiery instrumental. Produced by The Heavytrackerz, 'Round Here' makes a statement with its frenzied pace, commanding lyrics and aggressive beats. Make way 2017 – Bizzle means business. Be sure to catch him at Hit The North in Newcastle Upon Tyne. (April 28-30)
iTunes: Round Here
Google Play: Round Here
Tour Dates
9)  Syd – All About Me
First there was the hip hop collective Odd Future, then the incredible successful and Grammy nominated band the Internet; now Syd has become the first member to showcase her solo material with her debut single 'All About Me'. Taken from Syd's forthcoming solo album Fin, 'All About Me' serves up a trippy, trap infused banger with hard hitting 808 kicks, skittering beats and Syd's hypnotic vocals weaving throughout. Fin is set for release Feb 3 . In the meantime, check out the video for some cameos from Tyler, The Creator, Hodgy and more Odd Future members.
iTunes: Fin
Google Play: Fin
10) Shy Luv – Shock Horror Ft JONES
Shy Luv, made up of producer duo Jake Norman and Sam Knowles, (aka Karma Kid) dropped the title track from their new EP 'Shock Horror'. The newly formed producer duo showcased their collective skills last year with their first single 'Joyriders' . Following this up with their latest offering, 'Shock Horror', serves up some funky baselines, soaring synths and infectious electro-pop vibes. The Shock Horror EP is available now via Black Butter Records. Upcoming dates for the duo include Disclosure's Wildlife Festival in Brighton (June 9-10).
iTunes: Shock Horror EP
Google Play: Shock Horror EP
11)  Skott – Glitter & Gloss
Skott first came to my attention last  year with her dazzling single 'Porcelain', and her latest single 'Glitter & Gloss' is no exception. The  Stockholm singers captivates with her stunning mix of folk, electronic and delicate falsetto vocals, while the siren style synths give the track some depth and edge. Skott's vocals soar above some twinkling electronic melodies and atmospheric production by Saint James, making it her meatiest track to date. Upcoming performances include a headline date at London's Omeara (March 7), followed by the legendary SXSW and The Great Escape.
iTunes: Glitter & Gloss
Google Play: Glitter & Gloss
Tour Dates
12) Glass Animals – Pork Soda
Indie-rock band Glass Animals, unveiled a re-worked version of their song 'Pork Soda' – a name inspired by a tattoo of a pig they saw on a woman's arm. Premiering with Mista Jam as his Hottest Record, the single conjures up a bustling street with various characters voiced by the band members. Originally taken from their 2016 album 'How To Be Human, each song depicts a different made-up character(s). Pork Soda showcases the group's creative flair, with drum sounds heard throughout made from old bins and pieces of metal, bringing the idea of street drummers to mind. Having overheard a homeless man saying 'pineapples are in my head', the unique lyrics become one the of the main melody hooks throughout. With a driving, groovy bassline and a rousing crescendo, 'Pork Soda' delivers on all fronts with its quirky production elements. Upcoming dates include O2 Academy Brixton (March 16)
iTunes: How To Be Human
Google Play: How To Be Human
Tour Dates
Check out the full playlist below and here's to another exciting month of music ahead!
Advertisements