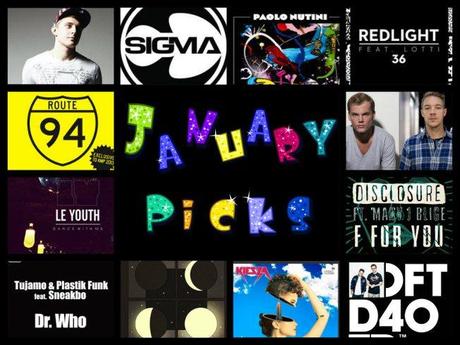 While January was a long boring month for many, it did provide us with lots of new music to get excited about. Kicking of the year was the BBC Sound of 2014 poll winner Sam Smith.  There were plenty of new music releases such as Banks' new single 'Brain' produced by Shlohmo to Foster The People's comeback single 'Coming Of Age'  and Disclosure's first full on hip-hop production of Bishop Nehru's 'You Stressin'. We also started the countdown to Summer festival season with big line ups revealed for Coachella, Reading and Leeds, Parklife, Bestival and Wireless.  The Grammy Awards took center stage in January and celebrated artists such as Lorde, Daft Punk and even Pharrell's hat!
Now in February, we look forward to the Brit Awards on February 19th , The NME awards shows with Austin Texas and lots more great new music. In the meantime, check out my top pics for January, with over 45 minutes of music for your listening pleasure.
1) Bombay Bicycle Club – Luna
Bombay Bicycle Club premiered their new single 'Luna' as Zane Lowe's first 'Hottest Record' of 2014.  The single serves as the follow up to 'Carry me' and is set to be taken from their forthcoming 4th studio album 'So Long, See You Tomorrow', which is available now. While 2011's 'A Different Kind Of Fix' brought us top singles such as 'Shuffle', 'Lights Out, Words Gone' and 'How Can You Swallow So Much Sleep', 'Luna' certainly doesn't disappoint. With its polished production, effortless vocals from Jack Steadman and featured vocalist Rae Morris, 'Luna' builds to a rhythmic and percussive crescendo, heralding their return for a bright 2014.
2) Tujamo and Plastik Funk ft Sneakbo
German duo Plastik Funk and producer Tujamo have had great success with their house track 'Who', receiving great support from Avicii, Steve Angello and even Tiesto in their sets. Now the original has been reworked to include vocals from UK rapper Sneakbo, who previously brought us tracks such as such as 'Ring A Ling', 'Zim Zimma' and 'The Wave'. With great support from the likes of Mista Jam, Zane Lowe and Charlie Sloth, Sneakbo jumps on the 'Dr Who' riddim and delivers a funky dance-floor banger.
3) Ms. Dynamite and DJ Fresh – Dibby Dibby Sound (Sigma Remix)
The already infectious sounds of DJ Fresh's 'Dibby Dibby Sound' ft Jay Fay and Ms Dynamite, has been remixed by none other than Drum and Bass duo Sigma (AKA Cameron Edwards and Joe Lenzie). Proud owners of their own label 'Life Recordings', previous releases from Sigma include 'Night & Day', 'Lassitude' and the influential 'All Blue'. With a host of official remixes under their belt for the likes of Eric Prydz, Rusko, Groove Armada and their most recent free download of Kanye West 'Bound 2', Sigma are currently working on their anticipated debut album.
4) Gotsome – 'Bassline' (Friend Within Remix)
Liverpool house producer 'Friend Within' has delivered an incredible remix of Gotsome's 'Bassline', who gives the track an extra edge with his punchy bass lines and dark ominous synths. With 2013 proving to be an impressive year with releases such as 'The Pull' on Dirtybird', 'The Relate' on Pet Recordings and the massive 'The Renegade' on Disclosure's 'Method Records', Friend Within is gearing up for this forthcoming 'The Undergound' EP on Hypercolour.  Friend Within also featured as Annie Macs pick for 'The Essential Mix Future Stars of 2014' so expect to hear a lot more from Friend Within this year. GotSome's 'Bassline' and remixes from Friend Within, Kenny Dope and Chocolate Puma is set for release March 30th.
5) Le Youth – Dance With Me ( Original & Jacob Plant Remix)
LA producer Le Youth (AKA Wes James) who brought us last year's care-free single 'C O O L' is back with an equally infectious single 'Dance With Me', featuring the vocals of Dominique Young Unique (Duke Dumont - Need You (100%)' and 'DJ Fresh & Diplo -Earthquake'). 'Dance With Me' champions classic R&B elements sampling TLC's 'No Scrubs' giving it that retro feel, but at the same time feeling fresh with its synth-pop vibes and Dominique Young's feisty hooks. Le Youth's Dance With Me is set for release February 9th. In the meantime, check out the new video here. On the other side of this, Jacob Plant has unveiled his new remix of 'Dance With me', which features a hefty dose of UK bass, creating one pulsating banger of a trap track.  Plant has sped up the track and delivers more intensity with his trademark bass heavy drops, as heard in previous singles such as 'Fire'.
6) Route 94 – My Love (feat. Jess Glynne)
20-year-old dance producer Route 94 has unveiled his new single 'My Love' ft Jess Glynn. The track was especially commissioned for Annie Mac's recent compilation album 'Annie Mac Presents 2013' and features the velvety vocals of Jess Glynn, accompanied by some warm house piano riffs throughout. Glynn is currently sitting at no1 in the charts with  her Clean Bandit collaboration of 'Rather Be' and has worked her infectious vocals once more on 'My Love' – a real hands in the air track. Route 94 has been gaining momentum since 2012 with his mysterious identity and string of material being released and supported by the likes of Skream and Benga. Having gone on to release his debut 4-track EP 'Fly 4 Life' through his self-titled label, this young producer is one to watch. My Love is out on 2nd March via Virgin EMI. Upcoming performances included Bugged Out Weekender in Southport and Parklife Weekender in Manchester
7) Avicii – You Make Me (Diplo & Ookay remix)
Diplo has unveiled his latest remix collaboration with San Diego based producer Ookay. The duo have re-worked Avicii's Summer smash single 'You Make Me', giving it the Trap treatment. While still staying true to its original form, Diplo and Ookay throw in some trap-style drops, distorted vocals and lazer synths, packing that extra punch.  Rising producer Ookay has made the quite impact with remixes of Congorock's 'Bless Di Nation Ft. Sean Paul' and Steve Aoki, Chris Lake & Tujamo's 'Boneless'. You can catch Ookay in Manchester this February while Diplo continues his constant touring with the powerhouse that is Major Lazer.
8) Paolo Nutini – Scream (Funk My Life Up)
Paulo Nutini is back with his new single 'Scream (Funk My Life Up)' set to be taken from his upcoming third album 'Caustic Love'. Nutini premiered the new single as Zane Lowe's Hottest Record last week and is the first new material to surface since his 2009 album 'Sunny Side Up' , proving to be an exciting taste of what's to come.  Having worked on the album in London, Glasgow and Valencia and US, Paulo co-produced the album with Dani Castelar and delivers a soulful funk-driven track with some sassy horn accompaniment and mighty vocals.   Caustic Love is available April 14th, while 'Scream (Funk My Life Up)' is available to download from March 30th.
9) Disclosure and Mary J Blige – F for You
The formidable force that is Disclosure has unveiled a re-worked version of 'F For You', now featuring the soulful vocals of Mary J Blige. The Grammy nominated duo are known for their strong choice of collaborators from London Grammar to AlunaGeorge and Jessie Ware to Nile Rodgers and were recently joined on stage in New York by MaryJ Blige for their reworked studio version of 'F For You'. Blige's soulful vocals infuse new life into the already exceptional track. Disclosure have always been keen to venture into the realm of hip-hop, having recently announced plans to collaborate with Hip Hop legend Q-Tip and their most recent full on hip hop production with Bishop Nehru 'You Stressin'. Currently on tour in the US, you can catch the Brit and Grammy nominated duo at Coachella as well as Parklife, Bestival and Reading & Leeds Festivals.
10) Kiesza – Hideaway
Meet Kiesza – a trained ballerina and skilled sailor,  who was almost recruited by the army as a sniper! If that hasn't got your attention, then hopefully this track will. The Canadian singer/songwriter premiered her debut single 'Hideaway' as a special delivery for Annie Mac last week.  The main force of the track is Keisza's pure and commanding vocals over a down-tempo funky bass line that delivers a fresh dance pop vibe. Expect an exciting year from Keisza who's currently working on her debut EP. Hideaway is available from March 24th.
11) Redlight ft Lotti – 36
Bristols finest, Redlight, has unveiled his new single '36',  taken from his forthcoming EP of the same name. The producer DJ had enlisted the vocals of Lotti and serves up a retro deep-house track with plenty of disco groove. Hoping to follow in the footsteps of previous singles including, 'Lost In Your Love' and 'Get Out My Head', '36' is set for release March 10th.
Check out the full playlist below!