Rather than do a weekly love, this week I'm going to do my January Monthly favourites.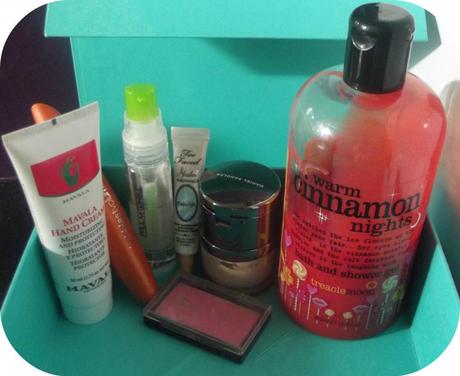 I've been loving a range of products this month, with make up, hair care, skin care and shower gel. 
Make Up:
MUA Blush in Shade 1 - I just love the bright pink shade of this. It add such a subtle hint of color when applied to the cheeks and I was reaching for it so much in January. It's also super cheap! I'd definitely recommend you trying their range.
Covergirl Lash Blast Volume Mascara - I got this mascara in my Canadian trade and I really love the big wand, with short bristle, to create gorgeous lashes. I have yet to review it, but I definitely will soon!
Too Faced Shadow Insurance - I got this eye shadow primer with my Too Faced Shadow Bon Bons palette and I absolutely adore it. It gives a shimmery base for eye looks and lasts for so long!
Daniel Sandler Invisible Radiance Foundation and Concealer* - through out December I found myself reaching for my Liz Earle Foundation that I love but in January I found myself going back to this beauty. It's great that their is a concealer with it, but I really love the coverage of the foundation. It is really light feeling and leaves my skin looking flawless, without caking on foundation! I have a review here.
Hair Care:
Paul Mitchell, Super Skinny® Serum* - I actually only started using this is January and I have to say it's really made a difference to my hair. I reviewed it earlier this month and one thing I have found through using it constantly, after washing my hair, is that it makes my hair so much more manageable! With the length and amount of hair I have I find that it tangles really easily and over this month my hair barely ever tangles anymore. The only addition to my hair care routine is this bad boy so I have to say I'm in love! It cuts my drying time in half and leaves my hair in such great condition. I will be repurchasing once I run out. I have a review here.
Skin Care:
Mavala Hand Cream - With the weather being so cold over January I've really been reaching for hand creams. I have 5 different hand creams, and the one that has really saved my hands has been this Mavala hand cream. It leaves my hands so soft and hydrated. Definitely a favorite this month. 
Shower Gel:
Treacle Moon, Warm Cinnamon Nights* - This has actually been a favorite all the winter months. It is one of the best smelling shower gels, alongside it's sister Iced Strawberry Dream*. I use it as bubble bath, shower gel, just to get a whiff of the smell. It lasts so long, I literally use it all the time and it's only half way through. I'll miss it's when it's gone as I'm not sure if they are still selling it as it's limited edition. I have a review here.
There we have my favourites :), I hope you have enjoyed this post. I really want to start getting into monthly favourites!

What are your favourites for January?

Thank you for reading!Natalie Roseanne <3