Can you believe it is the end of January already? I'm glad this month is over as it has been a very poor month for me and suspect for a lot of you. I am not longer a total hermit with no money to anything.
I have a fair few empties this month so lets get cracking.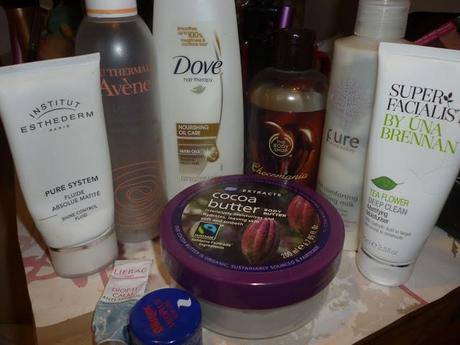 Institut Esthederm Pure System shine Control Fluid - I bought this months and months ago and have be using it on and off since. I still haven't made up my mind about this though. I think it helped make up foundation stay on a little longer but I wouldn't say it made my skin shine free.Still on the fence with this one.
Avene Gentle Toner - Another product I am a bit meh about. This did the job and as the title suggest is very gentle. I wouldn't buy it again.

Dove Nourishing Oil Care Conditioner. - I really liked this, left my hair super soft and made my hair more manageable. I would definitely repurchase this.
The Body Shop Chocomania Shower Gel - I have a review of this here. I adore this range from the Body Shop. It smells like chocolate, what more could you want. Also there shower gels I find are really moisturising on the skin and last forever.  
Pure Natural Beauty Skin Comforting Cleansing Milk - This is from Marks and Spencers and isn't as pure as they have you believe. It is a nice gentle cleanser that does the job but it definitely didn't wow me.
Superfacilaist Tea Flower Deep Clean Mattifiying Moisturiser - I love, love, love this. I wouldn't say this completely mattifiys the skin but my skin just loves it. It contains Salicylic Acid which is great for blemished prone skin and really helped to keep the black heads as well. It is also really moisturising without being heavy. If you have oily skin and are prone to break outs I would definitely recommend this.

Lierac Diopti Calm Anti Fatigue Eye Contour Balm & Mask - This was ok, it moisturised the skin well. It didn't help me look any less tired though. If you are looking for just simple eye cream this would be a good one but I like my eye cream to do so much more, so this was a bit disappointing for me.
Blistex Medi Plus for Lips - I think you all know how much I love this, so I won't go on. I would definitely repurchase this if I could find anywhere that has it in stock. It is driving me crazy.
Boots Cocoa Butter Body Butter - This has really helped my skin over the last few weeks. This weather has been really drying out my skin and using this every night has helped keep the scale skin look at bay. I would definitely repurchase after I have got through the mountain of Soap & glory products from Christmas.
What products have you used up this month?