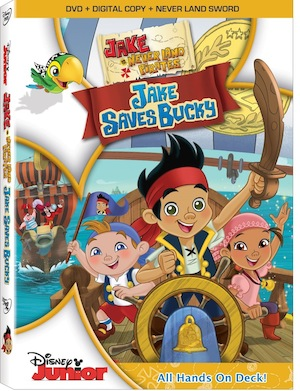 "Aw, Coconuts!" I hear that a lot around my house, along with "Yo ho, let's go!" since my boys love Jake and the NeverLand Pirates. When I told them I got Jake and the NeverLand Pirates Jake Saves Bucky they burst into excited chatter all at once. I heard all about Izzy and Cubby, Captain Hook, Sharky and Bones, and especially Jake and Peter Pan. Matthew told me how much he loves this episode but that it is a little scary when Jake and Peter Pan have to get past the fire-breathing dragon to save Bucky from the sneaky Captain Hook.
I love the fact that all three of the boys enjoy Jake and the NeverLand Pirates from Disney Junior. The stories teach about friendship and respect without being scary and without including violence or inappropriate language. Jake and the NeverLand Pirates Jake Saves Bucky is available on DVD and Digital Copy on October 16, 2012 and includes Jake Saves Bucky, Peter's Musical Pipes/The Never Night Star, Captain Hook's Hooks/Mr. Smee's Pet, Race-Around Rock!/Captain Hook is Missing!, and Captain Hook's Lagoon/Undersea Bucky! In addition there is a bonus feature of Pirate-oke "A Karaoke-like feature that allows viewers to sing along to a collection of the songs featured in the episodes."
You can buy your own Jake and the NeverLand Pirates Jake Saves Bucky for $19.99 US, $24.99 Canada.

The show runs for approximately 135 minutes, which is great for those long rides in the car. I know we will be bringing our copy along on our next trip.
I was provided with a copy of this title in exchange for an honest review of the product.