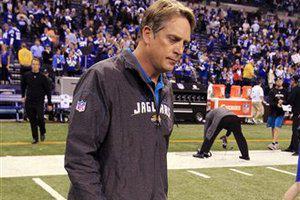 Photo: musiccitymiracles.com
- Adam Parker
Jack Del Rio's tumultuous tenure in Jacksonville has finally come to an end.
Jaguars fans around the country rejoiced today when Del Rio was informed that 'his services were no longer required'.
Del Rio became only the second coach in the franchise's young history, when he replaced Tom Coughlin in 2003. He finished his nine-year reign as the Jags' head coach with a (68-71) record. His last winning season was in 2007 when he led Jacksonville to an (11-5) mark. However, his teams were only 1-2 in postseason play.
Last season, Jaguars owner Wayne Weaver opted to retain Del Rio, despite the team finishing a disappointing 8-8, but made it clear that the team needed to reach the playoffs in 2011 if Del Rio wanted to keep his job.
"If we're not in the playoffs, it's pretty apparent we'll have a different coach," Weaver said in January.
Weaver also refused to extend the contracts of any of Del Rio's assistants, sending a franchise-wide message that this was a make or break season for the club.
Needless to say, with a dismal (3-8) record heading into a Monday night game against the San Diego Chargers, neither the team nor the coaching staff proved up to the challenge, which left Weaver no other choice than to start cleaning house.
Do I think it was a good move to fire Del Rio now?
Most definitely.
However, I also see how Del Rio was the victim of a terrible situation. I understand that his choices for assistant coaches haven't been ideal, but that's not entirely his fault.
In recent years, Jacksonville assistant coaching gigs have become the taboo of the NFL, or so it would seem.
To put it plainly, unless they're desperate, no one in their right mind would want to coach there.
But no matter what problems Del Rio may have faced, he didn't help himself any with how poorly he handled the quarterback situations during his time at Jacksonville.
In 2003, he announced he was benching longtime veteran starter Mark Brunell in favor of rookie Byron Leftwich before discussing it with the players.
Then in 2007, he insisted that Leftwich was his starter, only to cut him mere days before the season opener. He did the same thing to Leftwich's replacement, David Garrard this season, cutting him five days before the season started and naming Luke McCown the starter.
How did that go?
McCown was benched after only two games in favor of rookie quarterback Blaine Gabbert.
The Jags' offense hasn't fared much better with Gabbert under center. The 10th overall pick in April's draft has rattled under pressure and inaccurate on even the simplest passes, and he doesn't appear to be making much progress.
The blame can't go entirely on Gabbert's shoulders, though. Considering that the Jaguars have no consistent threats in the passing game outside of tight end Marcedes Lewis to take pressure off Maurice Jones-Drew and the running game, it comes as no surprise to see the rookie struggle.
Simply put, he's been thrown to the wolves and asked to do too much without the proper weapons. That's not the best way to raise the confidence of your rookie quarterback who you're hoping will be the future of the franchise, and it's also not helping any in the win column.
Jacksonville might finally be on the right track by finally cutting Del Rio loose.
But there's still much more to do, and the first order of business has got to be surrounding Gabbert with some receiving talent.
If the Jaguars are smart, they'll look to the draft, where names like Oklahoma State's Justin Blackmon and Oklahoma's Ryan Broyles will be on the Big Board.
As for Del Rio's future endeavors, maybe he should give his Alma mater a call to see if Lane Kiffin will throw him a bone.
Be sure to follow Beard And Stache on Twitter 
@BeardAndStache
, 
and also Adam 
@Adam_Parker43
, Like our Facebook page 
HERE
!