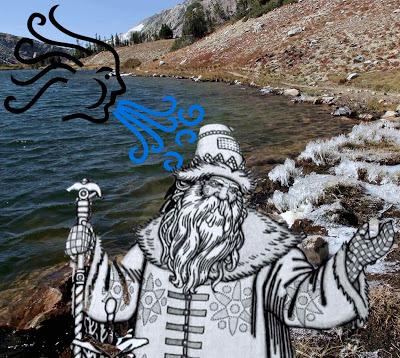 On the crest of the Medicine Bow Mountains, just 50 miles west of Laramie, Wyoming, stands the Snowy Range—a sharp-edged thousand-foot-high six-mile-long ridge of quartzite that glistens in the sun. Trails run along its base, cross it at the Gap, and climb to various points along the summit, including Medicine Bow Peak, the high point at 12,014 ft. Though the trailheads are in the subalpine zone, they're just an hour's drive from town, making the high country surprisingly accessible. And the scenery remains spectacularly photogenic, even after thirty years of hiking there.
But with hundreds of photos of "the Range" already, do I really need to carry a camera? This is one of life's persistent questions. Fortunately, I can still convince myself there's a chance of finding something new, fascinating, or at least entertaining.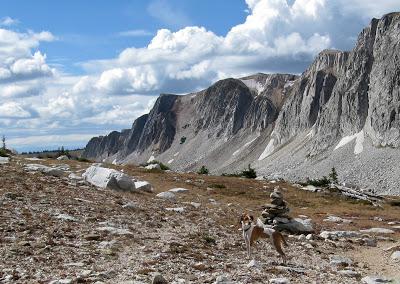 Emmie's first visit to the Snowy Range.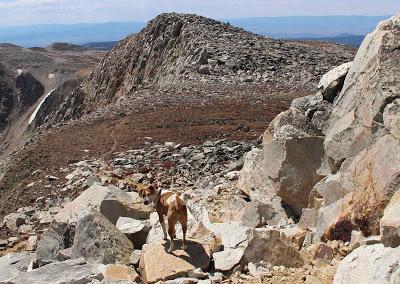 Contemplating the final push to the summit of Medicine Bow Peak, just out of view on right.
The Snowy Range is a very popular hiking area in the summer, but my favorite time to visit is early fall, especially on weekdays. Temps are cool, and the lower light makes for richer scenery. Usage is low, parking is no problem, and well-mannered dogs can hike off leash.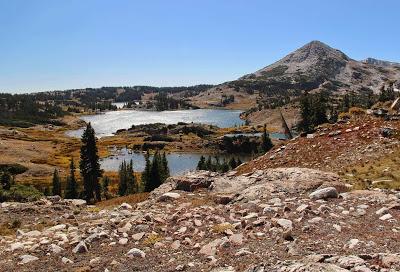 Looking back toward trailhead at Lewis Lake, below Sugarloaf (on right).
Last Thursday we hiked one of the most popular trails in the Snowy Range, the short but nontrivial jaunt from Lewis Lake up to the Gap Lakes. There were just four cars in the parking lot, and two people along the trail, enjoying lunch at the Gap. The only other creatures seen were a marmot, a chipmunk, two pikas and a seagull. It was a quiet fall day aside from the wind, which wasn't bad.
From North Gap Lake, a short trail east led to the Shelf Lakes—small shallow sparkling lakes below immense piles of quartzite talus. It was here that I was happy to have brought the camera.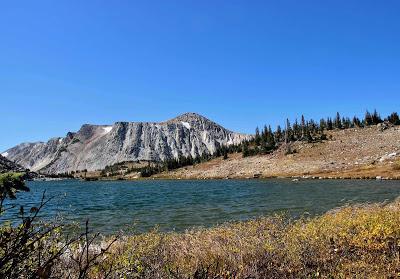 View west from Shelf Lakes; Medicine Bow Peak is bump at left end of ridge, above and right of snowfield.
From a distance, I saw that the far end of the first lake was rimmed with white, looking like salt along the shore of an alkaline lake, as we would see down in the Laramie Basin.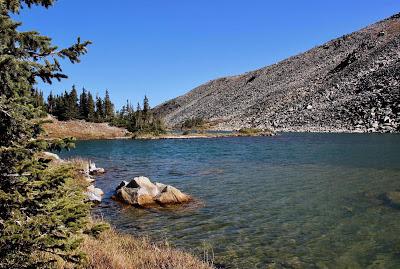 Note white line along vegetated lakeshore mid photo (not rocks on right).
But it wasn't salt. Each of the Shelf Lakes was lined with ice sculptures at the east end—which happened to be the downwind end. Apparently it was cold and windy enough recently for waves breaking against the shore to build up ice on plants and rocks.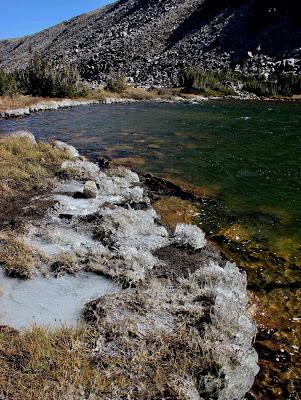 We spent about an hour admiring the artwork, and then ate lunch by one of the lakes, sitting next to the downwind side of a giant boulder.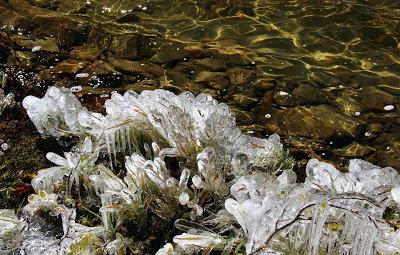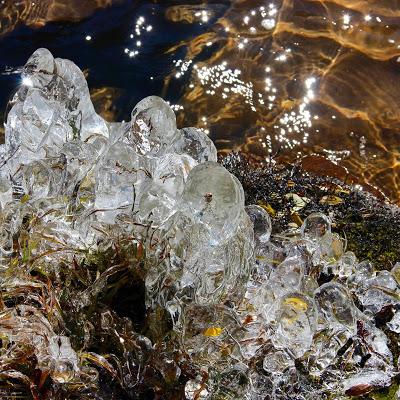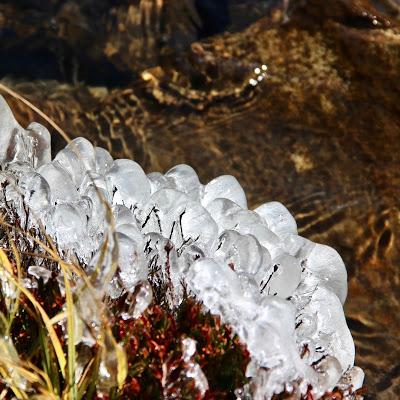 Botany geeks—if you look closely (click on images below), you can see that the graminoids encased in ice are mostly sedges (Carex), not grasses.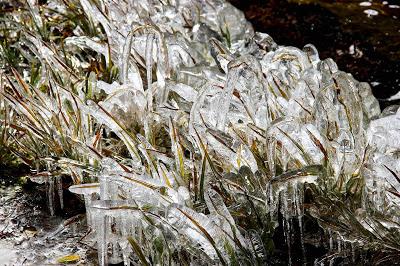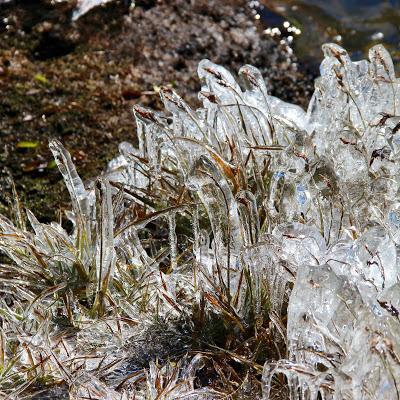 The branchlets of low shrubby willows (Salix) were strong enough to support long artistic drips. And with their stems encased in ice, a few willows appeared to be dancing.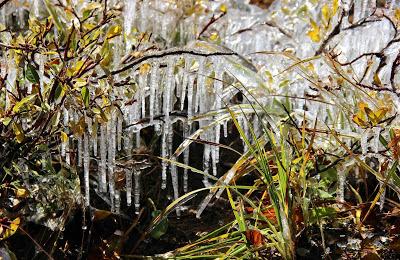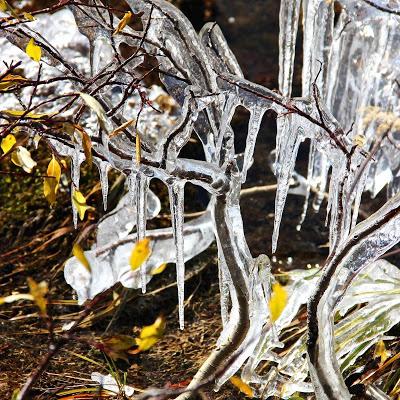 As always, Jack Frost disappeared after creating his sculptures, so I was left to speculate as to the process. However, his hypothesized collaborator, Aeolus, was still very much present—whispering, whining, and even howling a bit, as he stirred up eastbound wavelets on the lakes and confirmed my theory, at least in part.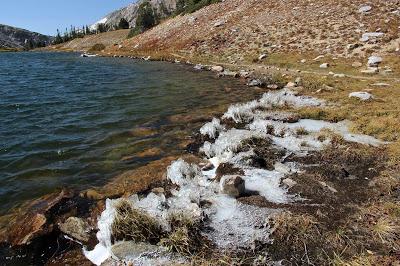 Click on image to see a few tiny white caps in the distance (shallow lake).