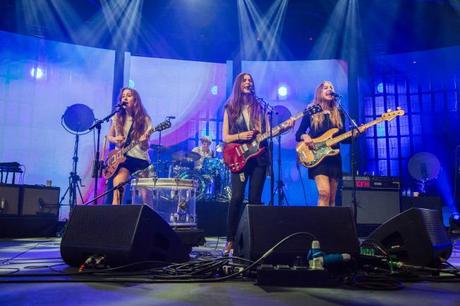 From crowd surfing to thrilling guitar jams, childhood montages to drum battles and Jelly Tots to Percy Pigs; it can only be the pure talent and lovable charm of sisterly trio HAIM.
The LA sisters headlined the iTunes Festival on Saturday to a packed out Camden Roundhouse, having previously supported Ellie Goulding a year ago exactly to the date; a feeling they expressed with sincere gratitude and almost disbelief at their incredible journey: "This moment is a little surreal for us you have to understand" – Este.
As the iTunes screens are lowered, followed by an intense countdown to the headline act, the Roundhouse give the LA sisters a warm welcome to London. Opening their set with the infectious 'Falling', the crowd happily soak up their Californian vibes, as Danielle, (24) Este (27) and Alana (21) rock out on stage. Up next was their latest single 'The Wire'; another confident single from their already impressive back catalog.  Two songs in and already we're into a heavy jam session, to which Danielle tells the crowd: "Just imagine you're in LA in our Living room". Having originally started off as a family band called 'Rockinhaim', it's not difficult to imagine the sisters jamming away in their living room and steadily progressing their sound into a more r&b-folksy vibe with 80's influences, celebrating the simplicity of percussion and beautiful harmonies. Their intense jam session (a cover of 'Fleetwood Mac's 'Oh Well') highlights the girl's technical ability, musical talents and energy as they dominate on guitars and percussion to an ecstatic crowd.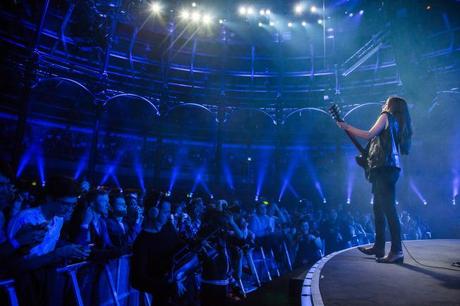 With their debut album 'Days Are Gone' just days away from release, the girls give us a taster of some new material to which Alana comments: "We thought we'd do something special for you guys and play a song that's on our new record called 'Honey and I' and we reworked it especially for you too."  'Go Slow' provides a nice change of pace in the set, but one that's short lived with Alana declaring: "It's Saturday night we should be raging – I need to feel the floor shake", before launching full speed into 'Send Me Down'.
Fan favourites 'Don't Save Me', 'Forever' and 'Better Off', are a testament to why HAIM are headlining iTunes festival. The energy the girls bring on stage is next level and their love of music just shines through. During 'Forever', a montage of childhood memories are displayed on the large screens behind them; a special moment displaying home footage of the girls playing in the snow, performing in school shows, to the present day where the girls are dancing in front of the Union Jack flag.
Not only do the girls display a serious amount of talent, HAIM  sure know how to entertain and interact with the crowd, with their humorous banter about chocolate caramels, receiving Jelly Tots from the crowd and their declaration of love for Percy Pigs.  Este sure isn't taking any more chances, after her diabetic sugar crash onstage at Glastonbury!
HAIM  close their electric set with none other than 'Let Me Go' followed by an immense drum-off, making reference to Estes previous comment:  "We have drum battles in our living room all the time… I usually win them" If that wasn't enough, Este kicks off her boots and launches herself into the first few rows crowd surfing.
With the release of their highly anticipated debut album 'Days Are Gone' set for release on September 30th, HAIM made sure this was one performance that would have you pre-ordering their album immediately. Having started off the year on a high winning the coveted BBC's 'Sound of 2013' poll, the HAIM  sisters, now signed to Jay Z's Roc Nation label, have proved their a force to be reckoned with as the world fall in love with their California rock vibes. 'Days Are Gone' is available to pre-order now!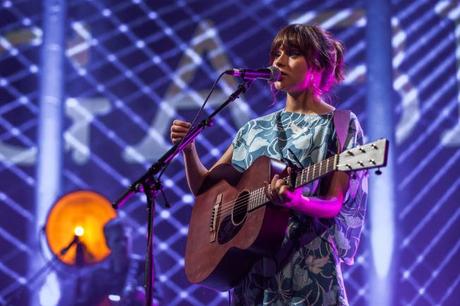 Supporting HAIM on the night were an impressive list of artists including 20 year old singer/songwriter Gabrielle Aplin, Manchester based Bipolar Sunshine (Adio Marchant), and 23 year old singer/songwriter and multi-instrumentalist Dan Croll. Gabrielle Aplin took to the stage with her 4 piece band, for an impressive 9 track set list including well-loved tracks such as 'Keep Pushing Me', 'Panic Cord', 'Power Of Love' and 'Home'. Gabrielle, who last year supported Emeli Sande, has such a confident stage presence and happily interacts with the crowd for a sing-along, as well as displaying her beautiful vocals and musical talents on piano and guitar; a true star that has an extremely bright career ahead of her.
Be sure to check out full highlights from the night at http://www.itunesfestival.com/ as well as streaming upcoming live performances from Tinie Tempah, Dizzee Rascal, Katy B, Justin Timberlake, Iggy Azalea and Katy Perry.