Some months ago I posted a recipe for artisan bread with Kalamata olives. I love making artisan bread, because it's so easy to make a larger quantity of dough, refrigerate it and then just use from it when needed. Today I have a recipe for semolina bread, using the same principle.
These quantities will make four 1 lb loaves:
- 3 cups durum flour (semolina flour that's labeled "durum") - 3 1/4 cups unbleached all-purpose flour - 3 cups lukewarm water - 1 1/2 tbsp granulated yeast (2 packets) - 1 1/2 tbsp Kosher salt - sesame seeds for top crust, about 1-2 tsp - cornstarch wash - cornmeal for the pizza peel
Mix the yeast, salt and lukewarm water in a 5-quart bowl. Mix in the flours, without kneading, using a spoon or a stand mixer with dough hook (my dear KitchenAid was there for me).
Cover (not airtight) and allow to rest at room temperature for about 2 hours or until the dough rises and collapses (or flattens on top). Now you can use the dough - cut off a piece of 1 lb. Refrigerate the rest of the dough in a lidded (not airtight) container and use over the next 2 weeks.
Dust with flour the dough piece you cut and quickly shape into a ball by stretching the surface of the dough around to the bottom on all four sides, rotating the ball 1/4 turn as you go. Elongate the ball to form an oval-shaped free-form loaf. Allow to rest and rise on a cornmeal-covered pizza peel for 40 minutes. The same procedure applies to refrigerated dough.
Preheat the oven to 450F, 20 minutes before baking time. Place a baking stone on the middle rack and an empty broiler tray on any other shelf that won't interfere with the bread.
Prepare the cornstarch wash: using a fork, blend 1/2 tsp cornstarch with a small amount of water to form a paste. Add 1/2 cup water and whisk with the fork. Microwave or boil until it appears glassy, 30-60 seconds on high. it will keep in the fridge for 2 weeks.
Just before baking, brush the surface of the bread with cornstarch wash, sprinkle with sesame seeds and slash the surface diagonally, using a serrated bread knife.
Slide the loaf directly onto the hot stone. Pour 1 cup of water into the broiler tray and quickly close the oven door. Bake for 30-35 minutes, until deeply browned and firm.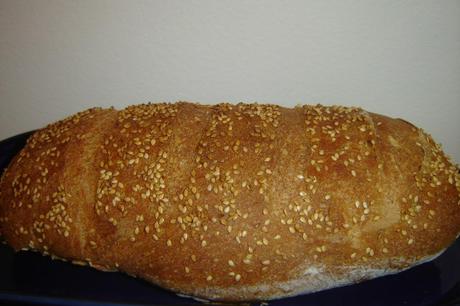 Allow to cool before slicing or eating (if you can :))).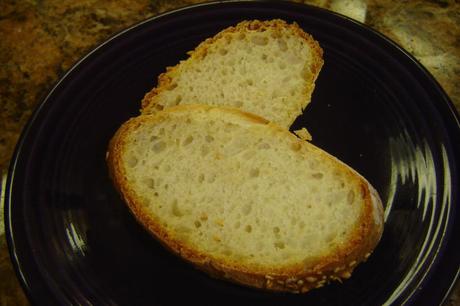 Enjoy!