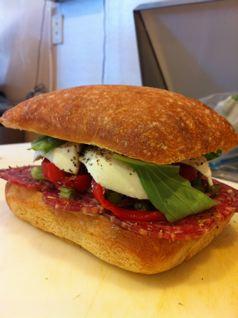 Italian Salami Sandwich
with Fresh Buffalo Mozzarella
By: Don Zilleri
Salami is a popular cured meat with lots of flavor, easy to make at home. Since salami offers burst essence of flavor, is a great choice of meat to make an exceptional sandwich.  In restaurants and cafes, Italian sandwich is known for three different Italian meat mix in one sandwich. I prefer enhancing and spicing up the flavor of one meat and hearten its relish. The analogy of  mixing the three meats is compared to mixing three flowers and making them into one bouquet.  It looks wonderful but to discover the magnificence and scent of each flower is unique in its own way.
-  Bread
For this sandwich, use a square or 12 inch freshly baked Ciabatta bread.
-  Salami
The mixture of the meat and fat, and the texture of the paste from the grind depends on the sort of salami. To craft a dry Salami, make a medium paste.  push the meat several times through the grinder in different sizes, each for finer grind than earlier.  Mix the fat and meat then add salt, pepper, coriander, thyme, and cure and culture. The trick is to keep the meat in safe cold temperature zone and wash the hands constantly.  Stuff the cold meat in natural casing and hang in a room temperature for 60 days.  To get a full detail and follow safe practice view the following site nirvani.net
Cut and slice your Salami 1/6 of an inch.
-  Garlic Sauce
Grab a small mixing bowl and add:
2 spoons of Mayonnaise,
1 teaspoon of aged balsamic vinaigrette,
1 teaspoon of fresh squeezes lime,
3/4 spoon of fresh grinned garlic.
1/2 teaspoon of Pomegranate sauce
1/2 teaspoon of black coarse pepper.
Mix using whisk
-  Roasted Red Bell Pepper
Grab a fresh and organic red bell pepper, slice in thick pieces.  Drizzle olive oil and place it in the oven until roasted.
-  Fresh Buffalo Mozzarella
Buy the fresh milk of buffalo curd from the local shops. Add hot water and shape the cheese into balls.  When ready cut the Mozzarella in 1/4 inch thin slices. Cut the fresh Ciabatta bread and empty the extra dough.  Spread the garlic sauce and place the Salami slices generously. Add tomato slices on top.  Cut the tomato slices 1/4 of inch thick. For this sandwich use fresh Romano. Complement it with Julienne-cut green onion. I suggest using 6 pieces of Capers instead of salt. Place the slices of Fresh Buffalo Mozzarella cheese on top, one per each tomato.  Add coarse pepper and fresh basil leafs, one per fresh mozzarella. Use your kitchen tong, lay the roasted red bell pepper on top. Butter brush the top bread and put the sandwich in the oven until golden. What is for side?  Since Salami has a distinct flavor, complement the sandwich with crisp, juicy and aged spear pickle. Enjoy This is an exclusive recipe for only
www.BidsByPros.com
 by Don Zilleri