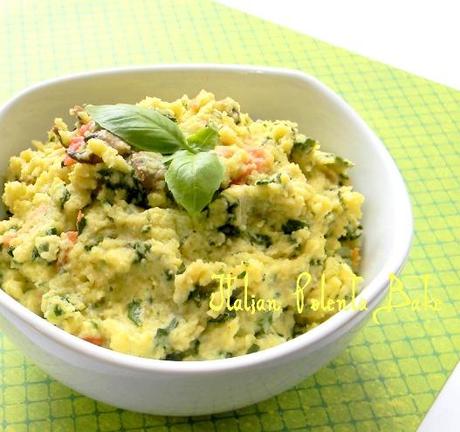 This would be a great dish for a crowd. Promise me you will buy a package of instant polenta and make this dish. Those of you who like to make the traditional soft, creamy polenta, I applaud you but this dish is nothing like that. You know how mashed potatoes get when they cool off? If I did not know I was eating polenta, I would think I was eating pumped up mashed potatoes.
I really did not start out with what I eventually ended up with. The original inspiration was a recipe for a baked semolina which I thought meant the semolina flour. The Italians make dumplings with semolina or farina and simmer them in a rich chicken broth with spinach and serve as their secondo. Not really reading the recipe, I thought I could do the same thing by substituting polenta for the semolina (one grain for another). Problem was, they were referring to semolina couscous.....DUH
Well, I still wanted to make a baked polenta dish so that is what I did. I thought that I could use my regular baked polenta but add all sorts of flavors. Then I got worried the stone ground wouldn't bake the way I wanted it to with all that extra stuff, so I pulled out the instant polenta.
No pre-cooking involved, just chop and drop. Would be a quick side for a weeknight dinner and while you are roasting a chicken breast or grilling a chop, this could be in the oven.
Once cooled it could be sliced and served, but hot it softens to "spoon onto a plate" consistency, almost like a baked souffle. I made Parmesan Veal and a Mushroom Wine Sauce (post tomorrow) to serve this with and it was good great fabulous!!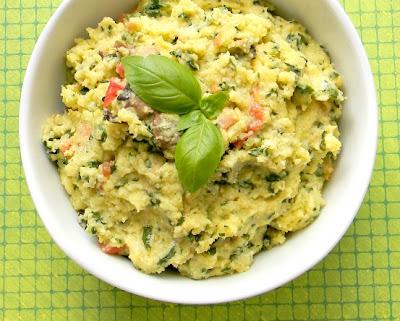 Italian Polenta Bake
makes 6 servings
* 2 cups fresh spinach
* 1 cup 1% milk
* 1/3 cup ricotta cheese
* 1 small tomato, seeded and diced
* 1 teaspoon chopped fresh basil
* 1/4 cup chopped mushrooms
* 3/4 cup instant polenta
* 1 cup chicken broth + 1/3 cup (could use vegetable broth)
* 2 tablespoons grated Parmesan cheese
* 1 egg, beaten
* salt & pepper
* 2 ounces goat cheese
1. Prepare a small baking pan with butter or spray. Preheat oven to 350°.
2. Process the spinach and milk until the spinach is chopped fine but mot pureed.
3. Whisk the egg and ricotta in a large bowl. Add the spinach mixture, the mushrooms, tomato, grated cheese, salt & pepper and the polenta. Spoon mixture into baking pan.
4. Pour chicken broth over top but do not mix in. Cover tightly with foil and bake in the oven for 20 minutes.
5. Remove and stir in remaining chicken broth and the goat cheese. Cover and bake another 15-20 minutes.
6. Remove and let it cool. Stir to fluff and serve.