Normally I love the summer.  I was born in July as a "Leo" and can't get enough of the sun.  The winter always makes me a little depressed and I wait all year for my summer weather.  Here in the midwest we've had beautiful blue skies almost every day.  I thought that would be perfect: summer, blue skies, a hammock, and a book.  Sadly the one thing that's unusually about our weather is the freak heatwave we've had since June.  Temperatures are getting up to 106F and it's hot.  I've tried to spend time outside but it's pretty impossible.  After about 10 minutes I feel like I'm roasting and my phone usually flashes a heat warning and shuts itself off.
Spending my summer inside with the air conditioning, while comfortable, is not my favorite way to spend the summer  and I keep waiting for the temp to go down so I can go out.  At least with the new job I'm spending time inside and getting paid for it every now and then, which makes things a little easier…but I'm still waiting for my normal summer weather to come back.
This week has been pretty slow on the reading front.  I wanted to have another book done by today but I'm only about 30 pages into it which is a little depressing.  I spent yesterday watching my niece and working on lesson plans/curriculum standards and then feel instantly asleep once it got dark.  Well, I guess I'll just have to make up for lost time the rest of the week.  It's only Wednesday after all.  Is July going by incredibly fast for anyone else?  This summer has just disappeared.
I have, however, been able to make a little progress with the cross-stitch big project.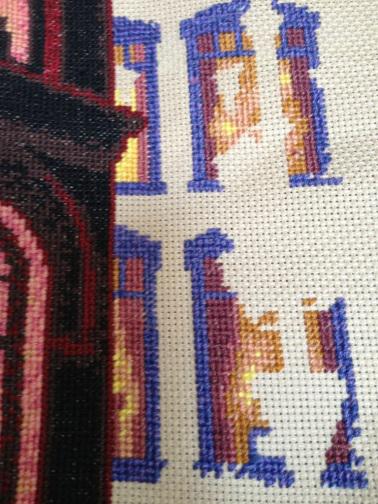 close up of the windows.
Here's a close up of the last set of windows.  The empty space is filling in quickly.  I'm so excited to see it complete!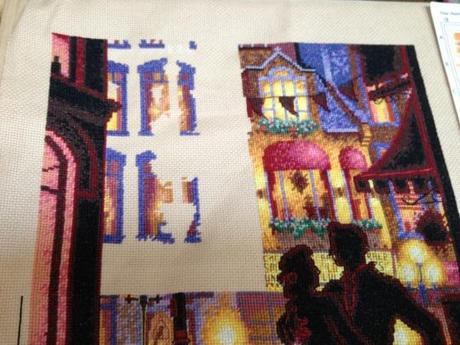 Just a little more to go. Coming together nicely
The two sides don't look like they go together very well, but I'm sure once the background gets filled in they'll blend together.
Hope you all are having a good start to your Wednesday and have time to do something crafty or read a good book.