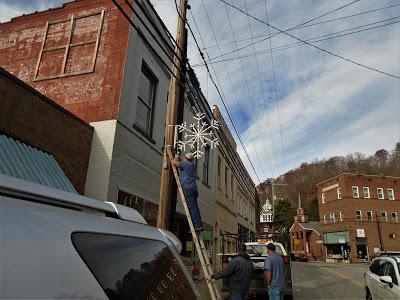 The holiday decorations are going up in Marshall; the Thanksgiving turkey has been reduced to a delicious broth; I've made a start on Christmas cards; now comes the Christmas shopping.
In the past I've relied on John's woodworking and Amazon to do most of the work but, nudged by my daughter-in-law in Atlanta's wish list, I'm investigating some Fair Trade, environmentally and socially active businesses.  I was pleasantly surprised by many and slightly overwhelmed by others. So many choices -- cruelty-free, sustainable, vegan, woman or minority run, politically active-- I applaud the intentions, even as my head swims..
I'm trying to pay special attention to cutting back on plastic--all those sad pictures of sea creatures killed by eating/being trapped by plastic are haunting to me. But it's everywhere-- my toothbrush, my bottle of Dawn for washing dishes, the containers I freeze leftovers in-- the list is endless.
Ever since the early Seventies, I've used cloth napkins rather than paper, composted/fed to chickens food scraps, and tried to follow the maxim "Use it up; Wear it out; Make it do; Do without" -- well, at least the first three quarters of it. 
But today, almost every decision is fraught with difficult choices. I'm just going to have to get better at this. I've taken my own shopping bags to the grocery for years. Now I've asked for reusable cloth produce bags for Christmas. I reuse the plastic bags as much as possible and when I finally dispose of them, I tie them in knots so they won't blow around at the landfill 
Grocery shopping yesterday presented me with a new decision-making opportunity. I needed to buy eggs. (A possum got in our hen house and killed the rooster a few nights ago. The girls were traumatized and their egg output, already low due to the time of year, has dropped off.)
I definitely wanted cage free/free range eggs. Organic would be nice but not a deal breaker. And I wanted a cardboard carton, not foam, not see-through plastic. 
I settled for cage free in cardboard -- all the other candidates were encased in plastic.