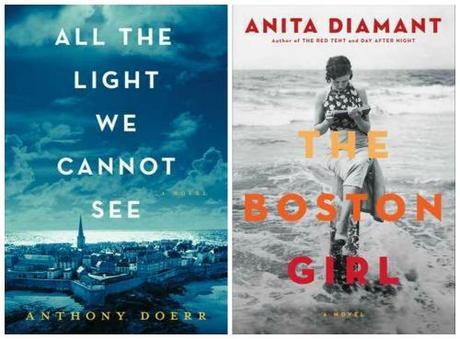 Happy Monday Darlings!
Today, while standing in my favorite bookstore in Arizona browsing the shelves, I came across the 'Staff Picks' bookcase.  On the shelf where All the Light We Cannot See was supposed to be shelved, there was only a notecard stating why this staff person thought AtLWCS was the best book ever written.  Then and there I decided it is time to break down and read the darn thing!  And of course I would decide then and there when then and there the book was ALL SOLD OUT!  That's what I get for waiting, right?!?  No worries ~ I found a B&N, and bought a copy there!
Marie Laure lives with her father in Paris within walking distance of the Museum of Natural History where he works as the master of the locks (there are thousands of locks in the museum). When she is six, she goes blind, and her father builds her a model of their neighborhood, every house, every manhole, so she can memorize it with her fingers and navigate the real streets with her feet and cane. When the Germans occupy Paris, father and daughter flee to Saint-Malo on the Brittany coast, where Marie-Laure's agoraphobic great uncle lives in a tall, narrow house by the sea wall.

In another world in Germany, an orphan boy, Werner, grows up with his younger sister, Jutta, both enchanted by a crude radio Werner finds. He becomes a master at building and fixing radios, a talent that wins him a place at an elite and brutal military academy and, ultimately, makes him a highly specialized tracker of the Resistance. Werner travels through the heart of Hitler Youth to the far-flung outskirts of Russia, and finally into Saint-Malo, where his path converges with Marie-Laure.

Doerr's gorgeous combination of soaring imagination with observation is electric. Deftly interweaving the lives of Marie-Laure and Werner, Doerr illuminates the ways, against all odds, people try to be good to one another. Ten years in the writing, All the Light We Cannot See is his most ambitious and dazzling work.
I am also finishing up The Boston Girl by Anita Diamont.  After reading The Red Tent many many years ago I am forever on the lookout for Diamont's latest release.  The Boston Girl is an unforgettable coming-of-age novel about family ties and values, friendship and feminism told through the eyes of  a young Jewish woman growing up in Boston in the early twentieth century.  Feminism, coming-of-age and friendship? I am so there!
What's on your list to read this week?
It's Monday, What Are You Reading? is hosted by Sheila at Book Journey.