I have been SOOOOOOOOOOOOOOOOOOOOOO busy!  It's not that I haven't eaten anything fabulous, or dined anywhere worth writing about, I just haven't had the time to share much of it with you!
I don't want you to think I've forgotten about you, so I want to give you the link for the latest weekly digest for The Trendy Vegan ▸ http://paper.li/vegandthecity/1343335592
I also want to share this piece with tips for a great, vegan Memorial Day.  I saw it on Facebook, and it looks super fab.  I added some of my own comments (they're in green) just so I'm not a total slacker.
I'm going "down the shore" (which means heading to the Atlantic City suburbs for the weekend) so I won't be doing much cooking, but these recipes will be great if you are!  I am bringing my Nutribullet, so maybe I'll have a great new combo of flavors to share.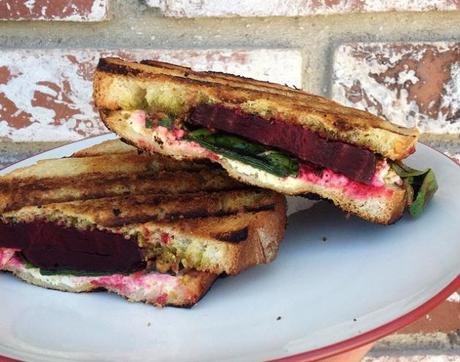 Grilled Beet Panini with Mint-Pistachio Pesto & Lemon Pepper Ricotta. Recipe & photo by Brian Patton (aka The Sexy Vegan).
Get ready for an amazing Memorial Day barbecue by learning how to go beyond the typical veggie burger with some help from Brian Patton, author of The Sexy Vegan Cookbook and Happy Hour at Home. Brian, aka The Sexy Vegan, is an expert at turning your farmer's market into an instant feast. He shares a few great tips for making this Memorial Day a yummy one. Plus, Brian kindly offers his recipe for a Grilled Beet Panini with Mint-Pistachio Pesto & Lemon Pepper Ricotta (delicious!).
Happy Memorial Day!
1. Experiment Beyond the Veggie Burger
While grabbing a box of veggie burgers is easy, Brian says, "There is a diverse selection of grillable veggies out there that will get your omnivore guests thinking about BBQing in a whole new way.Portobellos, bell peppers, summer squash, asparagus, and red onion are all classic, go-to grilling veggies."
If you have a Trader Joe's by you, check out what vegan veggie burgers they carry...of course my fave veggie "burger" of all time? Felafel!!
2. Grill Lettuce
Brian shares a quick tip that you might not have considered—grill lettuce. Says Brian, "Toss halved heads of romaine and endive, and a quartered radicchio with a little olive oil, salt, and pepper, and grill on high until charred on the outside."  
I do this nearly every time I barbecue!  The romaine is the best,  but keep an eye on it...charred is good.  Burnt is not.
3. Make Simple Sandwiches
Brian's idea for farm fresh grilled paninis is perfect for a day outdoors. He says, "You can par-cook [partially cook] beets, fingerling potatoes, and fresh artichokes and finish cooking them on the grill. Once your veggies are grilled and cool enough to handle, you can layer them between slices of crusty bread for paninis on the grill." Genius. We can't wait to make these!
 Try arugla paninis with avocado and tomato and basil, maybe even a touch of hummus...
4. Toss a Fresh Salad
For a gluten-free alternative, Brian suggests chopping your grilled vegetables up for a salad and toss with a vinaigrette for an opulent orgy of colors, flavors, and textures.
Lentils add both fiber and protein, and enhance any vegetable.
 5. Serve Signature Drinks
Brian says, "You can make your shindig extra excellent by offering at least one specialty cocktail or beverage. You can try making my Arnold Bomber, found in
 The Sexy Vegan Cookbook: Extraordinary Food from an Ordinary Dude
 (or watch my 
video demonstration
). Or try your hand at some fun agua frescas. These easy and refreshing infused waters can be made with things like coconuts, mangos, and melons. You can serve them out of one of those fancy glass beverage dispensers, and have a little sign next to it that reads: 'Just add gin.'"  
I had a cocktail last night with Hefeweizen Grapefruit Beer, Absolute Vodka and St. Germain Elderflower Liquer.  Yum...Be creative!
6.  Grab Snacks from Trader Joe's
Shares Brian, "Since I'm already making agua frescas, and prepping 17 different veggies to grill, I take some help from the store on this one. TJ's always has some new weird vegan snack thing that is usually pretty darn good. My number one favorite is the Everything Pretzel Thins. I also love the Lentil Curls and Olive Oil Popcorn. If you're really lucky they will also have the Baked Onion Rings in stock—basically, a version of Funyuns."  
I love my Dang Coconut Chips and unsalted pistachios too...
Grilled Beet Panini with Mint-Pistachio Pesto & Lemon Pepper Ricotta
Makes 4 sandwiches
3 large red beets, greens and ends removed (but, yo! eat those greens, dude)
1/2 packed cup, baby spinach
Lemon Pepper Tofu Ricotta (see recipe below)
Pistachio Mint Pesto (see recipe below)
8 slices crusty bread
1/2 cup olive oil (for brushing bread)
Place the beets in a large pot, and cover them completely with cold water. Bring to a boil, reduce to a simmer, and cook 45 to 50 minutes (ample time to prepare the other ingredients, hint, hint), until a fork or wooden skewer can pass through them easily. I like using a wooden skewer because a fork makes too many holes and doesn't look nice…in other words, "it gets all forked up." Drain, and let cool.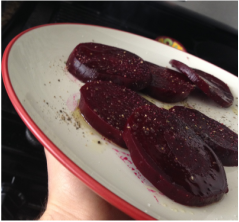 Photo: Brian Patton
Once cool enough to handle, peel away the skins, and slice them into 1/4 inch rounds. You'll use the largest ones for your sandwiches…the smaller ones, you can save for adding to salads. You'll need about 3 slices per sandwich. Heat a grill or grill pan to medium-high. Drizzle some olive oil on the beet slices, season with salt and pepper, and rub it around until they are coated. Place them on the hot grill, and make sure you hear a sizzle. If not, wait until it heats up more.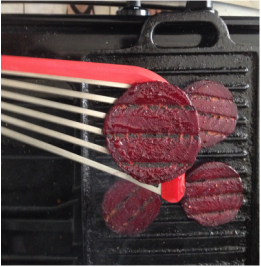 Photo: Brian Patton
Grill for 3 to 4 minutes on one side until you've got grill marks, then flip and repeat. Set aside to cool. Now turn your grill down to medium low, and give it time to cool down. You want it at a much lower temperature for when you grill the sandwich, because the sandwich needs time to compress and heat through. And if the grill is too hot, the bread will burn before this happens. By the way, the spatula I'm using here is a new addition to my kitchen gadgetry. It's perfect for flipping things in a sauté pan or on a grill or griddle. It's especially awesome because it has a silicone edge to protect your non-stick and cast iron cookware. I highly recommend. Check it out HERE.
MINT-PISTACHIO PESTO
As you can see, I use the Trader Joe's "Dry Roasted & Salted Pistachio Nutmeats". If you don't have these particular nutmeats, any pistachio nutmeats will do. Like if you can't get salted nutmeats, get unsalted nutmeats, and add more salt. Nutmeats.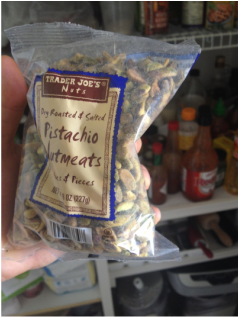 Photo: Brian Patton
1 clove garlic
1/2 packed cup fresh italian flat leaf parsley
1/4 packed cup fresh mint leaves
1/2 teaspoon lemon juice
1/8 teaspoon salt, plus more to taste
2 teaspoons nutritional yeast
pinch pepper
1/4 cup + 2 tablespoons extra virgin olive oil
1/4 cup salted pistachio nutmeats
Place all ingredients (except the last 2 tablespoons of olive oil, which will be streamed in later), into a small food processor or mini chopper. Process until everything is finely chopped. Then, continue to process and stream in the remaining 2 tablespoons of oil, until a smooth consistency is reached. Season with salt and pepper to taste. Place in a small bowl, and cover snugly with plastic wrap to slow the oxidizing process.
LEMON-PEPPER TOFU RICOTTA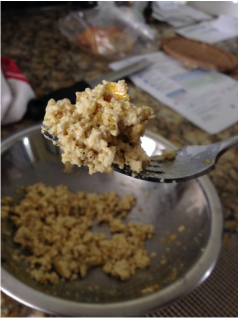 Photo: Brian Patton
6 ounces extra firm tofu, drained, and gently pressed (you don't need to do any extensive pressing, just between your two hands over the sink so a little of the water comes out will suffice)
zest of 1 lemon
1 teaspoon extra virgin olive oil
1 heaping tablespoon nutritional yeast
4 teaspoons lemon juice
1 1/2 teaspoons fresh cracked pepper
1/2 teaspoon dried oregano
1/4 teaspoon salt, plus more to taste
Place all ingredients in a mixing bowl. Mash with a fork or your hands until the tofu is completely crumbled. Season with salt and pepper to taste. Set aside.
SANDWICH ASSEMBLY
1. Lay out your slices of bread. Spread the ricotta on the slice that will be the bottom of the sandwich, and spread the pesto on the slice that will be the top.
2. Add the spinach on top of the ricotta, and add 3 beet slices on top of the spinach, slightly overlapping each slice. Then place the pesto-slathered slice of bread on top.
3.Brush the top of the bread with oil, and place it oiled side down on the grill. To press the sandwiches, I use a big brick wrapped in foil. You can use a heavy cast iron skillet or pot if you don't have a brick. But the bricks work great.
4.Grill the sandwich on one side for 5 to 7 minutes, until the bread has nice grill marks and is golden. Brush the top side with the remaining oil, flip the sandwich, and place the brick back on top for another 5 to 7 minutes. Serve hot off the grill.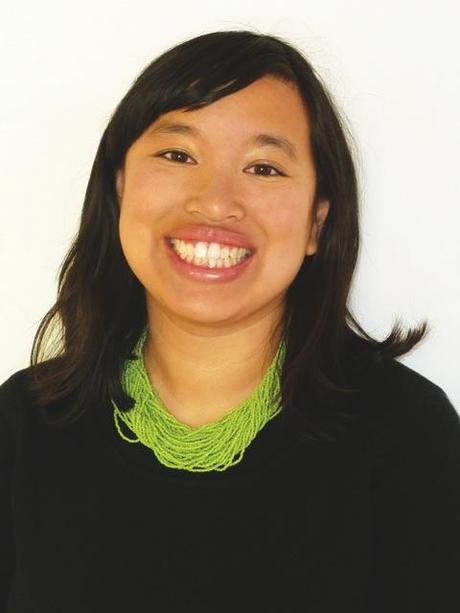 Jennifer Chen
 is a freelance writer and editor, playwright, and author. She lives in Los Angeles with her TV writer husband, three-legged cat, adorable pug, and huggable yellow Lab.