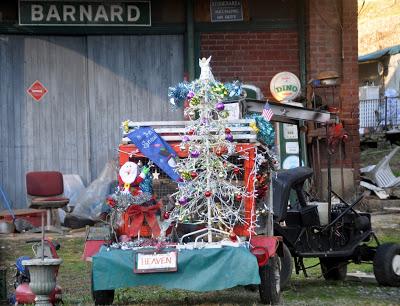 It must be the season of peace on earth, good will to all.
The fella at the bridge has his Christmas display out . . .
And I've starting making some little child-safe, pet-safe ornaments . . .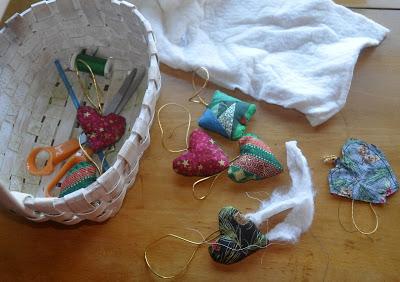 In spite of the fact that the rose by our steps has put forth a bud . . .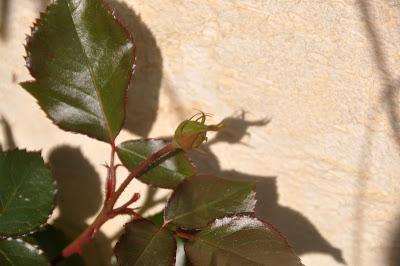 And in spite of the really appalling anti-Muslim rhetoric -- and worse than rhetoric, physical brutality -- displayed by some violent, ignorant Americans toward any they perceive as Muslim.
I've done a bit of long-distance learning about the Muslims among us -- the women who are afraid to wear the hijab for fear of being singled out for abuse, the mothers who have to have talks with their children on how to deal with a hostile environment at school, the families who must think in terms of a worst-case scenario where all Muslims are rounded up   . . . or worse. HERE is an excellent, eye-opening letter from an American Muslim. I highly recommend it for all who, like me, are far removed from any Muslim communities . . . and, really, for everyone else.
It's heartbreaking to see the ugly side of so many Americans being inflamed by fear-mongers who would use that fear for their own political gain. The specter of Nazi Germany looms large in this peaceful season. Could it happen here?
I am heartened to see that at last many people are speaking out against hateful Islamaphobia and calling attention to the good and peaceable Muslims that are a part of the fabric of our society. May the voices of men of good will drown out the shrill, hate-filled rants of the fearful. (One example from Russell Simmons HERE.)
 Peace be with you ~
Asalam 'alakum ~
 Peace on earth, goodwill to men.