I love winter but have a major problem when it comes to manourvering outfits that travel from
minus outside weather to cosy indoor temperatures, yet still remain super stylish. Let's face it, get it wrong and you're more likely to look like a bag-lady than first lady.
Here at style bauble we have invested some time in finding the best looks to ensure you get this trend right, regardless of shape, size or budget. Try these classic layering looks that will carry you from the office, to lunch with the girls, to cocktails with the love.
Outfit One: The edgy blazer, loose cardigan and sheer blouse - pulled together with a studded belt over the cardigan.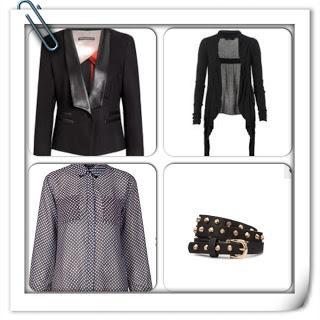 Drykorn Bonfield Blazer
www.drykorn.com
; AllSaints Shadow Cardigan
www.allsaints.com
; Studded Skinny Belt New Look
www.newlook.com
; Sheer Shirt Topshop
www.topshop.co.uk
Outfit Two: The faux fur gilet, knitted jacket and tshirt combo, set off with chunky jewelry.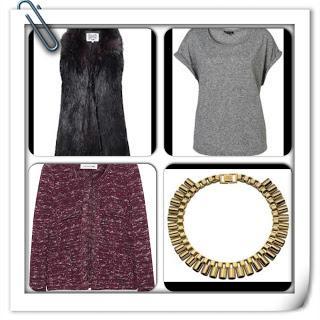 Firetrap Diva Faux Fur Gilet www.firetrap.com; Topshop Oversized Grey T-Shirt www.topshop.co.uk; Mawi Boxchain Necklace www.mawi.co.uk; Etoile Isabel Marent Jacket - Net-a-porter www.net-a-porter.com
Outfit Three: The leather shorts, printed tank top, chunky cardigan and fur stole.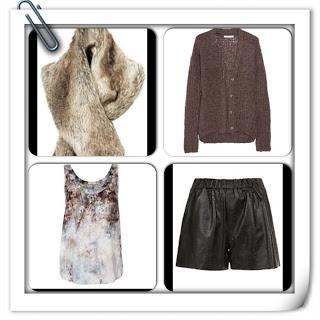 Topshop Faux Fur Stole

www.topshop.co.uk

; Duffy Open Knit Cardigan - The Outnet

www.theoutnet.com

; Topshop Boutique Leather Shorts

www.topshop.co.uk

; Paul Smith Bramble Print Vest

www.paulsmith.co.uk

 
Outfit Four: The pretty slip dress, denim shirt, sleevless sweater and designer clutch.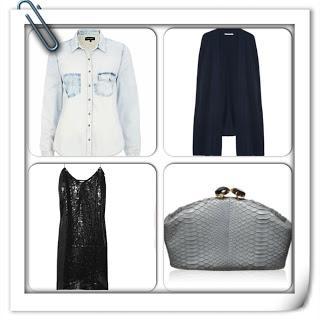 River Island Bleached Denim Shirt

www.riverisland.co.uk

; Diane Von Furstenberg Takala Sleeveless Cardigan - Net-a-porter

www.net-a-porter.com

; Marni Frame Bag

www.marni.com

; Tibi Sequinned Slip Dress - Net-a-porter

www.net-a-porter.com