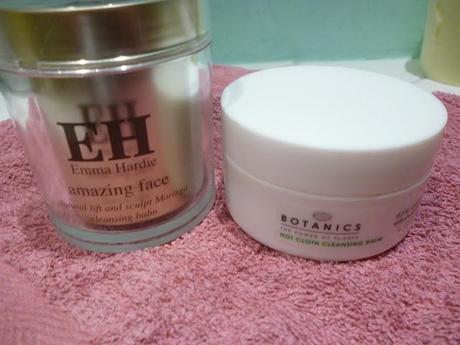 I thought it was about time I throw my views out there on cleansing balms. I do like to get involved with the hype.
If you have read my blog for a while you will know I have loved using cleansing oils for years. I find them such an effective cleanser while still being gentle. Well I find cleansing balms very similar.
The two I have been trying out are the Emma Hardie Amazing Face Cleansing Balm and the Botanics Hot Cloth Cleansing Balm. Both are on the more natural side of things and do not contain mineral oil, which is an ingredient that I avoid as much as possible.
The Botanics Balm was the first one I tried. This is a budget friendly product at £8.99 but is often on offer. It is 97% organic and contains Rosehip, Jojoba oil and Shea Butter.It has a lovely herbal scent to it as well.
The Emma Hardie Cleansing Balm, which is a product I'm sure you all have heard about, unless you have been living under a rock. This has such a luxury feel to it and I can definitely see why everyone loves it.This contains so many gorgeous ingredients from Moringa seed extract, Wild Sea Fennel and Vitamin E to Orange, Neroli and Mandarin extracts. It also has a subtle floral scent which is lovely. This isn't the cheapest though, ranging from £27 - £34.
I use both of these products in the same way. I scoop a small amount out and gently massage it into dry skin, if I am wearing eye make up I take it over my eyes too. After massaging the balm in for a couple of minutes I then dampen my hands and massage again which turns both balms into a slight milky texture. After about 30 seconds I then grab a muslin cloth or flannel. (The Botanics balm comes with a muslin cloth) I run it under warm water, ring it out and gentle exfoliate my skin with it and take the balm off.
This literally takes everything off and you skin feels super clean. If I am doing this in the evening and have had make up on I will cleanse again but wouldn't in the morning I would go straight onto my toner.
I find the Botanics needs a little bit more work to remove and can leave a residue if I use to much but I still really like it.
I highly recommend both of these products. You can definitely tell you are using more of a luxury product with the Emma Hardie balm and I would say I favour that slightly over the Botanics but I think the Botanics balm is a great budget friendly balm that does the exact same job.
Have you tried either of these?