Anyone who's seen one of my foundation reviews with a "before" picture will know that I tend to have a lot of redness on my face. Thanks annoying late-set acne! Recently my skin has been greatly improved, though not as blemish free as I would like, and I still have an occasional angry red breakout and plenty of healing red spots from the earlier acne. Because of this (actually I first started using it while the acne was even angrier), I decided to give the
IT Cosmetics Bye Bye Redness
a try. At this point, I've given it more than it's fair share of a try and I'm finally sitting down to actually review this little pot of wonder for you!
J
*** Be prepared for some scary close-ups of my red, blotchy face
J
***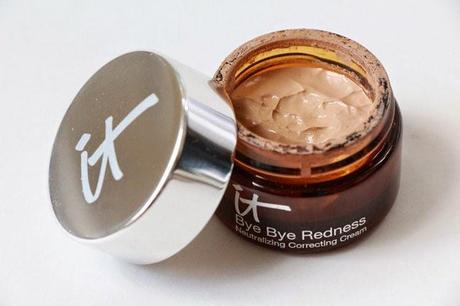 In case you don't know what Bye Bye Redness is, it's described as a "Neutralizing Correcting Cream." It comes in a tiny little pot filled with a light colored flesh-toned thick cream. It's intended to counteract primarily redness, but also general discoloration, all without that horrible and often emphasizing green tint. It
can
be used as a foundation if the whopping one available shade matches your skin tone, but I wouldn't recommend it for that. We'll get into why a bit later. This heavy duty concealer (which is basically what it is) contains some soothing ingredients like Colloidal Oatmeal and Aloe, as well as some potential problem causers because it is chocked full of silicones, which can
cause
breakouts for many people. In terms of consistency, if you've tried the Kevyn Aucoin Sensual Skin Enhancer (check out my review
here
), it's quite similar to that, but much better for covering redness and with better staying power. For my problem areas, it's been an absolute time saving wonder!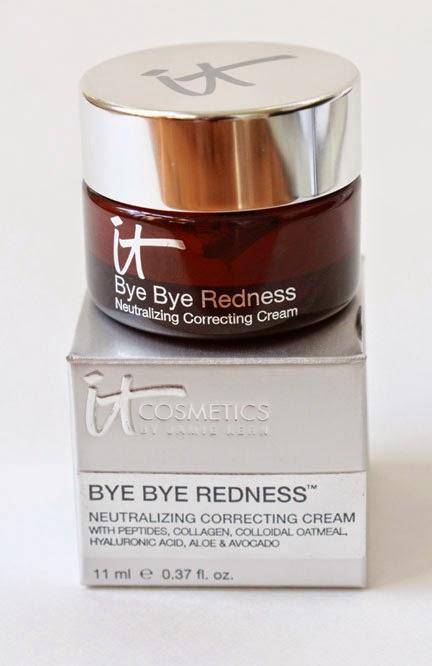 So let's start by discussing the texture of Bye Bye Redness. This correcting concealer is
very
thick, but also
very
creamy. It's highly, highly pigmented so a teeny tiny little dot will go a very long way. Since it contains Peptides, Hyaluronic Acid, Hydrolyzed Silk, and a variety of Oils, it's quite smooth and hydrating, helping it blend like a dream! When used as a concealer, it is pretty much weightless on the skin, so it's very comfortable and easy to forget it's even there. Then you wash it off at night and remember, "Oh yeah, my skin's horrible today!"
J
If used with a light hand, it will easily correct, conceal, blend beautifully, and feel like virtually nothing on the skin.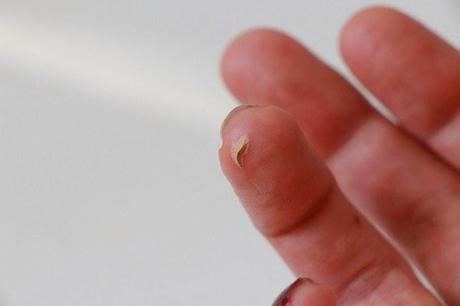 Like anything, there are pros and cons to this product. We'll start on the bright side and go through the pros:
It definitely camouflages redness, so it's fantastic for acne, scars and probably birthmarks as well

The tiniest dot goes a

long

way and it blends easily and seamlessly into the skin

It stays put! Though it can fade a bit throughout the day, there will still be decent coverage remaining when it's time to remove your makeup

It can be used with or without foundation, and it can be used under or over foundation

As a spot concealer, it is about as weightless as you can get
Moving on to the cons:
Since it is quite thick, it can look cakey if you apply to much

The thickness also can emphasize the look of pores, uneven texture and dryness

If used under the eyes, it can crease and settle into fine lines

It only comes in one shade, so if it doesn't match your skin tone, you'll have to cover over it with foundation (it matches my skin pretty well, so I can just pop this on and run out the door if I feel like it)

It is kind of expensive for the tiny amount you receive, but then again you need so little of it for concealing that it should last a good while

It's not great as an overall foundation because it

is

so thick and heavy (it's not intended for the entire face, but

can

be used that way if it matches your skin)

It contains silicones which can be quite irritating and comedeogenic for many people (fortunately for me, I haven't had any issues using it)
It might seem that there are more cons than pros, but I feel like the pros
far
outweigh the cons, unless your skin cannot tolerate silicones. So, since some of the cons are easily remedied by applied techniques, I'll get into what works for me when applying the Bye Bye Redness. If I'm wearing foundation, I'll apply that first. Then I start with the tiniest little dot of Bye Bye Redness that I can get on the tip of my ring finger, and I gently dot it onto whatever area I'm trying to neutralize. I only dot it until there's little to no product left on my finger – no blending yet. Then I either pick up more cream, or start blending out the dots with the same finger. I use my ring finger because I find it's the easiest and quickest way to blend, and your ring finger uses the least pressure which means it's harder to wipe away all of your efforts. I basically just dab, dab, dab the concealer over any redness until it disappears into my skin. That's it! Should it settle into uneven texture or look too heavy, I'll grab a foundation blurring brush (usually my Urban Decay Optical Blurring Brush or the Real Techniques Expert Face Brush) and gently dab over the area until it looks acceptable. I always set it with loose powder to help it last even longer. That's it! I
do
try to avoid putting this on the apples of my cheeks where my pores are most noticeable, but should I have a zit there, I just use great caution not to blend much beyond the actual red spot. I actually find the Bye Bye Redness to be pretty quick and easy to apply – the biggest secret lies in keeping a minimal amount of product on the area to cover.
(For these photos, I tried to keep the lighting and angles as similar as possible, but the light was coming and going. Also, this is using ONLY the Bye Bye Redness on colored areas - no foundation. And again I apologize that you must see my blotches in all their glory! 
J
)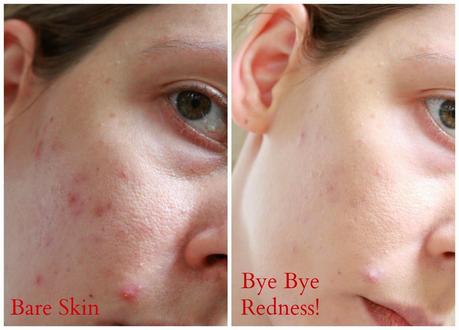 So what's my verdict? The
IT Cosmetics Bye Bye Redness
is absolutely fantastic! I have struggled with so much redness for what feels like
so
long. Standard concealers usually take far too much time for my liking, and never
truly
cover the redness. Now I feel like I finally have a great helper that conceals quickly and effectively without fading too dramatically throughout the day. It's obviously a bit of a targeted product. If you just have minor redness around your nose, you probably don't need something this powerful, but for those of us suffering with acne, scarring, rosacea, really any kind of redness that exceeds the capacity of a general concealer, I would highly recommend giving
IT Cosmetics' Bye Bye Redness
a try. It has definitely been a lifesaver for me!
J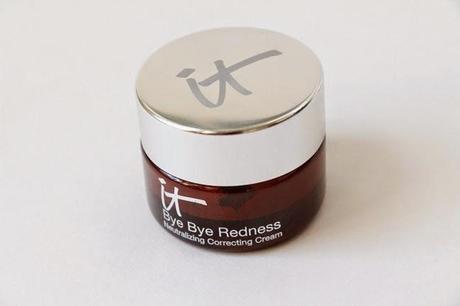 IT Cosmetics Bye Bye Redness
 comes in a 0.37oz / 11mL pot that retails for $32 and is available at
IT Cosmetics.com
, Ulta retail locations, and
Ulta.com
.