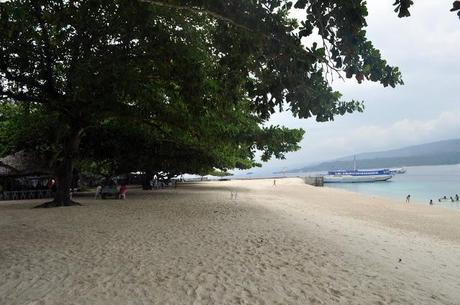 As I mentioned in my previous post – we decided to take it easy on our Davao trip. Letting go of detailed plan and relying on spontaneous frenzy was something  new to me. Nonetheless it allow us to absorbed the no frills atmosphere of Davao.  While scouring on the places of interest in Davao, one spot that caught my interest is the Samal Island. It should at least be included in the trip, I said to myself. It's a tossed up between Pearl Farm and Isla Reta, but we chose the latter since we're on a budget.
And so on an early Sunday morning, we took a cab that took us to Sta. Ana wharf. The best thing about it 
is  we made it on the first scheduled trip. Woohoo!!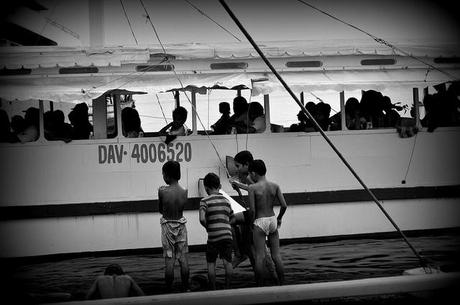 Sta. Ana wharf
And just as I thought it would be, the boat going to the island didn't leave right away. We spent the time watching some kids playfully jumping in the water to get the coins thrown up by fellow boat passengers.  It was a brief crossing from Sta. Ana to Isla Reta. The entire duration of the trip is approximately 45 minutes – enough time to take some relaxing nap or just contemplate.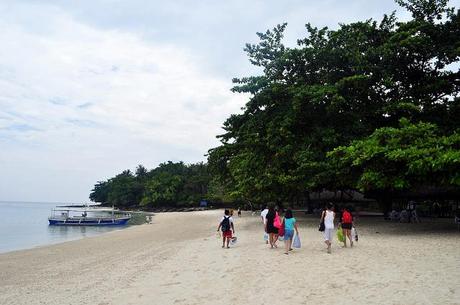 Isla Reta
When the boat finally halted in the dock  we can't help not be lured by the clear water and the long stretch of white sand beach. I immediately took off my Sanuk just to feel the beach fine sand.
Except for a couple of chips and bottled soda we didn't bring any food for lunch. I immediately dashed to the resorts canteen. I ordered tanigue and pancit canton for our lunch.The prices of their food is reasonably priced since they're the ones whose going to cook them. Meat is somewhat pricey here and I was kinda envy when I saw a family who grilled some pork BBQ.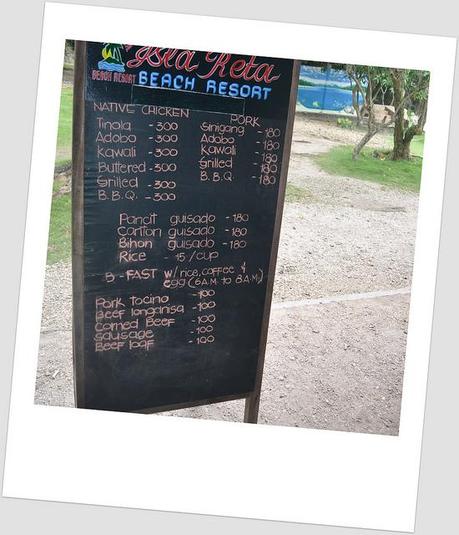 The white sandy beach and pristine waters of Isla Reta  was just so enticing I couldn't resist not to take a dip.  The sand is fine comparable to that of the famous Boracay, the only difference is that it tends to be a bit rocky when you're near the water. To me the entire place is comparable to Burotbeach of Calatagan because of the Talisay trees that lined up the stretch of the beach.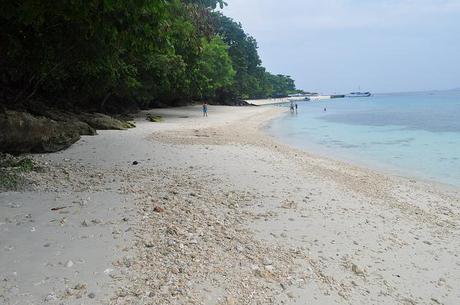 Isla Reta is actually a part of the Talikud Island (located in the back of Samal Island).  What's great about being here is that there aren't any huge crowds that can be seen in the beach. I explored the other side of the beach but wasn't fascinated, I decided to go back our cottage.  We didn't really find a lot of things to do here other than drinking  beer and talking about our future plans.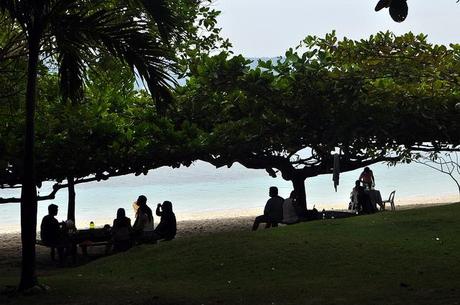 under the shade of the Talisay trees
And it was almost lunchtime and we're so hungry I decided to follow up our order only to found out that the caretaker eventually forgot about it. Oh, darn it!
Even with a beautiful scenery around me I sometimes feel like I'm blundered with these insanely grouchy moods I get in – can't blame us though because we're so effin' hungry that time. The lady in charge promise to get back on our order immediately. And so another half an hour passed before our lunch was finally served.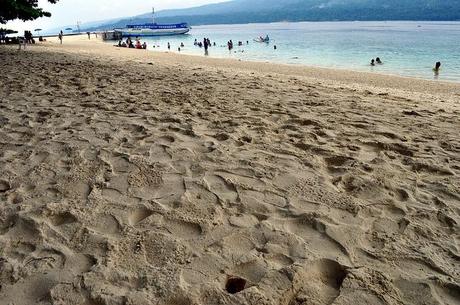 The lunch was a feast, we couldn't finished the grilled tanigue but I find the pancit too salty for my taste. The cottage that we took was a perfect spot to lie down and just enjoy the  laidback vibe of Isla Reta. As the clock strikes 3PM we trudged down the lengthy white beach and began to board the boat going back to the city of Davao.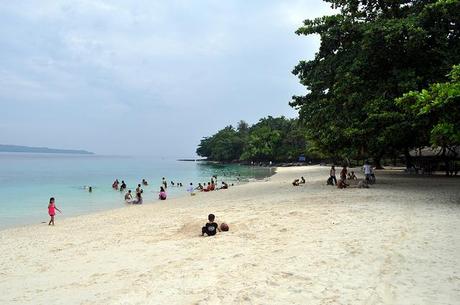 How to get

here:
Regardless of where you're coming from in Davao City there are regular ferry trip from Sta. Ana Wharf to Isla Reta.

Ferry departs every 9AM and 3PM daily.