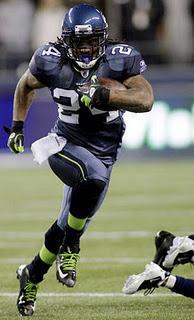 Photo: Ted Warren, Associated Press
- Troy Ballard
I never give up when I run, I am nearly impossible to tackle, I am a monster out of the backfield, I am great at running through defensive traffic, I can block, I led the Seattle Seahawks to a heroic win over the New Orleans Saints in the playoffs, I eat Skittles on the sideline, I am Marshawn Lynch.
The Seattle Seahawks have been jokingly called the 'Comeback Kids,' but this season, the name has held totally true. After an abysmal start to the year, Seattle has managed to climb right back into the wildcard race in the NFC, and are (4-1) in their last five games. If Seattle wins out, it's likely they will beat out both the Chicago Bears and Detroit Lions for the second wildcard spot.
Despite being doubted in almost every single one of their games, Seattle has been playing some sharp football recently. The defense has been fundamental and consistent, and the offense has been methodical and has held onto the ball well. The base for the Seahawks' recent late-season surge?
Lynch.
Most remember Lynch for his amazing game-sealing run against the Saints last season, which caused a small earthquake in Seattle generated from crowd noise. However, people seem to forget that before Lynch was a Seahawk, he was nothing more than an underwhelming trouble maker with the Buffalo Bills.
In Buffalo, Lynch had back-to-back 1,000 yard seasons, (his rookie and sophomore years), but found himself in hot water with the league following conduct policy violations. Following a three-game suspension, Lynch found himself buried on the depth chart and losing carries rapidly. The former first-round pick was traded away for almost nothing to the Seahawks, as the Bills entered a rebuilding process.
In hindsight, Lynch getting out of Buffalo not only saved his career, but also allowed him to become a featured back in a run-heavy offense. Lynch has come into his own in Seattle, and is the most hard-nosed rusher in the NFL, displaying above and beyond effort on every single carry.
As of week 14, Lynch is set to break 1,000 yards at any moment, and is currently on pace to shatter his career-high season rushing total. This season, he has nine rushing touchdowns, two more than he ever had in a single year. Although, the most impressive number on the season, Lynch is averaging 4.3 yards per carry.
But numbers can not tell the entire story of Lynch's success this season. His contribution, his effort, and heart have been a model for the entire Seahawks team to rally around. Whether it be a tough earned first down, or an amazing 80-yard rush, Lynch has given Seattle a reason to win games. He has given a lost team an identity, and has them in the race to go to the playoffs for the second consecutive season.
The Seahawks may be a small market team, but Lynch's performance deserves more recognition that just in Seattle. For a player that was considered to be done in the NFL, and reserved for nothing more than a bench warmer, Lynch has been mind blowing.
The NFL is a strong running back league, and competition is fierce for the top spots. Lynch needs to be in the conversation as one of the best, and is no doubt the most underrated running back in the league.
Skittles and all, Lynch is a fun dude to watch.
Be sure to follow Beard and Stache on Twitter @BeardAndStache, and also Troy @TroyBallards, Like our Facebook page HERE!