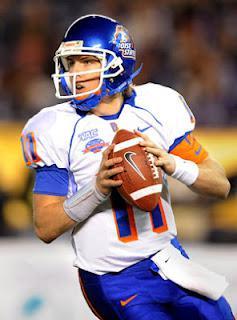 Photo: Getty Images
- Troy Ballard
Potential.
It's what every NFL scout and coach clamors and drools over. It can make or break a player's draft stock, and will make desperate teams reach for talent, or send a player sliding down the board.
For quarterbacks entering the NFL, potential to succeed is incredibly important. However, a great college career doesn't always translate directly into the NFL, and teams have become more and more wary about drafting quarterbacks in higher rounds.
That is unless the quarterback is a sure-fire pick. By being sure-fire, we are talking game changers like Andrew Luck or Robert Griffin III. Players who have performed and excelled so much at the college level that they will become franchise cornerstones for whichever team drafts them. It's a locked pick.
But there are even more quarterbacks in that second-tier that have had outstanding collegiate careers, but yet teams are looking over them. This draft is incredibly deep at quarterback, and one that stands out among others is Boise State's Kellen Moore.
Moore's career at Boise State can really by summed up in one word -- amazing. The kid turned an average Broncos team into National Championship contenders in no time flat. He shattered records in every notable passing and touchdown category, not only at Boise State, but also on a national level. He has shown excellent leadership ability in big games and clutch moments. Most notably, his intelligence has drawn comparisons to Peyton Manning and Tom Brady when he reads a defense.
And yet, as of right now, Moore is projected as a sixth or seventh round pick. Sound familiar?
I'd like to toss a name out that Moore shares a great number of things in common with -- Colt McCoy.
Off the get-go, the two led shockingly similar college careers. Both were widely considered top-tier college quarterbacks during their tenure at Texas and Boise State, respectively. Moore and McCoy both left as seniors as the most winning quarterbacks in college football history, and each finished as runner-ups for the Heisman Trophy. Each won a BCS Bowl against arguably more difficult teams. Possibly most impressive -- both McCoy and Moore had under 10 total losses in their college careers all-time (Moore three loses, McCoy seven).
In regards to the actual draft, McCoy was buried under an immense amount of quarterback talent. Players like Sam Bradford, Tim Tebow, and Jimmy Clausen dominated headlines. Due to the talent above him, McCoy slipped all the way into the third round.
Moore is in a very similar situation. Names like Luck, Griffin III, and Ryan Tannehill have scouts in a frenzy as the top prospects, and the Boise State standout is lost in translation. However, unlike McCoy's class beyond those top prospects, the quarterback depth is especially deep this year, which pushes Moore into the very late rounds.
With now two full seasons in the NFL, McCoy has struggled immensely with the Cleveland Browns. It's not that the talent isn't still there, because it is, it's just that McCoy has nothing to work with on the Brownies offensively. The team is totally desolate on offense, and it's essentially a one-man show with no support.
If McCoy had a decent surrounding cast, it's quite possible he could flourish. However, there is still always the chance that his development has been set-back far enough in Cleveland that he may never be able to bounce-back.
Moore's success in the NFL is going to balance on what team he is drafted to, and whether or not he even gets a shot at a starting job. Given that he is projected as such a late-round pick, any team could draft him. It's possible he could be selected and have the chance to compete for a starting job immediately, or he could be drafted strictly as a project player.
In terms of his long-term success, we can only hope that Moore diverges from the very similar path of McCoy that he has followed this far in his career.
Be sure to follow Beard and Stache on Twitter @BeardAndStache, and also Troy @TroyBallards, Like our Facebook page HERE!