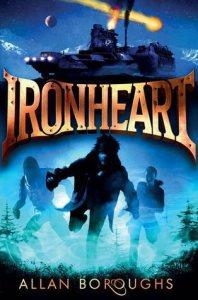 What's it all about?:
'First comes the iron and then comes the snow, and then comes the winter when nothing will grow.' Since her father went missing while prospecting for oil in Siberia, life has been tougher than ever for India Bentley. Little does she know that he was actually searching for Ironheart, a legendary fortress containing the secrets of the old world. A place some say could save humanity . . . or destroy the world. Along with tech-hunter Verity Brown and her android, Calculus, a killer from the old world turned protector in the new, India must make the journey to remote Siberia to try to find her father and finish his work. But there are others fighting to find Ironheart too – and they have very different goals in mind. If India fails, it won't just be her father who pays the price. It will cost her the Earth.
What did I think?:
First of all, a big thank you to the author, Allan Boroughs who gave me a copy of his thrilling debut novel for children in exchange for an honest review. Our story begins in a future, dystopian London where the floods have rolled in, leaving the area almost unrecognisable from its former state. London at this time is a dangerous place to be with food shortages, mutant fish in the waters, pirates and other criminals as the population struggles to get through everyday life. Enter our main character, a thirteen year old girl named India Bentley who is having her own share of troubles. Her father disappeared while searching for oil in Siberia and she is left with a younger sister, Bella, under the care of a (wicked) step-mother who doesn't particularly care about India's welfare and has hopes of marrying her off to a much older (and rather disgusting) man, the aptly named Mr Clench. Both girls have their own pendant inscribed with their names which was left to them by their father and it is India's only real comfort in these difficult times.
Luckily for India, her life is about to change forever. Whilst out foraging for food one day, India runs into a woman called Verity Brown and her bodyguard, a wonderful android called Calculus, or Calc for short. They happen to have "business" with her step-mother and India notices that Verity holds a card which has the same picture on it that her father had on his overalls. They want to keep everything about the meeting very quiet and India is not sure that she can trust them although she is instantly intrigued and excited that their visit may have something to do with her lost father whom she has never given up hope.
When Verity and Calc appear at her stepmother's door that evening, it turns out India is about to embark on the biggest adventure of her life. Verity explains that India's father was not simply prospecting for oil in Siberia (the official story) but searching for a legendary fortress called Ironheart which has the potential to save or destroy the world, depending on whose hands it is placed in. Verity believes that India's father may have found Ironheart before he disappeared but for some reason has kept its whereabouts shrouded in secret. India offers up her father's journals as they may hold valuable clues but in return she demands that she should accompany Verity and Calc on their trip to Siberia as it might be a way of finally locating her father. Unfortunately, there is another group of people also desperate to unlock the secrets of Ironheart for their own evil purposes – Lucifer Stone and his son Sid and they will stop at nothing to make sure they are the first to tap on and utilise its power. This makes it a very dangerous time for India, especially if she any knowledge about Ironheart in her possession.
So the adventure begins! And what an adventure it is. The group manage to commandeer a ship under the watchful eye of the proud pirate-rigger Captain Bulldog who is delighted to assist them on their quest. Hot on their heels however is a frustrated Lucifer Stone, desperate to capture India and reach Ironheart before they do:
"There is enough treasure to satisfy the greediest pirate, but there is much more. The men who built it chose it as the place to store their greatest achievements. I'm talking about weapons…old-world weapons of horrific purity. Missiles that can lay waste to entire cities, chemicals that will shroud the land in poison gas and diseases for which the cure would only be available to the highest bidder. All of these toys lie hidden at Ironheart – can you imagine what fun I will have with them?"
Ironheart is a terrific adventure story that I'm really glad I had the opportunity to read. The action and tension in this novel packs an almighty punch and it had me absolutely glued to each page, hungry to know what would happen next. Allan Boroughs has created some fantastic characters in the form of heroes such as the brave and strong India Bentley, the confident and hilarious Captain Bulldog and the loveable and very human-like android Calculus, but also in his villains – our twisted and power-hungry Lucifer Stone, his loyal and blood-thirsty son Sid and Mr Clench, who ooze evil from their every pore but are undeniably exciting and very readable. In Ironheart, the author has written a thrilling story that will appeal to countless children (and adults, myself included!) that has the potential to turn into many more adventures for India & co, and make its characters amongst the most beloved in children's literature. Personally, I can't wait for the next instalment, entitled Bloodstone, to see what the gang get up to next.
Coming up – don't miss my Q&A session with the author, Allan Boroughs with a sneak peak at his new novel, Bloodstone and a giveaway opportunity so you can try Ironheart for yourself!
Would I recommend it?:
But of course!
Star rating (out of 5):

About these ads