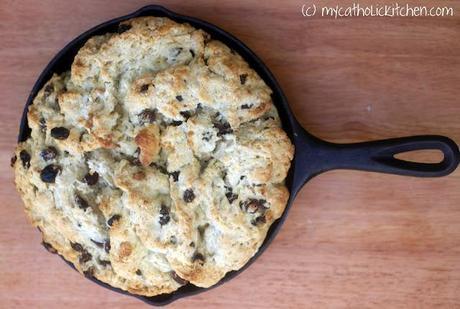 Its Friday y'all, and we continue on with our Game Changer series. Today is Game Changer #38 Darina Allen. I tried to make her 
Irish Soda Bread

.
I think I may have made it wrong. If you click
here
you can get a visual of what one should look like. I don't think mine looks like that, do you?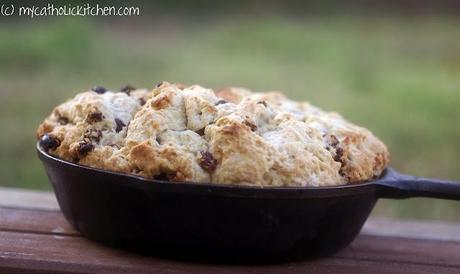 You know, I should really be ashamed of myself, being of Irish decent, one would think I would know how to make such things. I blame it on my American Southern roots. This reminded me of a biscuit. It was a bit sweeter and had raisins in it. I slathered each slice with butter and enjoyed each crumb. I am not sure if that is how the traditional Irish eat it but it was very very tasty. Looking back now, I think I should have kneaded it a bit more. Maybe added a bit more buttermilk?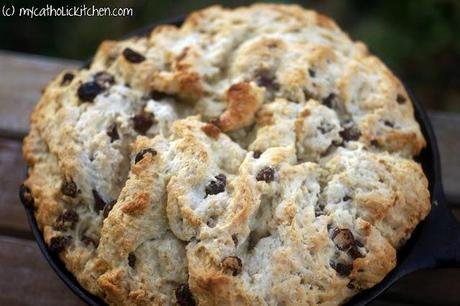 I digress, I often do....So, here is the low down on Darina Allen. Darina Allen is an Irish Chef, food writer, and founder of Ballymaloe Cookery School in Cork Ireland.Darina was born in Cullohill Ireland and is leading the slow food movement. She practices traditional Irish cooking and is putting Irish cuisine on the culinary map.She comes from four generations of cooks, her focus is mostly Irish Cuisine. Her most recent book
Darina Allen's Ballymaloe Cooking School Cookbook  
reflects that.Darina works and lives with her husband Tim at the Ballymaloe Cooking school which includes over 300 acres of farm which they cultivate themselves.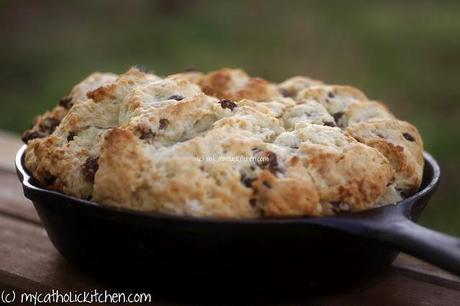 Irish Soda Bread/
Spotted Dog
450g flour
(4 cups)1 teaspoon salt1 teaspoon baking soda
1 tablespoon sugar400ml buttermilk
(2/3 cup)
 1 egg
4 oz raisins(1/2 cup)
Directions
Preheat your oven to 400 degrees.
Stir all your dry ingredients in a large bowl. Make a well in the middle and add your milk and eggs. Mix until flour is combined and the dough is sticky. Add the raisins.
Turn out on  a well floured surface and kneed until soft.
Pat it into a round and put it in your floured baking tray.
 (I used my trusty cast iron skillet.)
 Slash a cross in the top to bless your loaf.
Some say to slash to top to let the fairies our or the devil.
Fairies are good, we will go with that.
Bake for 15 minutes and then reduce the heat to 375 and bake another 30 minutes.
It should be done when you tap the top of the loaf and it sounds hollow.
This bread should be eaten the same day it is made.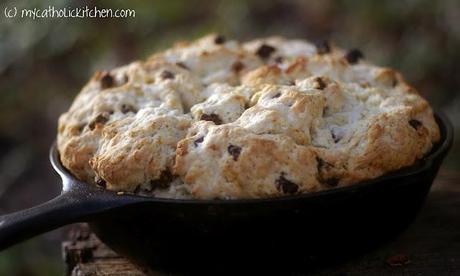 The following bloggers are also featuring recipes from Darina Allen.  Please pay them a visit and see what they have to bring to the table.
Val - 
More Than Burnt Toast
, Taryn - 
Have Kitchen Will Feed,
 Susan -
 The Spice Garden
, Heather -
 girlichef
, Miranda - 
Mangoes and Chutney
, Jeanette - 
Healthy Living
Mary - 
One Perfect Bite
, Kathleen -
 Bake Away with Me, 
Sue - 
The View from Great Island
 Barbara - 
Movable Feasts
 , Linda A -
 There and Back Again, 
Nancy - 
Picadillo
Mireya - 
My Healthy Eating Habits,
 Annie - 
Most Lovely Things
, Claudia - 
Journey of an Italian Cook
, Alyce - 
More Time at the Table
, Amrita - 
Beetles Kitchen Escapades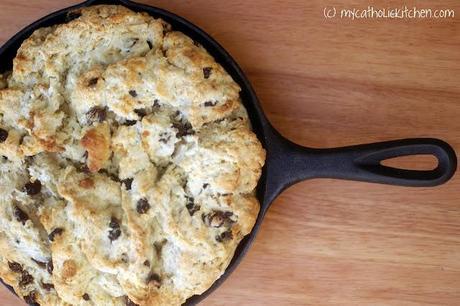 Please join us next week when we feature Ina Garten. Thats right, The Barefoot Contessa.
Peace be with you, Veronica