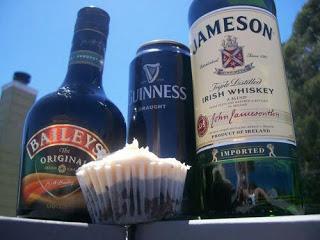 IRISH CUPCAKES


Cupcake Ingredients:




1 cup Guiness




1 stick, plus 1 tbs unsalted butter


3/4 cup unsweetened cocoa
2 cups dark brown sugar
3/4 cup sour cream
2 eggs
1 tbs vanilla extract
2 cups flour
2 1/2 tsp baking soda
Cupcake Directions:
1. Preheat the oven to 350; line a muffin tin with cupcake liners.
2. Combine the Guiness and the butter, chopped into 1-inch chunks, in a large sauce pan, and heat to melt the butter.
3. Remove from heat, and whisk in the cocoa and sugar.
4. In a bowl, whisk the sour cream and the eggs and vanilla, then add to the beer mixture.
5. Sift together the flour and baking soda, and fold in the batter.
6. Pour into muffin molds and bake or 25 minutes, or until inserted cake tester comes out clean. Let stand 10 minutes, remove from muffin tin, and cool completely on a rack.
Frosting Ingredients:
1 stick of unsalted butter, room temperature
3 cups confectioners' sugar
Bailey's Irish Cream
Jameson Irish Whiskey
Frosting Directions:
1. Put the stick of room-temperature butter in a large mixing bowl and bet at medium-too high speed for a few minutes.
2. Add a few short glugs of Bailey's and a tiny bit of Jameson, and mix at low speed.
3. Gradually spoon confectioners' sugar into the bowl, mixing on low speed.