It was my second year to visit this festival in the RDS and I set off with an agenda to taste as many new brews as I could and to take some tasting notes. I was extremely successful with the first part of my plan, for the whole night I didn't drink anything I had tried previously. I didn't have as much success with recording my thoughts unfortunately. The only times I remembered to make any notes was when something really wowed me and as a result I only had six entries in my notebook. My other disappointment was that I only managed to take two pictures all night!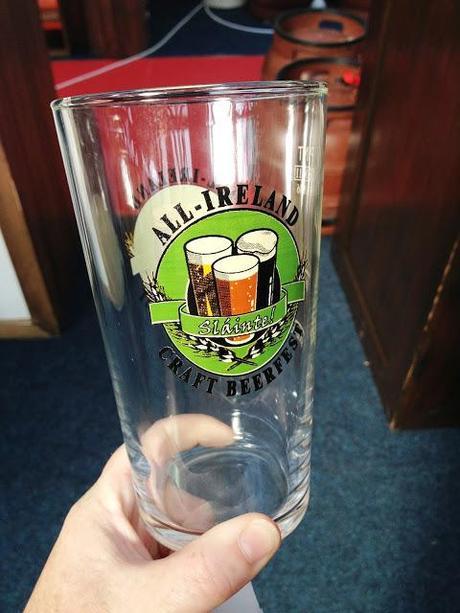 At the end of the night my camera was just like this glass... empty! 
If you want to know more about the ins and outs of the festival have a read of
The Tale of Ale's
most recent blog which gives an overview to how the whole festival ticks. In this blog I want to highlight the beers I loved at the festival which I hope to try again in Dublin pubs.
The first beer I tried was 
Dungarvan Brewing's
Saison on cask. I believe Saison is a seasonal/festival beer but I'm not certain. It's 5% and definitely not middling on flavor. It packed a punch with some really vibrant citrus and coriander flavours. The whole time I was drinking it I had a really warm feeling in my mouth, there is a definite heat to this beer! A cask beer wouldn't be my usual choice but I really enjoyed this one.
I was really interested in trying something from the new County Meath brewery Brú. Friends tried both of the lagers and also the ale and all three were declared good. I opted for the stout which comes in at 4.2%. It was quite light and refreshing, so much so that it surprised me! There were lovely coffee undertones with it. I couldn't help but be reminded of Trouble Brewing's Dark Arts. While drinking it my brain was screaming Cashel Blue so my next stop was the cheese stand!
Metalman's
latest seasonal beer Sahara weighs in at 6% but strangely the flavours don't suggest that high an alcohol content to me. It was quite a sweet beer with hints of honey or maybe caramel. I felt that it was quite malty but no one else agreed!
Another new brewery for me was the 
Donegal Brewing Company
. I tried their Donegal Blonde and loved it. It was a delicious blonde style beer with a good helping of hops. It was strong on citrus notes and as an IPA lover this one was definitely up my alley!
Eight Degrees Brewery
is an old favorite of mine. It's my go-to-beer when I need to bring my own beer to parties or just have a quiet drink in. I love their Howling Gale Ale so I was really excited to try their two new IPAs Hurricane and Cyclone. Unfortunately only Hurricane made it into my notes. I'm 99% sure I didn't try Cyclone. I loved the Hurricane, it had a great hoppy taste but the citrus was countered by a lovely creaminess. It feels every bit it's 7%! Can't wait to try the Cyclone to compare.
Finally my favorite beer of the festival was Troubled Hooker. A collaboration between
Galway Hooker
and
Trouble Brewing
this one impressed me with it's hints of rose water. All I could think about when drinking it was Turkish Delight which is one of my favorite confectioneries. It's a pity it's just a one-off brew, I'd love to try it again.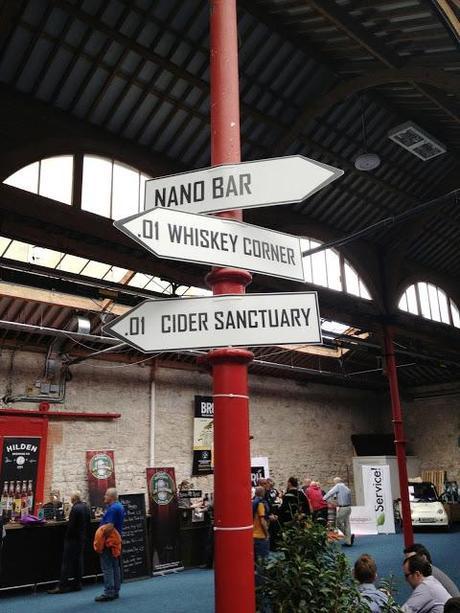 These signs kind of flummoxed me. The Cider Sanctuary and the Whiskey Corner I got but the Nano Bar drew a blank from me. I took a picture in the hope that when I was more sober I'd understand but nothing is ringing a bell ... can anyone explain? 
There were disappointments at the festival too, mostly to do with what I didn't taste. I regret missing the Galway Bay Stout and Coffee Porter, Mountain Man's Hairy Goat and Eight Degrees' Amber Ella. Hopefully I will be able to try the latter somewhere in Dublin. One day just isn't enough. I have to put some serious consideration into attending the festival over several days. All that I can do now is wait patiently and hope that there are plans afoot to run the event in Georges Dock for the St Patrick's Day Festival as in previous years. If you're interested too keep an eye on the Irish Craft Beer and Cider Festival's
Twitter
and Facebook pages as well as their
website
.