Innovation and Technology are now touching our lives in every aspect. In the recent times, there is a considerable amount of excitement about "Digital Mailbox" and online postal services revolving around it. And for some good reasons, digital mailbox represents a tremendous opportunity for all the potential users that cannot be overlooked.
One such company that offers a virtual mailing address across the whole state is going to be reviewed today. It is a pretty unique and beneficial concept of having a digital mailbox that you can access 24*7 online from your smartphones and Tablets via apps. You can also get your products, magazines, letters, etc. mailed to your virtual address without any hassle.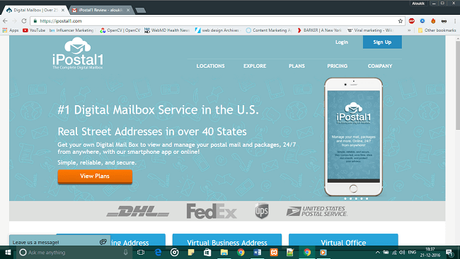 Didn't ring a bell? Don't worry. I'll describe the whole process as we proceed. So, let's start the review of iPostal1.

A digital mailbox is an online service which provides the users with a single address or a destination with login credentials. So, you can quickly receive your bills, statements, make payments to different vendors and companies, and most importantly, archive all of your important files and documents. It is pretty much a combination of having a regular postal box and all the online services integrated around it respectively.
Moreover, iPostal1 is a cost-efficient tool for all the corporates, companies, and businesses as the cost of getting all your bills, invoices, and documents online are less than getting them in printed form. That's why digital mailboxes are soon going to be the future of documentation, transactions, and payment management systems for most of the companies.

iPostal1 is a digital mailbox service that is a small chunk of USZoom Company. iPostal1 offers virtual mailing addresses across 40 states in the whole country. It operates by having an own virtual mail store, and apart from them, it also provides a virtual mail software that can manage other stores to work on a revenue sharing basis. Hence, the company provides more addresses to its customers.

Being an entirely paid service, iPostal1 offers virtual mailbox and a permanent U.S. mailing addresses for individuals, companies, and online businesses. You can access all your emails digitally through free apps that available for both Android & iOS devices. The services are tailored to plans with the respective prices for the addresses. The plans and pricing would be mentioned in the review later.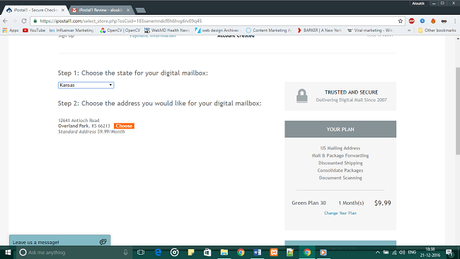 Apart from receiving, you can use the virtual address for shipping purposes as well. iPostal1 allows its users to ship the parcels or bills across unlimited addresses. You can customize the shipment dates, carriers, etc.

I signed up for the Individual account membership for a virtual address that I needed for one my client's marketing services company. The starter "Green Pack" is available for $9.99 and is billed on a monthly basis. The plans can have maximum 30 mail items per month, and they were more than enough for me.
Since he's been expanding his services to the U.S., I opted for iPostal1's virtual office for his company's operations. iPostal provides a Permanent Mailing address that can be accessed directly from his home, halfway across the world. The postal services work like a charm, and the ability to view all the incoming emails and packages directly on your smartphone is the best thing.
Moreover, digital mailboxes are recommended for all the people as they provide extra security for the packages and important emails. The app can be setup once you've subscribed to the monthly services. You get automatic mail alerts once you receive any new package.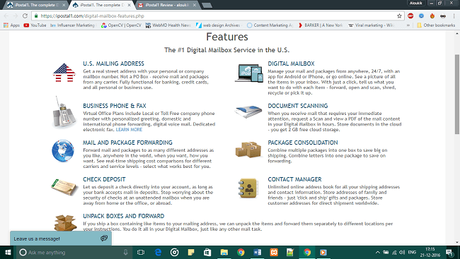 This virtual mailing address also enables you to track and manage your shipments as well. You can get invoices for International Shipping and package consolidation features that can save you some extra bucks.
One of the most important features that iPostal1 offers is the document scanning. So, if you receive any important document that you need to get a look, then you can request a scan and view as PDF option for your mail, bill, or any banking documents.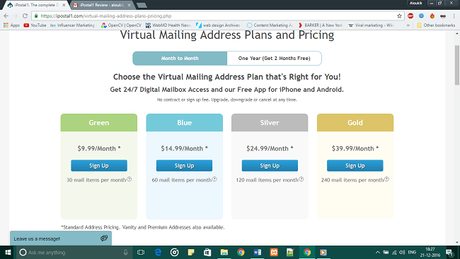 So much does do this remarkable service costs? Well, iPostal1 has divided the plans according to the usage of the customers. The starting plans are priced for $9.99 for 30 mail items per month and go up to $39.99 for around 240 mail items per month.
Apart from the primary mailing addresses, the company also offers a virtual office for all the online startups and corporations who need fully-fledged office contact services in the States.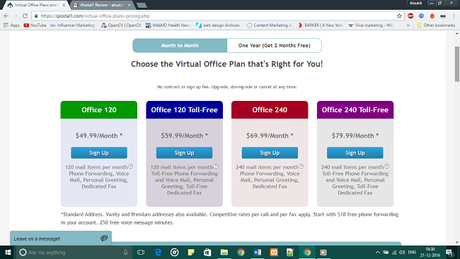 The basic plan starts from $49.99 per month that includes phone Forwarding, Voice Mail, dedicated fax service, and other exclusive services. You can also upgrade for $59.99 on a monthly basis that adds up a Toll-Free number for your business as well. You can have maximum 120 mail items per month for both of the plans. Apart from this, there is another plan for 240 mail items as well. You can get more details on the official website.
1. Top 6 Tools for Taking Back Control of Your Inbox
2. BlueMail Review: Email Management App for Android, iOS & Amazon
3. One Click: Sign Out From Gmail On All Devices
4. How to Automatically Delete Spam Messages From Gmail [Tutorial]

So, this was my review on iPostal1 digital mailboxes. Do share your thoughts in the comment section below and let me know for any information regarding these virtual addresses.