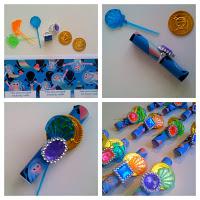 It's no secret that t
he first step to a successful party is creating an inviting invitation!The invitation provides a sneak-peek into the party theme, a foretaste of what's to come, and drums up a sense of anticipation.
The key here is how many invitations do you have to make?This will let you know how intricate (and therefore time-consuming) your invitations can be.
If several are required, you might consider making one and having them colour-copied to save you time.If there's only a few, then hand-made is always a lovely way of showing people how much you love them.Emails are earth-friendly but can get lost in the spam – besides, I'm passionate about paper and just love the excitement of receiving something special in the mail, or being handed it, especially by a young party-person!
For Mimi's 'Pirates Love Mermaids' party this weekend I made some special printpaper which combined the mermaid and pirate skull-and-crossed-bone motifs.  I love a 'scroll' invitation; it's like an old fashioned proclomation; hear-ye, hear-ye, and a treasure map all in one.  For your invitations, you can follow exactly the same idea, simply using the printpaper invitations of your chosen theme / design.  
Here's how
;
Print out the template with the 3 DL invitations and cut them out.
Roll them up into thin tubes and slip them inside a costume-jewellery ring.
Push a mini-swizzle stick (or something similar, such as a mimi-umbrella or mini-pinwheel) into the ring.
Push a plastic pirate coin in behind that until it is firmly wedged in place.
Our young girl-guests loved the fake ring and put them on straight away.  The boys took to the pirate treasure coin, and the swizzle stick whilst a little redundant, helped to hold the whole thing together and add to the sea-worthy presentation of the invitation.   
To try the idea out, download the FREE printpaper package on the
Partycraft Secrets website
, and print out page 11, or purchase a themed party printable package; all of them contain the DL invitation template, again always on Page 11.