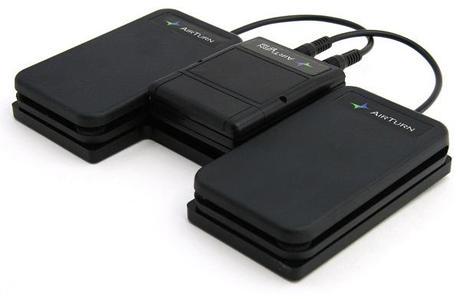 I'm all about streamlining workflow in an effort to simplify my life in and out of the studio. That and stockpiling sweet new gear…
The AirTurn BT-105 is a handy set of pedals for the modern mobile musician, allowing you to easily scroll through sheet music on your device via wireless Bluetooth (right pedal for page forward, left for page back, easy).
Android, iOS, plus the AT-104 for Mac and PC – But the AirTurn pedal board is an affordable tool that can do more than just flip virtual pages.
Disclosure: This is not a sponsored feature but we do have an affiliate link in place. AirTurn was originally brought to my attention by a representative, but I decided to write this post as I genuinely think it is an interesting and versatile product.
Sight-reading aside, if you are already using a digital device such as a phone or tablet as a repository for your music, then you already know how much hassle this can save by having all your music filed away in one place.
The Advantages of AirTurn
Quick and easy setup, simply pair with your device and play.
Silent page turning, ideal for recording or performing.
Seamless page turns allow for continuous play with no outside help necessary.
Easily rearrange pages in a piece, and control not just sheet music but entire setlists.
The USB rechargeable (430 mAh lithium polymer) battery makes it easy to transport and use on the fly.
Can be used for karaoke or even as a teleprompter tool.
Not just for turning pages, think of the AirTurn as an extension of your body giving you additional control…
For example, using the free JamUp Pro XT multi-effect processing software for iOS (input plug required), you can also use the AirTurn pedals to start or stop recording, scroll through effects, load a preset and toggle your tuner or metronome.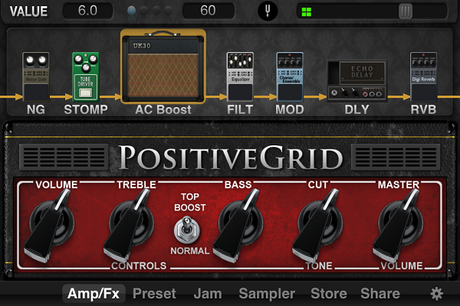 AirTurn also have a 4-pedal board version on the market, plus the boards are compatible with many other existing pedals and switches on the market, such as the popular Boss FS-5U.
Lastly, AirTurn also manufacture handheld controls (perfect for music teachers), and bite and tongue switches for an even more discrete solution.
Read More: Max interviews South African boutique amp builder Benjamin Craig