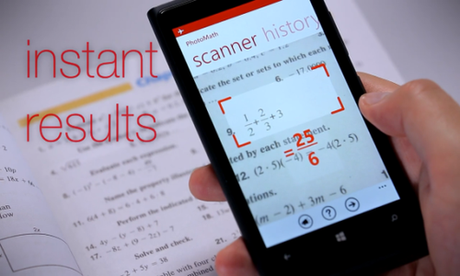 This may sound unusual to our non-techie friends and readers out there but the app that reads printed mathematical equations and solves it in real time really does exist! This app is called
PhotoMath
.
Microblink
, the team behind this app launched PhotoMath this week at
TechCrunch Disrupt in Europe
.
MicroBlink is a text recognition technology company that has been developing a powerful engine for mobile phone cameras for the past two years. The startup is in the business of selling its core technology to companies who might find it useful.
What is PhotoMath?
PhotoMath
  reads and solves mathematical expressions by using the camera of your mobile device in real time. It makes math easy and simple by educating users how to solve math problems.
PhotoMath also shows the step by step procedure so that you'll learn how to solve captured expressions and equations through 'human like' solving steps.
PhotoMath currently supports basic arithmetics, fractions, decimal numbers, linear equations and several functions like logarithms. New features will be added in the future update so this should be exciting.
Watch the video below to see PhotoMath in action.
An app like this can make a very useful studying tool to students but can also be detrimental to their learning process if they are going to use it in a wrong way. This app may possibly encourage students not to study because instead of learning the steps on how to solve equations [that the app can provide], they'll just rely on this technology for instant answers. However, highlighting the positive effects of the app to the students, the creators of this app see this as a much more efficient way to check their answers while studying, or when they're cramming for a test.
What is your opinion about PhotoMath? Will it be helpful to our teachers and students or not? Please post your opinions and comments on the comment box provided below. You may also share this article to your friends using the share buttons provided. [*wink]
PhotoMath is now available for iOS and Windows users while Android users will have to wait until early 2015.
Download PhotoMath for iOS
Download PhotoMath for Windows Mobile