We have all heard that living green is something that should be started at home. However, it needs to be started at a very young age. If suddenly at the age of twelve, you're throwing all these "going green" ideas at your children, they're not going to know what hit them. They're also not going to be in the habit of living green.
Living green can be started on the day of their birth. On second thought, it can be started before they're even born by creating a green nursery. No, I don't mean the entire nursery needs to be painted green. Here are some great and very easy tips on how to implement living green into your child's life from their first day in your home.
Cloth diapers are not only more helpful to the environment but are also better for your child. Almost all parents use wipes on their babies.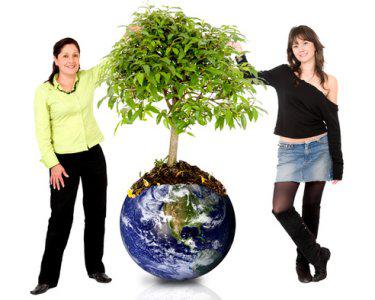 Choose wipes that are chlorine free and are biodegradable. An even better choice is using a washcloth.
While it's great to dress your child in fancy new clothing, using secondhand clothing will help conserve material needed to make new clothing. Consider thrift shops, eBay or ask friends and relatives for clothing they're no longer using. They'll often be more than happy to make the extra space in their homes.
When choosing your baby's crib, look for a crib that can later be turned into a child's bed. If you're planning to paint the crib or bedroom furniture, make sure you use nontoxic paints. The same goes for toys, which should be made from wood or organic cotton. When choosing bedding, make sure you avoid materials that may contain and release volatile organic chemicals, also known as VOC, in the atmosphere.
If you're renovating the nursery, choose nature materials such as flooring of bamboo, solid wood, cork or organic cotton. If you're planning to use carpeting, choose wool carpets. Any of the soft furnishings for the nursery should be made from natural and organic fabrics. Although natural is good, organic is even better.
When it comes to cleaning either the nursery or your baby's clothing, choose cleaning solvents that are free from harmful chemicals. Try to use as many natural based products as possible. This includes fabric softeners. Consider hanging their clothing on the line. Few things will make their clothing smell and feel quite as fresh as the sun or wind from nature.
By starting your baby's life in a green nursery, you're not only helping the planet but giving your baby the best possible start in life. Our children are the future, and if our planet is to have a future, it is important that we teach our children, by example, the philosophy of a green lifestyle.