Hey Girls,
How are you all doing ?? Gearing up to shop till drop over the extended weekend ?? Yes. Well, you rightly stumbled upon this post then. Today's post is about a brand new online shopping platform Beautykafe. When I first browsed through this website, I thought this was another addition to the already many online shopping portals, but I was wrong. A look at the brands which Beautykafe stocks, proves just otherwise. Beautykafe is fastest growing online Megastore for cosmetic, personal care & fragrances with over 12,000 products from around 200 brands.
Now you must be wondering why am I saying so ?? Just take a look at all the brands here. Let me help a bit more.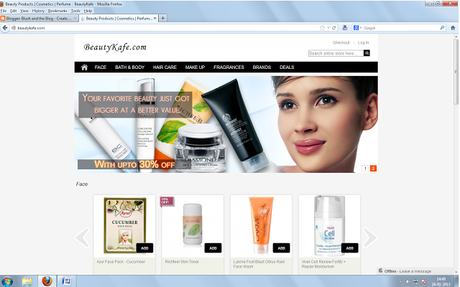 Beautykafe stocks makeup, haircare, skincare, fragrances from everyday use brands to high end brands like Shiseido,   Estee Lauder    Clarins  Lancome    Thalgo    Bobbi Brown Victoria's Secret  Chanel (Yes, the Chanel !!. I wish they had Chanel Lipsticks too) Christian Dior  Marks and Spencers Bath and Body Works 
Yes, the Brands which are so much craved yet almost extinct in India till yet. These are just a few high end luxury brands which I could spot just looking at their list of brands. I am sure you girls can spot even many other brands much sought after in India, but pity we all had to rely on relatives traveling to other countries to bring them for us. Before I get all dreamy eyed about these products, let me tell you a bit about Beautykafe.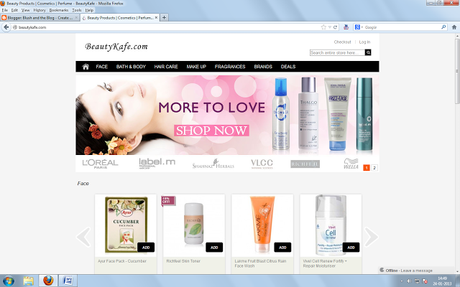 Here's what Beautykafe say about themselves 
Beautykafe.com is an initiative from Slickmart Retail Pvt. Ltd. Here, we are constantly looking for ways to improve online shopping experience
. Our mission is to provide best of the products/brands at the lowest prices with great online shopping experience, free shipping and Prompt customer service. Our benchmark is to provide our customers with a physical stores shopping experience; online, without the hassles of driving around the town locating a shop and then a place to park the vehicle. Our sourcing team works with over 70 vendors internationally, nationally to source the best products/brands for you at the most affordable price. Our product photographs can be zoomed so that you can read the details on the product cover before taking an informed decision. All items originate from our warehouse and have been sourced from authorized representatives or manufacturers. So shop with us, sit back and relax. Our logistics and customer support team works very hard to get your goods delivered at the earliest and respond to any queries that you may have.
Beautykafe has a comprehensive shipping and delivery which is quite customer friendly.

Let's take a look. 
We offer free shipping on all orders across

India

with subtotal greater then INR 500.
We are committed to ship products within 2 to 4 business days of the order being confirmed. In order to ensure on-time delivery of your order we ship your ordered goods only by premier courier service. After we ship the goods the delivery time of the same may range from 3 to 5 business days.
We currently deliver to more than 8000

pin codes

across India.  
If you believe that the product is not in good condition or if the packaging is tampered with or damaged, before accepting delivery of the goods, please refuse to take delivery of the package, and call us on

+91  22 65267777

 or mail us at 

[email protected]

, mentioning your order reference number.
Some products like perfumes may make longer to deliver as they cannot be carried by Air Mode and have to be send via Surface Mode. This is due to government regulations.
Pretty much what we all w

ant ? Isn't it ?
For payment options, Beautykafe provides many options like Credit cards, Debit cards, Net Banking as well as Cash on Delivery (on additional charge of INR 50). You can view the Payment Options. You can also take a look at their Exchange Policy and Returns, Refunds and Replacement
s. 
Phew, what can I say ? My fingers are itching to peck furiously at my laptop and place an order. I am eyeing the
Bobbi Brown Rose Shimmer Brick Set.
Do anyone of you have birthdays coming up ? Well then you know what you can ask for from your parents, boyfriends, husbands and even friends, and they can't even escape now.