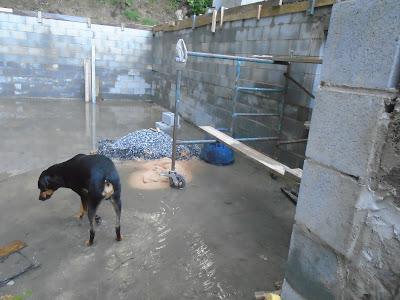 Not falling leaves, not cooler weather, but something as utterly mundane as putting the yearly inspection sticker on my car suddenly made me think of Getting Things Done, maybe laying in a supply of notebooks and glossy yellow pencils that smell of cedar.
Which is, of course, ridiculous. But I get that urge every year to organize my life and start anew--just as during school days there was always the half-formed belief that just the right outfit and just the right notebook and just the right hairdo would make this school year somehow different--better. Hope springs eternal. . .
I've spent the weekend in a bit of a tizzy (a new favorite word for Josie.) Saturday I was fixing a picnic supper for the crew of friends and family at work on the rebuilding of the barn--lots of chopping of cucumbers and tomatoes and onions as I assembled three different salads to go with the La Brea Tar Pit Chicken, followed by watermelon.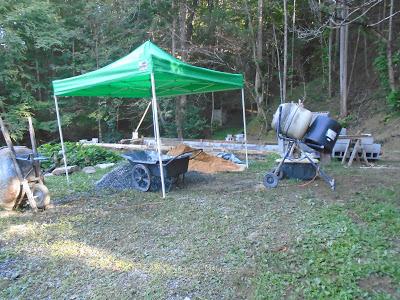 Alas, I didn't get down to the site till late Saturday and got only these less than stellar pictures. And then I spent Sunday doing all the needful things-picking tomatoes and cukes (deer hoofprints tell me who's eating the tomato blossoms,) cleaning house, paying bills, manicuring orchids. I kept thinking I'd drive down and get some more pictures of the folks at work but kept finding one more needful thing to do up here.
BUT, as of Sunday night, thanks to the indefatigable crew who also worked last weekend, the basement block is DONE, the floor poured, and the next step will be framing. It's been a long and uncertain time in the works but the project is beginning to take a definite shape.
With gratitude to all those who worked so hard! Now that's Getting Things Done!