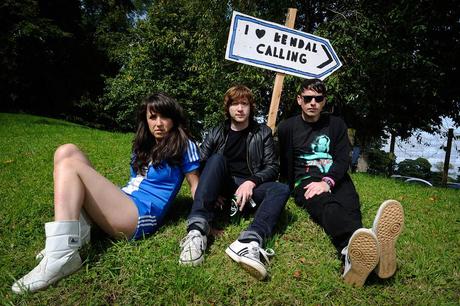 After the stellar success of 'Trash', you could be forgiven for thinking The Whip had gone a bit quiet. But with a new album on the way, we managed to catch up with them at Kendal Calling and find out what they're up to.
Daniel Willis: 
Hi Bruce. How was your set at Kendal? Did you enjoy it and did you get a good response form the crowd?
Bruce Carter: 
I had a great time at the festival, I played in the Haunted House Party tent which this year.  It's basically a load of people dancing on washing machines, couches and household furniture in a tent which is awesome.The house party people are great and have looked after us well, we love playing in there. By the end the tent was really sweaty, full of vibes and everyone was having a good time. The crowd were great and still had loads of energy despite having already gone nuts for 4 days in a field.I played later on the Sunday night in the Tim Peaks lodge which is a really special place at the festival, it's a wooden lodge up on the hill where all sorts of special guests performed all weekend. There's really good vibes up in there and we had a really nice party to close things off for the weekend.
DW: 
What are your thoughts on Kendal Calling? Have you played before?
BC: 
I've been to Kendal for the last 3 years, it's one of my favourite festivals that gets better every year. We played the main stage two years ago which was great and the last two years I've DJ'd for the nice house party people. I love going there, this year was special.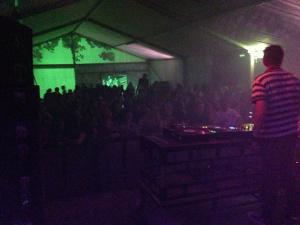 Bruce from The Whip DJing at Kendal Calling's Haunted House Party
DW: 
Did you get to see any other artists playing?
BC: 
I saw all sorts of crazy stuff late at night but my favourite couple of moments we're BMX bandits playing in Tim Peaks Diner, it was lovely and made me feel all fresh again. Fake Blood was so good in the Glow tent, he played so hard for the whole set, it never let up, seriously good!
DW: 
It's been about two years since 
Wired Together
 was released, are you planning on recording another album?
BC: 
We're on it right now, we're working on songs for album 3. It's coming together really well now, we don't want to put a date on a release but we'll be back with fresh meat once we go in and out of the studio. It's sounding vibe fresh!
DW:
 How does DJing compare with playing as a live band?
BC: 
They are two of my favourite things to do in the world but feel pretty different. Playing live is more physically demanding and it's great to play as a band and feed off each other. Djing's cool as you can play some of your favourite tunes and have a party.
DW:
 What styles make up your set? Similar music to The Whip or something completely different?
BC: 
When we DJ it's more electro house than our music, we play a lot of straight up dance music but throw in some remixes of indie tunes and remixes of our tracks too.
DW:
Looking back, tracks like 'Trash' and 'Divebomb' seem to have been quite influential and forward thinking in their fusion of styles, do you think a lot of bands have copied your style?
BC: 
When we first came out we we're part of a group of bands and DJ's that we're making a similar kind of vibe, it's really crazy when that happens. You get people making similar music behind closed doors and then somehow it all comes out and you find there are kindred spirits out there. It's proof that the world is round and we live in sweet musical harmony.
DW: 
What music are you enjoying at the moment? Any tips for the future?
BC:
It's massive but the Disclosure stuff is wicked, I can't believe how big it's got! But I really like a track by Lone called 'Airglow Fires' and Logo are making some nice music too, really nice house music.
DW:
What's been your favourite moment as part of The Whip?
BC: 
We've had lots of great moments playing live and on tour. I guess getting to play live in all the exciting, crazy places that we have been lucky enough to play has been the best thing, we've seen some nuts stuff happen.
DW: 
Have you got any plans in the pipeline you're looking forward to?
BC: 
We played our only UK summer show with New Order at Jodrell bank last month which was great. We're playing some Spanish festivals which is great but we're spending all our time writing at the moment, ready to do it all again with album 3.
DW: 
We can't wait to hear it. Thanks Bruce!