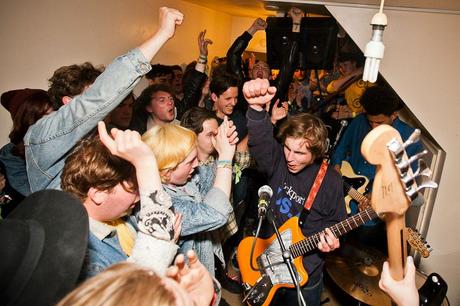 Birmingham seems an unlikely place for the home of the Indie renaissance, but, at the rate the city is putting out great new bands, it's hard to deny its importance.
Superfood are no exception to this rule. Having gained momentum through tight live shows and breakout track 'Superfood', they're looking like another band ready to conquer the country with their infectious, funky indie. If you're lucky enough to catch them supporting Peace in a few months you'll be blown away by how perfectly formed and fun this band is.
Having just released new single 'Bubbles', we caught up with Dom (vocals/guitar), Ryan (guitar), Emily (bass) and Carl (drums) for a chat in Bristol.
Christian Northwood: How are you enjoying Bristol so far?
Dom: Yeah it's good man, we've only just got here, but Carl loves Bristol.
Carl: Yeah I love it!
D: Brighton and Bristol are good cities aren't they? They're the best.
CN: With Zane Lowe picking you up so early how are you coping with being "the next big thing"?
D: I don't think anyone has really called us as that yet which is pretty good. We've had a lot of good attention and people coming to shows and that without putting much online. I don't feel like we've been shouted about massively which is good. I feel like we've been given more time to do things naturally and tour and work out how to actually be a band.
CN: Is that why you didn't have as much internet presence to start off with?
D: We didn't make a Facebook because we didn't feel like we needed one. You know what bands put like "coming soon" or a countdown clock on their Facebook or something? It's just a bit stupid. So we waited until we actually had some gigs to do before rushing into getting a Facebook or Twitter…
C: Or Myspace. It's coming back, Jay Z's got it.
CN: You're opening up for Peace on the London and Birmingham dates of their tour. You daunted by that at all?
D: Yeah they're one of the tightest bands in the UK and stuff. But it was all really comfortable as we've hung round with them for years and we're really good mates. They've been really supportive and they've made us feel really comfortable.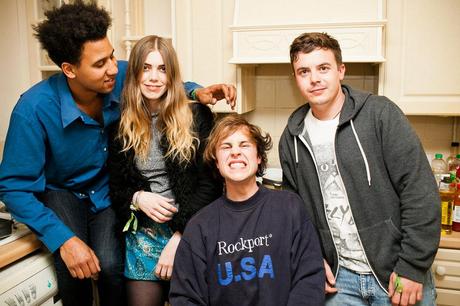 CN: With Peace yourselves and so many other great bands coming out of Birmingham do you feel like there's something in the water?
D: It's probably the sewage or something? Nah I think it's good that there's a group of people all in bands together. The reason we started a band was because we got sick of watching other bands and wanted to do it ourselves. A lot of people have seen the success of other bands from Birmingham and say "I want to do that". If you're mates with someone who's touring round the country you just want to do it as well. It's wicked. It sounds clichéd but it gives lots of smaller bands hope that they can make a living out of it which is cool.
CN: What as a band has been your most rock n roll moment?
D: Um we had some tequila shots yesterday at 4?
C: This cream cheese I'm eating is pretty rock and roll.
Ryan: I didn't wash my hands after I was in the loo just now.
D: That's pretty much the most rock n roll moment of this tour. Last tour three of us downed a liter of rum in three glasses.
CN: That's pretty impressive…
D: Yeah then we went out afterwards. We didn't have a hangover the next day either.
R: Oh yeah and we walked out of a Little Chef.
D: We went to a Little Chef and the food was terrible so we just left. That was cool.
CN: Quite a lot of rock n roll moments then! What song do you wish you had written?
Emily: 'Spice Up Your Life'
D: 'Who Do You Think You Are?' The Spice Girls
E: Any song off 'Spice' to be honest.
R: Fireman Sam Theme.
C: Most Beastie Boy songs.
D: Oh yeah and the 1993 jazz version of the Eastender's theme tune. That's pretty special. If that was still the Eastenders theme tune England would be a better place. They changed the theme tune and then everyone started losing their shit and then the credit crunch happened.
CN: Finally, what's next for Superfood?
D: We haven't got many gigs booked, but we'll be recording our album in the New Year and an EP coming out in December. But mainly just writing and getting ready to record the album.
CN: Thanks very much guys!
You can find Superfood on Twitter, Facebook and Soundcloud