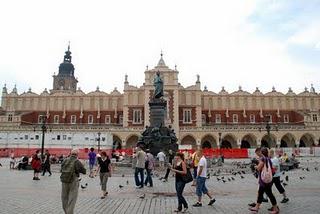 Old Town Square
Cześć Polska! :)
The first day of my
BIG TRIP
which was suppose to be spent largely in
Krakow
(I was told that it's suppose to sound something like
crack-av
), ended up as a day-long transit.  I was up before 4am, was at the airport around 5 but got stuck in Oslo for most of the day and didn't get to Krakow til around 7PM, yes you read that right, 7 in the EVENING. :O  
Just like in most European cities, The
Krakow Airport (or John Paul II International Airport)
is located outside the city. Since I arrived pretty late, I was a bit apprehensive about taking a
bus to town
(back then, I  didn't know a word of Polish! AND I didn't have any guidebooks with me) late at night, but I couldn't afford a cab and the last train to town doesn't go that late, so with my heavy bags, I walked all the way to the bus stop (thank goodness for nice folks for helping me most of the way!) Oh,  you need exact fare (
3.50 PLN
) for the bus so make sure you have exchanged some money before leaving the airport. I wasn't sure if my host would still be able to take me in after arriving THAT late so that kept me worried during the trip to town as well.   The bus' last stop looked like a garage to me so I was a bit scared about getting off and walking around.  I didn't know how I'd be able to get to the main train station where I was planning on dropping off my EXTREMELY heavy load and every person I ask seemed to be as lost as I am.  (They were mostly girls, tourists I assume, who seemed to be looking for the train station themselves) So I walked a kilometer or so not really knowing where I was suppose to go.  After over an hour of pain -- at this point, I was already dragging my bags which almost gave in with me! (Thankfully though, the holes didn't completely gave into the inner lining) as I was really tired already, I found the train station. Hurrah!  First thing I did was reserve my tickets then left my bag in an unclosed locker since I needed to exchange coins before I could lock it. This was the time, I thought I lost all my stuff. harhar. But I'm not going to get into the details anymore, important thing was, I found my stuff, then Asia, my host, met up with me someplace nearby. Can't thank her enough! Then, I got a nice warm shower at her place and lots of good ZZZZZZZ. :)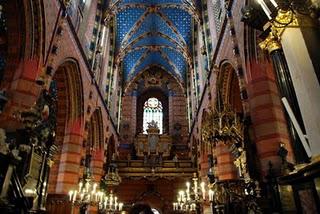 inside the church of St. Mary
The following day, I left early (though not early enough for a trip to the Wieliczka salt mines) for the city center. :)  The main reason why I opted to go to
Krakow
instead of Warsaw is mainly because of it's reputation as the
Cultural capital of Poland
.  I still got a bit lost getting out of Asia's area the first time, but I eventually got a hang of it. My first stop was the
Church of St. Mary
where I heard Sunday service (in Polish) after which, I roamed around for a bit before deciding on joining a free walking tour about Royal Krakow which turned out to be very informative. However, I didn't get to finish the whole thing as I had to leave the group when we got to Wawel castle coz it started to rain and I didn't have an umbrella with me. :(   As soon as the rain stopped though, I explored
Wawel castle
 and cathedral on my own before going back to town for lunch and to check out the Cloth Hall where most souvenir shops are located.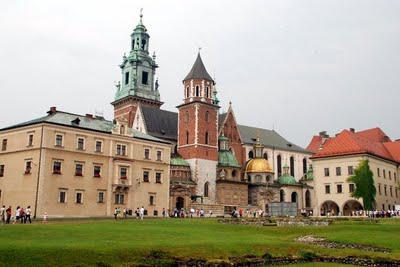 Wawel castle
I was kinda lucky coz they had some sort of festivities going on that weekend.  There were vendors in the town square selling all kinds of food -- from bread to potato dumplings to sausages and whole roasted pigs -- you name it, they had it!  Plus there were lots of dancing too. It was a very pretty sight!  The rest of the afternoon I spent walking around and getting acquainted with the place.  I also went for a quick trip to the mall (Galeria Krakowska) to get some food and to check on the stuff since Galeria was right beside the train station anyway but it started to rain so hard I got stranded there for awhile but that doesn't matter much, I still enjoyed my first full day in the city!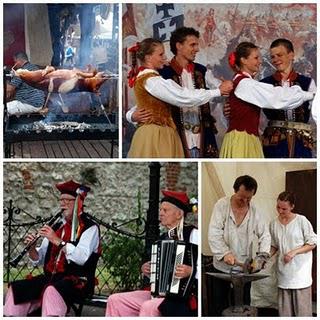 one fine Saturday afternoon in Krakow!
Trivia:
As much as possible, I try to squeeze in as many
UNESCO World Heritage sites
in my travels, and on this day, I got to add one on my list:
Cracow's Historic Centre
  :)
Day 1 and 2 Expenses: 145.70 PLN (35~ Euros)
  3.50 PLN - bus to town
14.00 PLN - locker rental
39.00 PLN - night train reservation
10.50 PLN - postcards
48.80 PLN - food/groceries
29.90 PLN - umbrella
from my
Krakow Notes: 
Transportation:
(as of July 2010)
bus from Krakow airport to Galeria Krakowska (city center) - 3.50 PLN (Polish zloty)
train from airport to Dworzec Glowny PKP - 8 PLN
transportation within the city : 1D Pass - 10.40 PLN / 2D Pass - 18.80 PLN / 3D Pass - 25 PLN
Free Walking tours @ 11 AM and 3PM meet in front of St. Mary's church
See:
St. Mary's Cathedral
Wawel Cathedral and Cathedral Museum
Wieliczka Salt Mines
Aptekapod Orlem
Czartoryski Museum
Old Synagogue
Oskar Schindler's Emilia Factory
Remuh Synagogue and Cemetery
Treasury and Armory
Hostels:
Hostel Atlantis
(Dietla 58)
Dizzy Daisy Downtown
(Pedzichow 9)
Mama's Hostel
(Bracka St. 4)
Greg & Tom Hostel (Pawia 12)
Note: I didn't get to stay at any of these hostels since I crashed Asia's couch in Krakow but they were the ones on my list where I would have got to in case something came up. :)
COPYRIGHT © 2011 JuanaTravels.