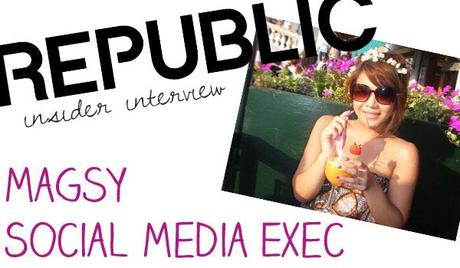 Ever wondered what really goes on at Republic? We grabbed Social Media Exec Magsy for a chat about blogging, Twitter and tea!

Mags: Hi, I'm Mags and I'm the new Social Media Executive/blogger/tea maker here at Republic!

Mags: A typical day involves looking after our two blogs, thinking of new exciting competitions and giveaways for Facebook and Twitter and playing around with pretty pictures on Pinterest. I also write bits of copy for our main website so they keep me busy!


Mags: I love that my job is varied, and I love sharing the latest fashion trends with people in social ways. My job is very creative and it's really rewarding when I think of a great idea, plan it out, and see the finished project at the end.  At the moment, I am working on a fantastic giveaway for the summer, but I can't say much more, so you'll have to follow us on Facebook to find out!

Mags: I am so excited about SS12 – eye-catching neons, color pop denim and fabulous printed playsuits. It's all so bright – and it's so right. SS12 is going to be the best SS yet!

Mags: I love the Miso Aztec Halterneck Playsuit, the Miso Dipped Hem Bandeau Dress and the Miso Coloured Skinny Jeans. So many pretty colours!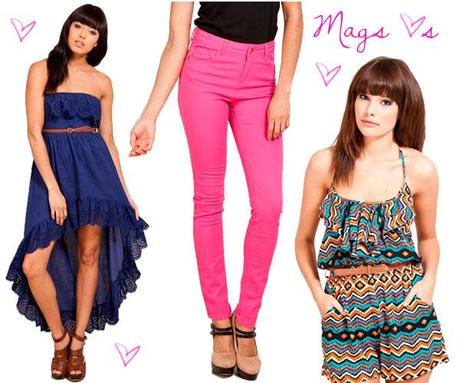 We're loving Magsy's SS12 picks – what are your wardrobe essentials?
Jen x
Social Media Team