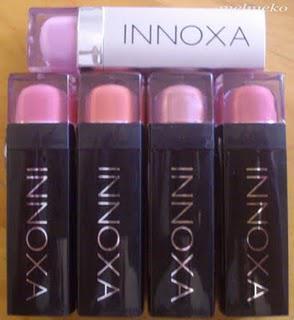 I thought I would take a little '
time out
' from all that 'SeriousSkin Care' natter and have an interval, pausing to blog about a '
drug store
' specialof mine; the awesome lipsticks from Innoxa.  I was sitting in the localpharmacy one day and caught a glimpse of acosmetic stand that attracted my attention.  It was displaying some lippies, that looked remarkably close to mirroring my ultimate all time perfectlipstick hue.  Yes, I have declared my '
Undying Love
' :x of baby pink lipstick shades and am constantly on the hunt for a pink that's even more perfect than the last.  I zoned straight in on the Innoxa stand and upon closer inspection, I found myself face to face with a baby pink lipstickthat I went absolutely '
gaga
' for (or in this case '
waw
a
' for, as Icouldn't afford to buy it on the spot,
noooo
:( )    Nevertheless, on my following payday I made a beeline to that Innoxa stand and scored myself the Pink Carnation lipstick, fromtheir Couleurs D'ete Summer Matte Collection.  Not only was it '
loveat first sight
' when I raced home and maneuvered it over my beckoning pout, I went on an emotional roller-coaster, via love, lust and infatuation! :x :x I couldn't believe a lippy from the localchemist (
mind you, I live in the slackest, one horse town and decent makeup is pretty much niland void, LOL
:-o) could deliver everything I want from a lipstick and more!!  It totally exceeded my expectations and thensome :D 

Pink Peony

Passionflower
English Rose

Apricot Tulip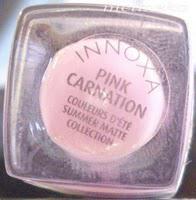 The Innoxa lipsticks, presented in a classy lookingcanister with a see-through plastic section at the base, showcases the actual shade of the lipstick, making it easy to determine your perfect hue.  The color range of spunky,modern shades will brighten up any day, boasting an assortment offinishes, whilst new collections are regularly introduced, so there's something suitable for all complexions; satisfying all tastes!  From my experience with the Innoxa lipsticksI have tried, I can vouch for the rich, creamy texture that is super pigmented with fullcoverage and incredibly, long lasting, staying power.  They glide on with ease, providing a smooth,opaque finish, so my lips look bold and vibrant (
an ideal lippy toconsider if your lips are to be the focal feature of your makeup look
).  Even after eating or drinking, when all the luscious lippy normally fades away, my kissers are still sporting a gorgeous wash,or stain if you please, of the original colour, that I just love :x (
simply apply aquick slick of gloss and I'm good to go
).  Usually,when I find a lipstick with such a long wearing formulation, it's overly dryingon my lips, tending to settle into any little lines and accentuating the fact,
eww
:|  These lipsticks, however, infused with natural ingredientssuch as moisturising jojoba oil, provide my smackers with amoist, conditioning punch of color that looks fantastic for hours, whist ensuring they staynurtured and protected.  A lipstick ofthis quality and performance, I would normally associate only withhigh-end lipstick brands (i.e. M.A.C Lustre Lipstick), but Innoxa lipsticks areindeed, in my opinion, the most exceptional, affordable drug store lipstick, Ihave tried recently and they deserve to be perched high up on a pedestal with some of their ultraexpensive '
name brand
' cousins ;)

Pink Peony

Passionflower

Pink Carnation
After my initial
Innoxa
romance with my
Pink Carnation
lipstick,I couldn't believe my luck when I was announced as a winner of four
Innoxa
lipsticks, from the
Lovely Lips Collection
, thanks to a competition held on the Innoxa Facebook page.
I received
English Rose
,
Pink Peony
,
Passionflower
and
Apricot Tulip
(
refer to my swatches and photos
).
I am thrilled to conclude that each of these lipsticks are on par and of the same caliber as my
Pink Carnation
, therefore, I felt the need to give
Innoxa
a '
Shout Out
' as I have kept these hidden gems on the quiet for too long and it was about time I told the world how much I love them!
:x 
Anyway, check out my photos(
bare with any images, because I am definitely no photographer and my camerahas a lot to be desired, hehe
) and you can form your own opinion.
As for me, I say, get yourselfstalking the
Innoxa
stands at your nearest pharmacy and scoop up some of these utterlycool, high performance lipsticks, which are a '
must have
' for all lovers of
makeup looking for an affordable lipstick that doesn't compromise on quality :)

English Rose

Apricot Tulip


Pink Carnation

SWATCHES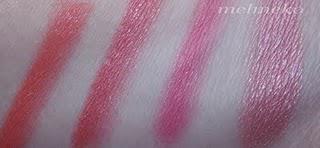 L-R Apricot Tulip, Passionflower, Pink Peony, Engligh Rose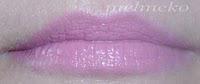 Pink Carnation, with gloss.

Pink Carnation, standard as is.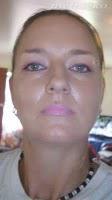 Full face featuring Pink Carnation (excuse my shiny face, LOL)

Pink Carnation is still my preferred Innoxa hue if you have not already guessed, haha.  But I am definitely keen to nab some more lipstick shades from various collections in the not so distant future.  So, tell me, what do you think?  Do any of these colours take your fancy, or are you more interested in deeper, darker hues?  
Innoxa Lipstick cost about $14.95 each (RRP) and youcan buy them in Australiaat Big W, Priceline (selected stores), Myer, Chemmart Pharmacy, Nova Pharmacy, Terry White Chemist & all leading Pharmacies. 
All images in this blog are my own.
Follow my blog with Bloglovin