BEAUTY
❤ ❤ ❤ ❤ ❤ ❤ ❤ ❤ ❤ ❤ ❤ ❤ ❤ ❤ ❤ ❤ ❤ ❤ ❤ ❤ ❤ ❤ ❤ ❤ ❤ ❤ ❤ ❤ ❤ ❤ ❤ ❤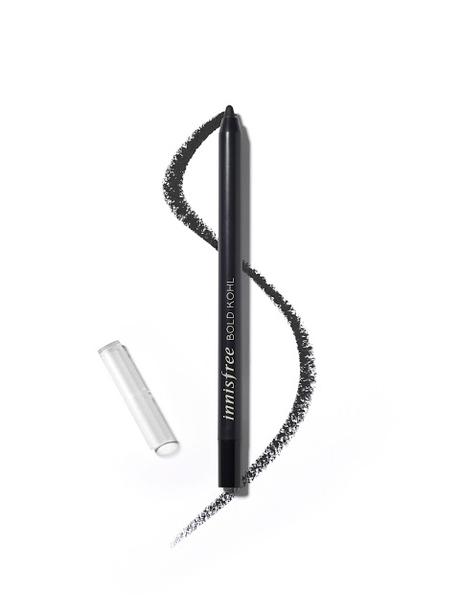 Innisfree, a Korean naturalism brand introduces a super kohl, deveoped exclusively for India called Innisfree Bold Kohl. It is a gel based pencil kohl with an intense black colour, creating a deep and precise shape, giving the eyes a definition like no other eye pencil.
What makes the Bold Kohl special?
A PERFECT FINISH

: Long lasting and easy to apply, the soft and creamy texture of the kohl glides on the eye with ease without smudging or feathering giving the perfect finish.
SAFE FOR EYES

: Enriched with vitamin E and coconut oil, the kohl glides on the eye without causing any irritation.
WATER & OIL RESISTANT

: The strong W

aterproof solution lasts upto 24 HRS, owing to its lipophilic property, i.e. ability to dissolve fats, oils and lipids, fighting successfully against water and sweat.
PRICE: INR 500; 1.6gm
Innisfree India
-
https://www.facebook.com/innisfreeindia
About Innisfree
Korea's representative naturalism beauty brand "Innisfree" was launched by AMOREPACIFIC in 2000 as the Group's first naturalism brand. By 2007 the number of stores multiplied to over 100. Innisfree achieved more than KRW 100 billion in sales by 2011 and subsequently expanded the number of stores by at least 30% each year, totalling its worldwide stores to 1046 in January 2015. Innisfree has enjoyed a consistent run of hit products since 2006. This is particularly evident in 2010 when the brand launched its Green Tea Seed Serum and Jeju Volcanic Pore Clay Mask, which went on to become million-selling products. Innisfree continues to grow by releasing excellent products and maintaining many hit products based on the concept of naturalism. Using only reliable ingredients obtained from pure nature and the consistent perpetuation in eco-friendly green design, Innisfree promises to stay environmentally sustainable in the pursuit of delivering beauty from nature to consumers.
About Global Innisfree April 2012 marked the inaugural launch of Innisfree outside of Korea with a savvy online store in China. Since then, the brand has attained extraordinary success, regional acclaim and lavish adoration from women worldwide through its unique brand positioning as a naturalism brand hailing from pristine Jeju Island. In addition, quality personal counseling service and outstanding store designs make Innisfree stores the landmarks of local market. As of 2016, Innisfree has 183 stores in China, 12 stores in Honkong, 6 stores in Singapore, 5 stores in Taiwan, 2 stores in Thailand and has 1 store in each Malaysia and Japan. Innisfree is further expanding its presence in overseas markets in an effort to broaden its base as a global beauty brand. About AMOREPACIFIC Corporation Founded in 1932 and officially established in 1945, AmorePacific Corporation is a leading cosmetics company headquartered in Yongsan-gu Seoul, South Korea. A continuous devotion to quality improvement has led to AmorePacific's renowned research and development centre to be at the forefront of the cosmetic industry. With a great dream rooted in humanity's beauty and health, AmorePacific seeks to push the boundaries of traditional beauty with innovative solutions drawn from rich Asian heritage. AmorePacific oversees a wide umbrella of brands including Laneige, Sulwhasoo, Etude House and Innisfree. With growing popularity in regional Asian markets and beyond - the world will know AmorePacific as 'Asian Beauty Creator'.

*This post may contain affiliate links, products sent by brand/PR for consideration, paid contents.
Never miss A Post

  :
NEWSLETTER | FACEBOOK | TWITTER |  GOOGLE+ 
Disclosure Policy
.