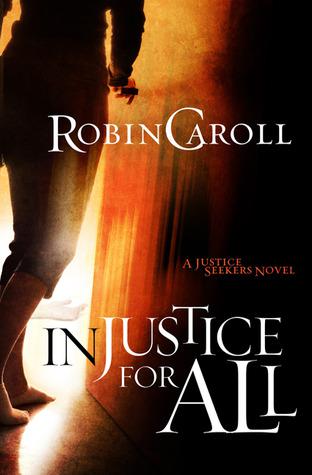 First Lines
Cha-chk
Every muscle in my body stiffened, and my mouth went spitless. Chambering a round was a distinct sound, unmistakable.
My Thoughts
Injustice for All takes us on the run with Remington after she recognizes her surrogate father's killers - government agents silencing the federal judge.  Remington herself works as a psychologist with the FBI and is all too aware of the legal reach this organization has.  With  her father's dying words the judge directs her to a safe that leads Remington to a small town in Louisiana.  Here, Remington lives under the pseudonym Bella Miller and works as a photographer.  Enter FBI agent Rafe Baxter, newly transferred to the Louisiana office and anxious to cut his teeth on the cold case of the federal judge.
The fast-moving action keeps the reader engrossed in the fiasco of Remington/Bella's escape - living on the run....and Agent Rafe's struggles to overcome office politics, stigmas and the shame that has kept him under....and for comic relief we have Hayden, town sheriff and Bella's best friend. 
The characters are believable in their respective beliefs about God - Remington/Bella running away from a life that let her down and a God whom she believes has forgotten her; Agent Rafe hiding because of shame for an unforgivable sin he feels he committed and the town sheriff, Hayden, has issues with being on a spiritual high horse.  There is something for most everyone in each of the relate-able characters from Injustice for All.
In a Few Words
Injustice for All is a pleasurable read that will bring a few hours of escapism for any readers who enjoy a suspenseful Christian Fiction book.  No sex, no foul language and only a bit of violence (it is a mystery/suspense book!).
Sites of Interest: Author's Site | More ReviewsPublisher: B&H Publishers | Published: January 1st, 2012Genre: Christian Fiction Mystery/Suspense | 352 pages
Many thanks to the publisher for the complimentary review copy.